The Legacy Of Stan Lee: Marvel Comics Mastermind, Box Office Gold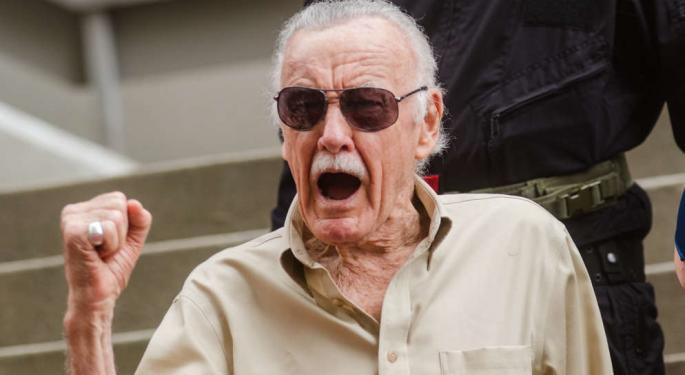 Walt Disney Co (NYSE: DIS) awoke Tuesday without a hero.
Stan Lee — the Marvel maven who brought the world "The Fantastic Four," "X-Men" and "The Avengers" — died at 95.
The Super Legacy
A New York native, Stanley Lieber first entered the print world as a paperboy and author of obits and press releases.
He joined the Marvel predecessor Timely Comics at a young age and rose from page and proofreader to editor of the comics division by 18. From then on, all productions emerged under the pseudonym "Stan Lee."
It wasn't for another 20 years that Lee really owned his creations, rejected unremarkable archetypes and first devised "The Fantastic Four" to counter DC Comics' earliest lineup of the "Justice League."
The team gave rise to a new breed of comics — Marvel Comics.
"Spiderman" soon followed, along with "X-Men," "The Hulk," "Thor," "Iron Man," "Black Panther" and "Doctor Strange." Lee's heroes were groundbreaking: black, blind and fantastically human. He used his platform to make social and political statements and to address timely and universal problems, from puberty and heartbreak to racism and drug addiction. The cultural impact was deep:
Thank you @TheRealStanLee for the escape from this world & great joy inhabiting the ones you created!! You made so many believe in the good, the heroic, the villainous, the exciting, most of all, you were giving & gracious to us all. RIP

— Samuel L. Jackson (@SamuelLJackson) November 12, 2018
Thank you Stan Lee for making people who feel different realize they are special.

— Seth Rogen (@Sethrogen) November 12, 2018
At Marvel's peak, it sold 50 million copies per year.
Lee retired from editing in the early 1970s, overcame a 1999 internet flop in Stan Lee Media, and successfully transitioned to Hollywood productions in 2001. His POW! (Purveyors of Wonder) Entertainment went on to create animated series, film, reality shows and graphic novels.
Accolades accumulated along the way, including a National Medal of Arts and star on the Hollywood Walk of Fame.
Retiring The Cape
Lee's credited as producer on 154 film and TV titles, including 10 lined up for 2018 and 2019 rollouts.
The Marvel Cinematic Universe, under which most recent films have been released, has brought in $7.38 billion domestically across 20 productions, according to Box Office Mojo, and it's shattered records along the way.
Lee traded his movie points for $10 million in 1998, according to Bloomberg.
Top ticket sales have gone to:
"The Avengers" (2012): $702,694,300
"Black Panther" (2018): $697,129,000
"Avengers: Infinity War" (2018): $661,916,400
"Spider-Man" (2002): $635,090,600
"Spider-Man 2" (2004): $549,090,600
Since a brief stumble in the 1990s under poor management, the titles have been widely coveted by producers and distributors, alike. In 2009, Disney secured Marvel production rights with a $4-billion purchase, and it's since caused a crisis at Netflix, Inc. (NASDAQ: NFLX) with plans to transfer the library to an exclusive, in-house streaming service.
You will find more infographics at Statista
Disney boasts an upcoming slate of "Spider-Man," "Captain Marvel," "Wonder Woman," "Gambit" and "Avengers" titles. Lee's iconic cameos have already been prepped.
Related Links:
'Wonder Woman' Woos Hollywood With Remarkable Box Office Legs
Disney's 'Avengers: Infinity War' Becomes Fourth Film In History To Make $100M In Second Weekend
Photo by Kyle Nishioka/Wikimedia.
Posted-In: Black Panther Bloomberg Marvel Marvel Comics Spider-Man Stan LeeNews Top Stories Best of Benzinga
View Comments and Join the Discussion!