'Black Panther' Gets Big Pre-Release Boost From Inner-City Advocates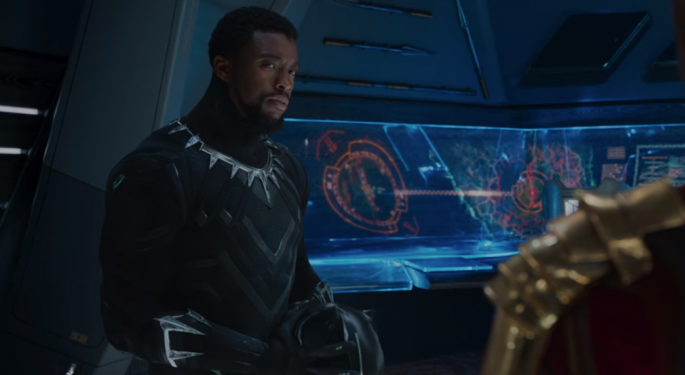 Walt Disney Co (NYSE: DIS)'s "Black Panther" was already expected to bring in strong box office receipts — opening weekend projections span from $100 million to $120 million, although some expect more.
Now, the first Marvel film about a black superhero is getting an extra boost in both direct ticket sales and indirect marketing through a movement to bring inner-city youth to the show.
ESPN's Jemele Hill, a Detroit native, rallied her home community around the cause.
I wish I had time to do it myself but if there is anyone in Detroit trying to take kids in underserved communities to see Black Panther, holla at me.

— Jemele Hill (@jemelehill) January 30, 2018
Would also love @JalenRose @BigSean @Eminem @realchriswebber to join me and making sure kids from our neighborhoods see Black Panther. We can do this.

— Jemele Hill (@jemelehill) January 30, 2018
The City of Detroit, local schools and various mentoring programs echoed Hill's call; Emagine Entertainment committed its entire Royal Oak theater to a special screening for 960 Detroit kids; and dozens of individuals offered to each fund a few student tickets.
Parallel programs emerged in Detroit, Flint and Ypsilanti in Michigan, Harlem and the Bronx in New York and in and other areas of the country.
Hey Jemele!! Detroit Southeastern High School is taking all students with a 96% attendance rate from 1/16 to 2/13 to see black panther!! pic.twitter.com/Oe9bGtTrH3

— Anthony Paciero (@CoachPaciero) January 30, 2018
Why Black Panther?
After attending the film's world premiere Monday night, Hill said it justified the hype.
Yes, it is. Terrific story. Visually stunning. Intense connection to today's times. I could write 25 think pieces on this film. It unapologetic is every possible way. https://t.co/axIAl7y56y

— Jemele Hill (@jemelehill) January 30, 2018
Her fervor isn't isolated. Previewers offered similar praise, Fandango registered record first-day presales for a superhero film and some theaters sold out opening-weekend group rentals.
"The black community is certainly bursting at the seams for this film to be released," Gil Robertson, co-founder and president of the African American Film Critics Association, told USA Today. Robertson considers the title important — "a gate-opener opportunity for other black-centered projects."
That cultural resonance is expected to give the movie legs, said senior comScore media analyst Paul Dergarabedian.
"Once it opens, the cultural impact of it is going to keep it alive in the conversation for many weeks to come, and that, combined with the fact that it's just a really good movie, really ensures its long-term playability both in North America and around the world where it's going to resonate at an even stronger level," Dergarabedian told Benzinga.
The analyst predicts the blend of action sequences, superheroes, morals and cinematography will elevate the film beyond expectations.
"I would be loathe to underestimate this movie," he said. "... Could 'Deadpool's' record February opening be in jeopardy of falling? I think so."
"Black Panther," directed by Ryan Coogler and starring Chadwick Boseman and Michael B. Jordan, reaches theaters Feb. 16.
Related Links:
Box Office Preview: 'Insidious' Unlikely To Crack Top Of The Box Office
Is Imax Losing Its Edge In A Changing Movie Industry? Piper Jaffray Downgrades On Multiple Stock Pressures
Screenshot from "Black Panther" trailer.
Posted-In: Black Panther Jamele Hill MarvelNews Events Media Best of Benzinga
View Comments and Join the Discussion!