Amazon Raises Minimum Wage To $15/Hour, Impacting 350K Employees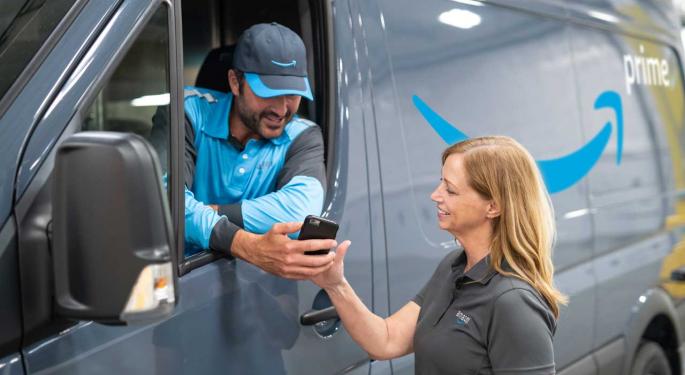 Hundreds of thousands of Amazon.com, Inc. (NASDAQ: AMZN) employees will see have bigger paychecks next month.
What Happened
Amazon said Tuesday it will pay every employee at least $15 per hour as of Nov. 1. The pay increase will directly benefit more than 250,000 current employees along with another 100,000 seasonal holiday employees. The new pay increase will also apply to workers at its many subsidiaries, including Whole Foods.
Prior to the announcement, Amazon's starting wage was around $11/hour, depending on location, a source familiar with Amazon's operations told Benzinga.
Amazon CEO Jeff Bezos said in a press release the decision was made after listening to "critics."
The CEO said he's not only pushing competitors to follow suit but plans on lobbying the federal government to increase the $7.25 federal minimum wage established nearly 10 years ago.
The additional labor expenses will be incorporated into Amazon's earnings guidance, the announcement said.
White House: 'Good For Them'
National Economic Council Director Larry Kudlow said in a brief statement to CNBC that he is in favor of higher wages and that Amazon made a good decision.
"It's a business decision and he's a pretty good businessman," Kudlow said. "More people working and prospering ... is not inflationary. It's a good thing, not a bad thing."
Sanders: The 'Shot Heard Around The World'
Amazon's pay increase for hundreds of thousands of employees could be the "shot heard around the world," said Sen. Bernie Sanders. Amazon and Bezos are leading the way, but there is "absolutely no reason" why other profitable companies such as Walmart Inc (NYSE: WMT) can't pay their employees at least $15 an hour, Sanders said.
Ex-Retail Execs Weigh In
Bill Simon, former Walmart U.S. president and CEO, told CNBC the retail giant, which pays employees at least $11 per hour, has been "moving steadily" towards the $15 milestone over the years.
The economic conditions that exist today, including 3-4 percent GDP growth and unemployment below 4 percent, are supportive of the higher pay that could become the new norm over time.
Ex- Toys 'R' Us CEO Jerry Storch told CNBC that Amazon deserves credit for being the "smartest and the first" to guarantee all employees $15 an hour.
"It's inevitable and now [Amazon] is on the right side," Storch said. "You have Bernie Sanders praising Amazon — how else would that ever happen?"
Cramer: 'Welcome To The World Of Full Employment'
Amazon's pay increase sends a clear message to the employment market, CNBC's Jim Cramer said. If employers want to find workers, they need to be ready to pay, he said.
"Welcome to the world of full employment."
Related Links:
Walt Disney World Union Workers Win Battle For $15 Minimum Wage
CEO Of A Recruiting Firm Says His Son 'Sure As Heck Isn't Worth $15 An Hour'
Photo courtesy of Amazon.
Posted-In: Bernie Sanders Bill Simon CNBC ecommerce Jeff BezosNews Top Stories Media Best of Benzinga
View Comments and Join the Discussion!