New eBay Work-From-Home Program Creates Onshore Customer Service Jobs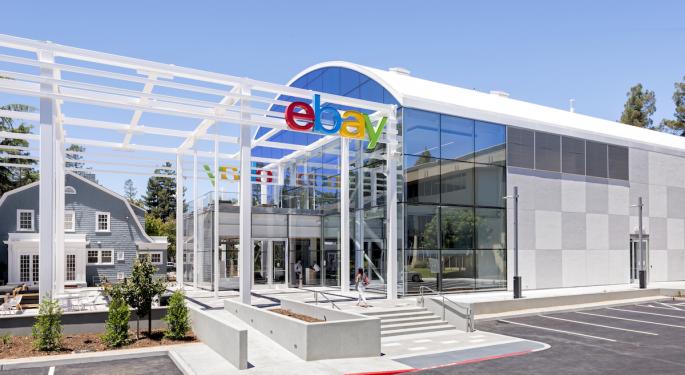 E-commerce platform eBay Inc (NASDAQ: EBAY) is bringing customer service closer to home.
New US Jobs Created
The online auction site announced Thursday that it's debuting a new work-from-home program, eBay@Home, that will create about 300 remote, full-time customer service positions, with 120 of them U.S.-based.
The program was first tested in Ireland in 2017, and its success led to international expansion, according to eBay. The new phase of the program reaches the U.S. Thursday and kicks off 40 new eBay@Home positions in Akron, Ohio.
In addition, eBay will invite 80 customer service reps already working for the company in Salt Lake City, Utah and Austin, Texas to join the eBay@Home program in their home states.
The company said it plans to announce more eBay@Home cities in 2019.
The interest in the work-from-home jobs has been "both staggering and incredibly exciting," Paul Gazeley, eBay's head of customer service in North America, said in a statement.
The company received more than 1,300 applications for the 40 positions in Akron, which represents a 3-percent acceptance rate, he said.
All eBay@Home positions will pay "locally competitive" salaries and full-time benefits, according to the company.
Why Akron?
The eBay@Home program dovetails with eBay's interest in supporting economies outside of major cities, Gazeley said.
"The amount of interest that we have already received for the program has been both staggering and incredibly exciting. There was an incredible sense of enthusiasm around these roles as eBay received more than 1,300 applications for the 40 positions – a 3 percent acceptance rate. We look forward to continuing this momentum as we expand the program to the Austin and Salt Lake City areas and onward nationally," Gazeley said.
"We're looking forward to creating more job opportunities in the tech industry and are particularly interested in supporting economies outside of major city-centers."
The debut of eBay@Home follows a recent investment eBay made in Akron through its Retail Revival program, which is aimed at incentivizing the transition of traditional brick-and-mortar businesses to the web, Paul Gazeley, eBay's head of North American customer service, told Benzinga.
"The choice to launch eBay@home in Akron was an easy one. eBay recently had the opportunity to partner with city officials and small businesses in the region to launch our Retail Revival initiative earlier this January. Through this initiative, we are now working directly with 100 local Akron businesses to help them grow their online presence, while continuing to invest in the economy and long-term success of the city itself."
The eBay platform allows economic participation regardless of where users live, the exec said. '
"There is tremendous value in connecting our sellers and buyers with our customer support employees who can offer local perspectives and uniquely personalized support."
Related Links:
Detroit Startup StockX, In 'Hypergrowth' Phase, Closes On Record $44M Series B Funding Round
Wall Street Weighs In On eBay's Q2 Earnings
Photo courtesy of eBay.
Posted-In: e-commerce eBay@HomeNews Top Stories Tech Best of Benzinga
View Comments and Join the Discussion!