'I'm Smarter Than He Is': JPMorgan Chase CEO Jamie Dimon Says He Could Beat Trump, Then Walks It Back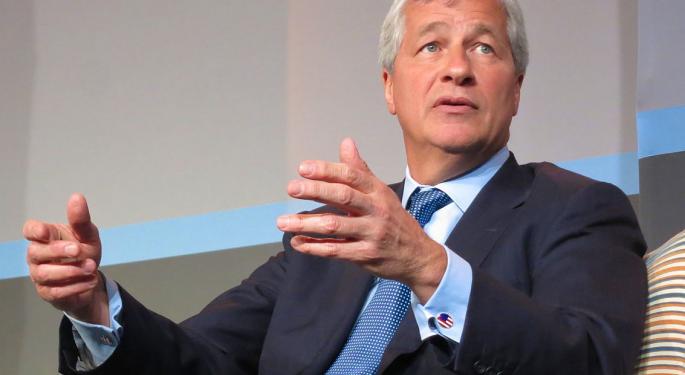 JPMorgan Chase & Co. (NYSE: JPM) buyers hardly blinked Wednesday when CEO Jamie Dimon posited his prospects in elected politics.
"I think I could beat [President Donald] Trump," Dimon said during a morning event. "Because I'm as tough as he is, I'm smarter than he is. I would be fine. He could punch me all he wants — it wouldn't work with me. I'd fight right back."
The confidence marks a sharp turn for Dimon, who, when asked about his political potential before the rise of the Trump administration, doubted he'd ever win election as a wealthy New Yorker. Although the demographic drawback has largely diminished, he professed poor odds against non-Trump opponents.
"I can't beat the liberal side of the Democratic Party," he said.
Dimon later clarified that he had no intention of actually challenging Trump.
"I should not have said it," the CEO said in a statement. "I'm not running for president."
Mrs. Dimon won't let him, so instead Dimon said he'll effect change through his seat on Wall Street.
In Wednesday's address, Dimon led JPMorgan to unveil a new $500-million commitment to improving economic growth in cities worldwide. He also offered criticism of the Democratic Party, advising members to "get their act together" and stop "pounding away at business."
Dimon has long been politically engaged by proposing economic policy solutions, advocating on issues of immigration and infrastructure and sitting on Trump's former advisory board of business leaders.
Dimon's political comments Wednesday proved to be less than beneficial to JPMorgan stock. The shares were trading down 0.82 percent at the time of publication.
Related Links:
Brokerage Stocks Crushed As JPMorgan Rolls Out Digital Service With Free Trades
Buffett, Dimon Push For End To Quarterly Guidance, Say Short-Term Thinking Hurts Economy
Photo by Steve Jurvetson via Wikimedia.
Posted-In: CNBC Donald Trump Jamie DimonNews Politics Management Media General Best of Benzinga
View Comments and Join the Discussion!