Market Appears To Be in Wait-and-See Mode Ahead of Apple, Central Bank Events
Anticipation appears to be the sentiment this morning as investors seem to look toward Apple Inc. (NASDAQ: AAPL) event later today when the tech behemoth is widely expected to unveil new products.
There is also central bank commentary expected domestically and abroad this week. Today, the Federal Reserve releases its Beige Book. The Bank of England is scheduled for an interest rate announcement tomorrow, and the European Central Bank will hold a press conference after the conclusion of its own monetary policy meeting tomorrow.
This morning, investors got the latest government reading on U.S. wholesale prices, with the producer price index showing a drop of 0.1 percnet. Expectations were for a rise of 0.2 percnet, according to a consensus of economists provided by Briefing.com, but U.S. equity futures didn't appear to immediately react much to the unexpected drop. A reading on consumer prices is scheduled for release tomorrow.
Yesterday's Market
U.S. equities shook off a bit of a rough start Tuesday to end solidly higher as Apple and other so-called FAANG stocks rallied and a surge in crude oil appeared to lift energy shares. Of the S&P 500 sectors, telecommunication was the biggest gainer percentage wise, followed by energy and information technology.
Each of the three major U.S. indices started the day off in the red, arguably an indicator that lingering trade tensions are still weighing on investors' minds. President Trump has threatened a further $267 billion in tariffs on Chinese goods, in addition to the potential $200 billion worth of duties the market has been worried about for some time. Meanwhile, China reportedly plans to ask the World Trade Organization for authorization to impose sanctions on the United States in a dispute over U.S. dumping duties that has simmered since 2013.
However, gains in FAANG and energy companies appeared to outweigh trade concerns.
Apple Leads FAANG Higher
Apple shares bounced ahead of a widely anticipated event that, according to media reports, could involve the unveiling of new iPhones. While excitement over the potential for new products, as well as an increased share price target from UBS, may well have helped the stock rise more than 2.5 percnet, the bounce may also be partially attributable to simple bargain hunting after AAPL's shares dropped for four straight sessions.
Other FAANG stocks also did well Tuesday, with Facebook, Inc. (NASDAQ: FB) gaining more than 1 percnet, Amazon.com, Inc. (NASDAQ: AMZN) rising nearly 2.5 percnet, Netflix, Inc. (NASDAQ: NFLX) gaining more than 2.1 percnet and Google parent Alphabet Inc. (NASDAQ: GOOG) (NASDAQ: GOOGL) up more than 1 percent.
Oil Rallies More than 2%
There was plenty of green on the board Tuesday beyond the FAANG shares, with the market helped in part by some black — black gold that is. Both domestic benchmark West Texas Intermediate crude and international benchmark Brent crude rose more than 2 percent Tuesday, apparently helping to boost energy shares.
Worries about a pipeline and higher demand for fuel as Hurricane Florence approached, a reduced government forecast for domestic production, and fretting about lower global supplies ahead of sanctions on Iran appeared to aid oil's rise.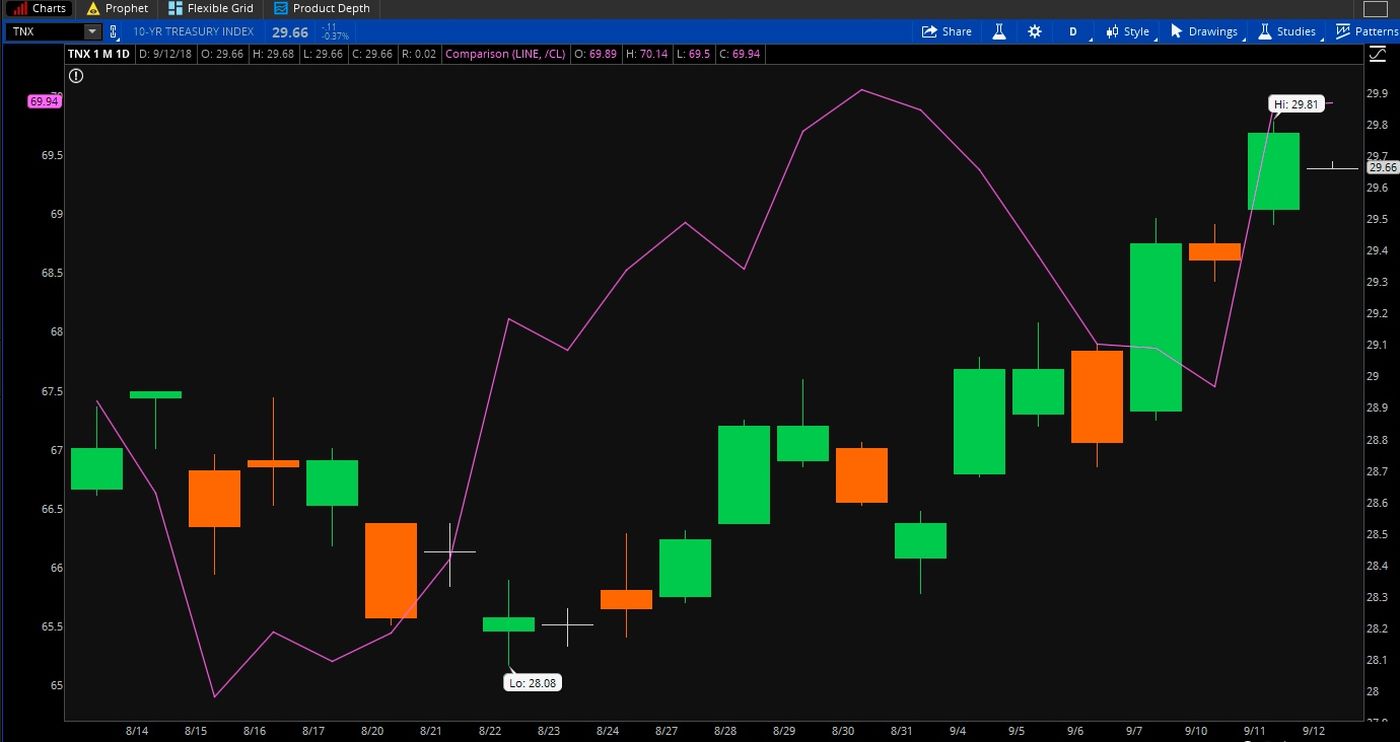 FIGURE 1: Round Numbers: Both 10-year Treasury yields and crude oil (purple line) are approaching some key round numbers. In the case of yields, 3 percent looms large, while crude is just below $70 a barrel. Data Source: CME Group. Chart source: The thinkorswim® platform from TD Ameritrade. For illustrative purposes only. Past performance does not guarantee future results.
Exposure to the Weather
As Hurricane Florence, a category 4 storm as of Tuesday, bears down on the East Coast, our thoughts are first with the people whose lives may be impacted. But for some companies, there can be a silver lining to those storm clouds. Home Depot Inc. (NYSE: HD) and Lowe's Companies, Inc. (NYSE: LOW) were among the names whose shares rose Tuesday, apparently on anticipation of the rebuilding materials people may buy for repairs after the wind, rain, and storm surge subside. United Rentals, Inc. (NYSE: URI), an equipment rental company was also on the upswing. On Tuesday, HD was up 1.5 percent, LOW rose nearly 1.6 percent, and URI gained more than 5 percent.
GDP Nowcast Dips Under 4%
The government's first official estimate of Q3 gross domestic product is still a ways away. But investors can use the Atlanta Fed's "nowcast" of the official estimate before it is released. Called GDPNow, the forecasting model earlier this month was showing a 4.4 percent seasonally adjusted annual rate for real GDP growth in Q3. But on Tuesday that figure slipped to 3.8 percent. The decline came after Friday's employment report. Still, 3.8 percent is nothing to sneeze at when it comes to growth of the world's largest economy, but it doesn't have the psychological pizzaz of a reading above 4.
Disciplined Selling
Yesterday, we focused on how TD Ameritrade clients increased their exposure to equity markets in August, according to the company's Investor Movement Index® (IMXSM).But the index also showed that, despite being net buyers, these clients took profits in popular companies including Qualcomm, Inc. (NASDAQ: QCOM), Cisco Systems, Inc. (NASDAQ: CSCO), Pfizer Inc. (NYSE: PFE), Tesla Inc. (NASDAQ: TSLA), Bank of America Corp. (NYSE: BAC) and Wells Fargo & Co. (NYSE: WFC). When stocks are doing well, it takes discipline to sell and book profits. In that respect these clients were acting more like traders than buy-and-hold investors. Of course, each of those strategies has their merits, so it can be a reminder to consider making sure you have a plan and sticking to it. The IMX measures what TD Ameritrade clients are actually doing and their exposure level to markets.
Information from TDA is not intended to be investment advice or construed as a recommendation or endorsement of any particular investment or investment strategy, and is for illustrative purposes only. Be sure to understand all risks involved with each strategy, including commission costs, before attempting to place any trade.
View Comments and Join the Discussion!
Posted-In: Apple Event Hurricane FlorenceNews Events Econ #s Federal Reserve Markets Tech