Today's Pickup: Auto, Dry Bulk, Electronics Industries React To Tariffs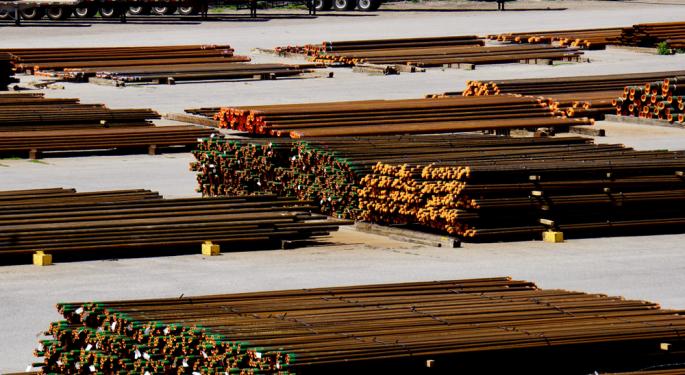 As tariffs between the United States and China, Canada, Mexico, and the European Union start to bite, companies in many different verticals are reacting. Bloomberg reported this morning that, seeking to avoid automobile tariffs, Tesla Inc. (NASDAQ: TSLA) plans to build a factory in China with capacity to build 500,000 vehicles annually. As trade flows of commodities suddenly shift to avoid tariffs, and countries try to find alternative sources for resources, the Baltic Dry Index has increased 22 percent since June 22. Coal, iron ore, and grain are all in demand and maritime bulk carriers moving those goods are enjoying a favorable rate environment. Meanwhile, manufacturers of complex electronics like Honeywell International Inc. (NYSE: HON) are adding executives—in Honeywell's case, SpaceX and Amazon.com, Inc. (NASDAQ: AMZN) alum Torsten Pilz—to rework their procurement and supply chain operations in light of tariffs.
Did you know?
The Freightos Baltic Index for the China - North American West Coast lane spiked more than 40 percent in the past week on trade war fears, rising to $1,661 for a forty foot container.
Quotable:
"As tariffs begin to hit imported consumer goods…these hidden taxes will mean higher prices for Americans rather than significant changes to international trade."
-Jonathan Gold, VP of the National Retail Federation
In other news:
France's CMA CGM made merger approach to Germany's Hapag-Lloyd
Finance sources commented that CMA CGM has made an "exploratory approach" toward competitor Hapag-Lloyd in attempt to "beat depressed conditions." (Reuters)
Tesla plans China plant with 500,000 vehicle capacity
Citing a desire to avoid "escalating trade disputes," Tesla is planning to build a plant in China that can produce up to 500,000 vehicles per year, according to sources familiar with the matter. (Bloomberg)
Honeywell names former SpaceX, Amazon executive to run supply chain
Honeywell International has created a new executive position for Torsten Pilz amid rising costs and tariffs. As senior vice president and chief supply chain officer, "Pilz will oversee procurement and delivery of goods to customers, while leading efforts to improve efficiency at the company's plants." (Wall Street Journal)
Dry bulk shipping stocks are poised to jump
Forbes' Jim Collins reports that the Baltic Dry Index has increased 22 percent since June 22, calling it "the most salient indicator" of information" given the intense focus on trade between the U.S. and China. Collins notes that "it is clear that the market for seaborne cargoes of coal, iron ore and grains is red hot right now." (Forbes)
Supply crunch lifts oil close to 3½-year high
"Supply issues across several major producing countries" have caused oil prices to climb to a 3.5 year high. (Wall Street Journal)
Final Thoughts:
Major freight markets across the country are slightly softening and seeing volatility smooth over as the summer surge of freight from the West Coast dissipates into the nation's network of distribution centers and retail locations. Outbound tender rejections from Los Angeles (OTRI.LAX) are at 17.2 percent, down from their late May high at 19.9 percent. Dallas (OTRI.DAL) and Atlanta (OTRI.ATL) peaked later—Dallas peaked in late June at 26.45 percent and Atlanta's high came in early July at 30.8 percent—and have also softened somewhat, with tender rejections outbound from Dallas standing at 20.63 percent today and Atlanta sitting at 26.9 percent, still an elevated level for the year. Philadelphia's outbound turndowns (OTRI.PHL) are at 21.3 percent, and Chicago's (OTRI.CHI) are at 26.4 percent, both off June highs.
Hammer down everyone!
Stay up-to-date with the latest commentary and insights on FreightTech and the impact to the markets by subscribing.
View Comments and Join the Discussion!
Posted-In: FreightNews Emerging Markets Markets General