Investors Might Be Worried by Trade Issues With Europe, China
Wall Street's focus this morning appears to be squarely on prospects for global growth, as stocks look poised to open lower due to continued trade fears.
The administration on Friday said it might target European automobiles with a 20 percent tariff, and President Trump's rhetoric continued to be strong over the weekend. Although the list of goods that may be eligible for tariffs is not yet large, one fear is that it may grow. This was reflected in both Asian and European trading as most major indices fell, and U.S stocks appear set to open lower as reflected in pre-market trading.
Trade issues with China are also at the fore as the administration is planning to limit Chinese investment in U.S. technology firms, according to media reports. That's on top of a tariff dispute that has many worried about growth in the world's two largest economies.
On Sunday the Peoples Bank of China lowered Reserve requirements for banks to stimulate lending. Part of that effort to shore up the economy could be because of concerns about the trade battle putting a drag on economic growth coming on the heels of recent uninspiring economic data.
Snapping a Losing Streak
Friday saw the Dow Jones Industrial Average ($DJI) break out of its funk after eight straight losing sessions, but it remains well below recent highs and fell for the week as worries about trade relations continue to haunt some of the multinational companies. Energy stocks were a big winner Friday, apparently getting a boost from crude oil's rally.
The oil rally came despite word that OPEC, which met Friday, planned to raise its production. Analysts have estimated an output increase of about 600,000 barrels a day, according to media reports. See below for more thoughts on why crude oil prices popped even as news of more production hit the market.
One interesting note: as we start the week, two big crude oil benchmarks, West Texas Intermediate (WTI), based on a U.S. delivery point, and Brent, which is extracted from the North Sea, seem to be on divergent paths. (See figure 1 below). Though both benchmarks rallied after the OPEC meeting, WTI has been notching further gains in early trading Monday, while Brent is down over 1 percent, perhaps a reflection that production gains may put more pressure on the oil originating from Europe than that from the U.S.
The tech-heavy Nasdaq (COMP) finished the week with a couple of rough days. That was in contrast with earlier in the week when it was the shining star as the DJIA lost ground. The major indices closed lower for the week, along with European and Asian stocks.
Resource Reallocation?
As a reminder, the small-cap Russell 2000 (RUT) and Nasdaq both hit all-time highs this week even as the DJIA took a stumble. Generally, investors seem to be taking a cautious tone and re-evaluating how stocks might behave if the tariff tiff continues to escalate. It might be prudent for investors to exercise caution until the volatility and trade issues get smoothed out a bit more.
Friday turned out to be a good day for a couple of major restaurants. Chipotle Mexican Grill, Inc. (NYSE: CMG) rrose nearly 1.5 percent as the company announced it's testing new menu items including quesadillas and milkshakes. Avocado tostadas, another possible new item, sounds like it could be an effort to appeal to millennial taste buds. It appears CMG has picked up its game after the food safety scare it suffered a while back, and the stock has made a comeback, rising nearly 65 percent this year.
McDonald's Corporation (NYSE: MCD) also had a good day Friday, helped in part by an article in Barron's. The article centered on a recent analyst report saying MCD could be one of the restaurant companies benefiting from more demand for delivered food. Shares rose 4 percent.
This week brings a host of data (see more below), as well as earnings from Nike Inc. (NYSE: NKE).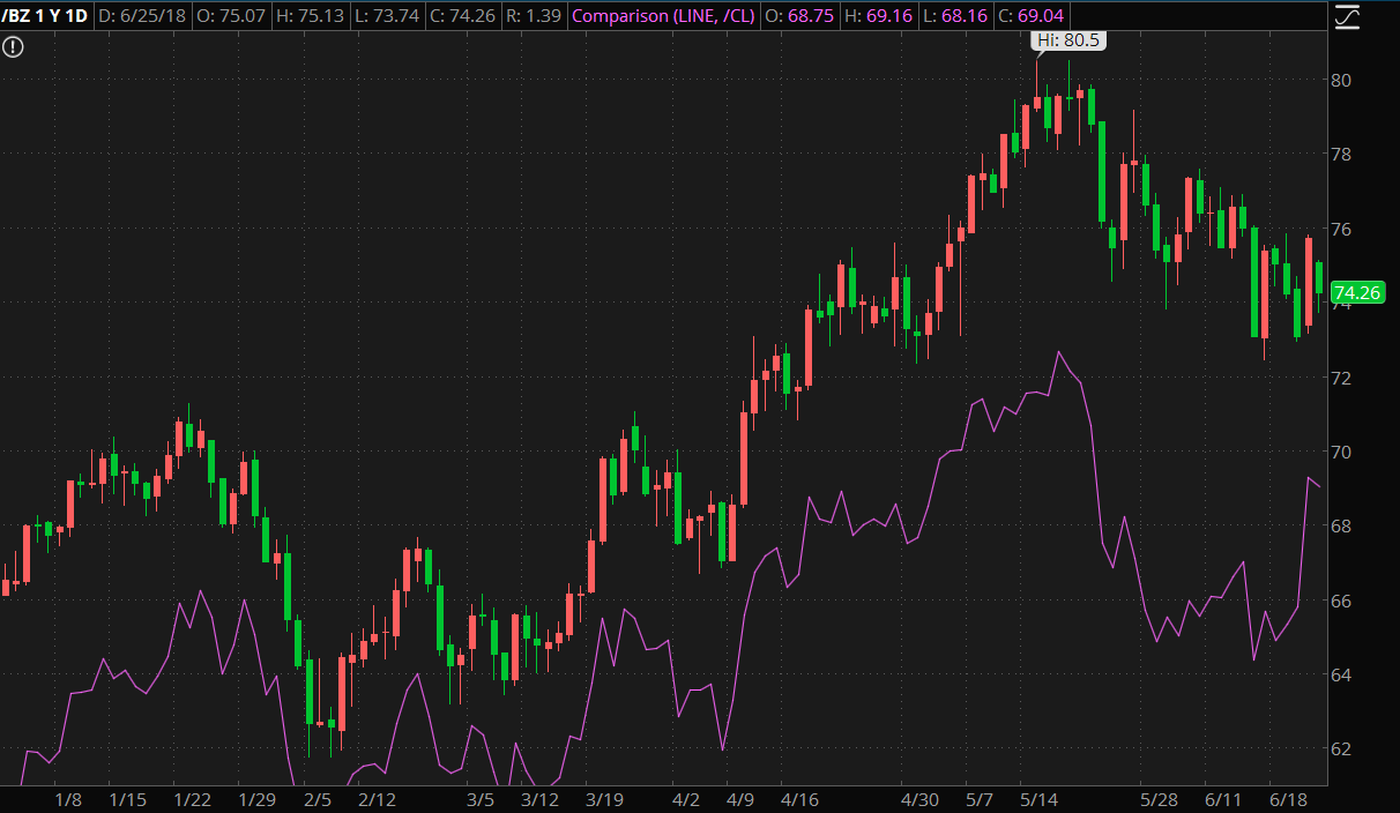 Figure 1: Two Crude Benchmarks; Two Post-OPEC Price Paths. Both North Sea Brent (candlestick) and WTI (purple line) crude oil rallied after the OPEC announcement Friday. This week begins with WTI continuing higher, but Brent down over 1 percent. Data source: CME Group. Chart source: The thinkorswim® platform from TD Ameritrade. For illustrative purposes only. Past performance does not guarantee future results.
OPEC Hits the Gas, and Crude Prices Jump
So why did crude oil prices rally nearly 6 percent Friday after news that OPEC decided to raise production? There are several possible reasons. First, the production increase is supposed to be around 600,000 barrels, initial media reports said. That's under the 1 million barrels some analysts had been expecting, so the new flow provides less of a supply boost than the market might have anticipated. Oil prices had fallen about 8 percent over the month heading into the meeting, so perhaps some investors felt that the market had baked in a bigger increase and took profit on short positions following the news.
Another thing about the output increase that's less easy to predict but still could have an impact is OPEC member compliance. Though Saudi Arabia has reportedly been in favor of an increase, according to media reports, other countries in OPEC—notably Iran—weren't. There's no guarantee Iran or other OPEC members will actually pump more. Even if all of OPEC's members fall in line with the higher output, the amount being talked about isn't really much in the overall oil market. It's less than 1 percent of daily world production.
Data Dump Ahead
Last week didn't offer much in the way of economic data, but this week might provide a bit more excitement. New home sales this morning could get a close look from investors after some mixed housing data last week, and durable orders due Wednesday could help give a sense of whether consumers and businesses are investing in equipment and major appliances as the economy charges along.
Investors are scheduled to get another look at inflation with Personal Consumption Expenditure (PCE) prices for May later in the week, and that's often thought of as the Fed's favored indicator of the price environment. The April PCE looked pretty tame at 0.2 percent, so keep an eye on the May numbers for any hint of change. On Thursday, the government is scheduled to deliver its final estimate for Q1 gross domestic product (GDP), but unless it shows a sharp change from the 2.2 percent figure last time out, it's unlikely to move the market much. People are more focused now on Q2 GDP, with a first estimate due in late July and many analysts looking for 4 percent or better growth.
Number 9, Number 9
The DJIA's triple-digit gains Friday saved the index from falling nine sessions in a row, something that last happened in 1978. There was also an eight-day losing streak early last year and in 2011. The last time the DJIA had a 9-day losing streak was one that ended Feb. 22, 1978, with the DJIA at 749.05. Worries about a coal strike, fears of possible rising interest rates, and a bearish factory orders report were some of the factors hurting the market that day, according to the Associated Press. Looking back at 1978, the U.S. was in the second year of the Jimmy Carter administration, Reggie Jackson helped lead the Yankees to their second-straight World Series crown, the economy was mired in what came to be known as "stagflation" (slow economic growth accompanied by steep inflation) and the airlines got deregulated. The DJIA fell 26 points that year, a 3 percent loss, and finished at 805.01. Things got a little better in 1979: The DJIA climbed 6 points.
All this talk about the historic DJIA can be fun, but keep in mind that the DJIA tends to get more attention than it might deserve considering it consists of just 30 stocks. The S&P 500 (SPX) is arguably a better indicator of the market, and is up about 1.2 percent over the last month despite the recent weakness. The DJIA, on the other hand, is down slightly over the last month despite Friday's performance amid fears that trade battles could hurt its big industrial components.
Information from TDA is not intended to be investment advice or construed as a recommendation or endorsement of any particular investment or investment strategy, and is for illustrative purposes only. Be sure to understand all risks involved with each strategy, including commission costs, before attempting to place any trade.
Posted-In: TD AmeritradeNews Commodities Restaurants Markets General
View Comments and Join the Discussion!