Tariff Acrimony Helps Send Global Markets Lower As G-7 Leaders Meet
Global tensions over trade as the G-7 economic conference began Friday helped put European and Asian markets into a tailspin, and the weakness appears to be spreading to Wall Street. European leaders are sparring with President Trump over the administration's new tariffs as they prepare to meet in Canada, injecting a negative vibe into what's normally a friendly gathering known more for photo-ops than major policy decisions.
In addition to worries about the U.S. and its allies battling over trade barriers at the conference, there's some new concern in Europe as Italian government bond yields took another dip and the euro fell against the dollar. With both the European Central Bank (ECB) and the U.S. Fed meeting next week, markets could be on edge about possible tightening in monetary policy on both sides of the Atlantic.
Adding to the bearish feelings, pre-market trading showed new pressure on the so-called "FAANG" stocks. Facebook, Inc. (NASDAQ: FB) has been hit by new privacy concerns this week and is down 3 percent week-to-date. Apple Inc. (NASDAQ: AAPL) shares retreated in pre-market trading Friday amid worries about possible falling iPhone demand. Apple told its supply chain to prepare about 20 percent fewer components for iPhones debuting in the latter half of this year, compared with 2017's orders, Bloomberg reported.
Though FAANGS and the tech-heavy Nasdaq (COMP) appear likely to come under pressure today, keep in mind that COMP is coming off of all-time highs, so a little weakness isn't anything to necessarily get too worked up about.
There's little new data or earnings news on today's calendar, so some of the rumor and innuendo that often plays a role at times like these could be back to drive trading. Long-term investors might want to consider ignoring the noise, while shorter-term traders might want to consider trading in smaller increments in case volatility becomes an issue. The Cboe VIX was up sharply to above 13 early Friday.
Patterns? What Patterns?
An old saying in the market is that a pattern is a pattern until it stops being a pattern, and that's one way you might describe Thursday's market action. For a while in recent weeks, the pattern was strength in technology and small-caps, until Thursday when both of those got hit pretty hard. Tech had a tough day and so did financials, with the FAANG stocks among the weaker link. After a bunch of days where investors seemed to flock into growth stocks, the value stocks performed better on Thursday and growth stocks retreated.
While tech struggled, other sectors found buyers in a session that brought to mind what investors often experienced in 2017. Last year, tech and financials generally led things higher, but on days when they stumbled, a third or fourth sector often came through with gains. It's kind of like a basketball team, where if the star has a bad night one of his teammates steps up. On Thursday, energy and consumer staples brought their "A" games to the session. That kept the S&P 500 (SPX) from having too big a loss despite the weakness in tech and financials.
Looking Beyond the DJIA
Thursday offered investors another reminder of why the Dow Jones Industrial Average ($DJI) isn't necessarily the index that always tells the full story. The $DJI rose while just about every other major index fell, but that reflected crude oil companies having a large concentration in the $DJI and a big day for McDonald's Corporation (NYSE: MCD).
MCD powered higher on analyst upgrades, but it was sad news in a way because the upgrades came after MCD said it plans to eliminate jobs as part of a restructuring effort aimed at saving $500 million.
One pattern that did continue to hold Thursday was a weaker dollar, and that might be one reason crude oil surged more than 1 percent. However, the dollar didn't seem to help many other commodities. Copper got smashed and soybeans had a tough day.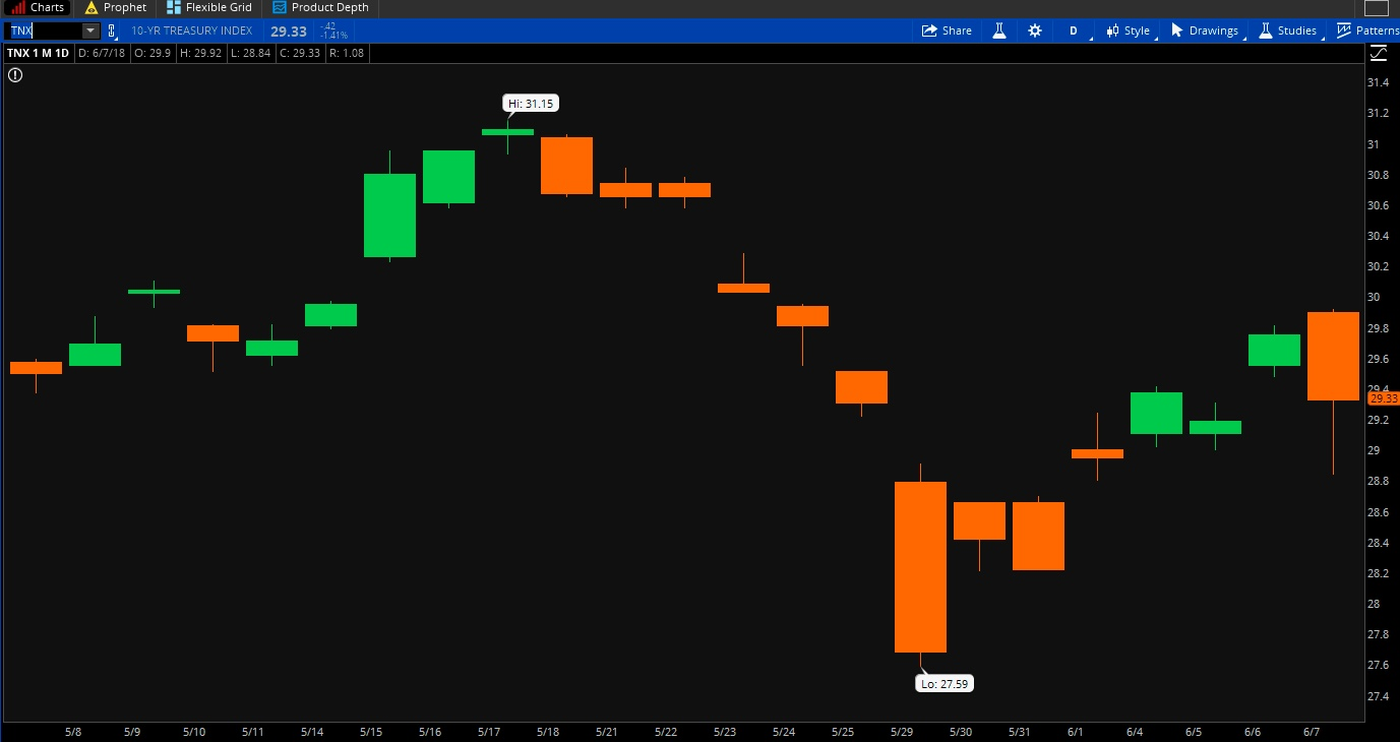 Figure 1: Cold Feet? Early on Thursday, 10-year Treasury yields seemed well on their way to challenging the 3 percent level once again, but they quickly scurried back down to their levels from earlier in the week. Thursday's slide in tech stocks and strength in value names could have something to do with falling yields, as it appeared investors started scrambling for protection and shying away from risk. A retreat into bonds might have been part of that, and yields fall when bonds rise. Data Source: CME Group. Chart source: The thinkorswim® platform from TD Ameritrade. For illustrative purposes only. Past performance does not guarantee future results. Data Source: S&P Dow Jones Indices. Chart source: The thinkorswim® platform from TD Ameritrade.For illustrative purposes only. Past performance does not guarantee future results.
Clear the Calendar
There aren't any company earnings of note on the schedule, and the only economic data comes in the form of wholesale inventories, a report the market hasn't paid much heed to in the past. On the bright side for news hawks, the G-7 conference begins in Canada today and with it the possibility of more barbs fired between the U.S. and its trading allies. The industrial sector has been pretty attuned to trade fears recently, so if things heat up in Ottawa, look for a possible reaction from some of the big industrial companies with major overseas markets. Also, small-caps have gotten a wind in the sails at times the last few weeks, in part due to trade tensions, so watch for that possibility.
Something to Ponder
As the weekend nears, one question might be how much the recent rally reflects improved economic metrics in the U.S. and abroad and how much is sentiment-based. Some of the recent buying appears speculative in nature, according to Briefing.com, as many investors seem fearful of missing out on further gains. Short-covering might also be playing a role. The economic news has generally been good, but we're definitely not out of the woods on the geopolitical front with President Trump scheduled to meet the leader of North Korea next week, a "euroskeptic" coalition now in power in Italy, and the continued worries about trade barriers. Those are among the reasons the market might be stumbling a bit Friday and investors might be thinking about safe havens like bonds. The yield on 10-year U.S. Treasury notes fell to 2.92 percent early Friday from nearly 3 percent earlier this week.
Fed Week About to Dawn
Consider getting some rest over the weekend, because next week features the Fed's meeting starting Tuesday and ending Wednesday. Judging from the futures market, there's not much mystery shrouding the gathering. As of late this week, CME Fed funds futures price in a 91 percent chance of 25-basis point rate hike next Wednesday, which would be the second of the year and would put the Fed Funds rate at its highest level since 2008. It would also be the seventh hike of the current tightening cycle that began in late 2015.
However, it's not just the Fed in the spotlight next week. The European Central Bank (ECB) also gathers, and many analysts think that meeting could offer some clarity on when the ECB might end its long-running quantitative easing program that's kept European rates much lower than rates in the U.S. If the ECB does provide a more hawkish view, that might put more strength into the euro, which has already been rallying vs. the dollar ahead of the meeting.
Information from TDA is not intended to be investment advice or construed as a recommendation or endorsement of any particular investment or investment strategy, and is for illustrative purposes only. Be sure to understand all risks involved with each strategy, including commission costs, before attempting to place any trade.
Posted-In: JJ Kinahan TD AmeritradeNews Commodities Treasuries Global Federal Reserve Markets
View Comments and Join the Discussion!