Students Pack Detroit For National Robotics Championship: 'It's Helped Me Have A More Mechanical Mindset'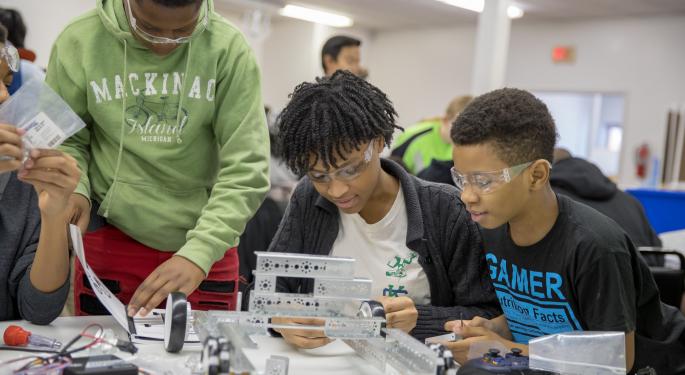 Wendell Brown and Anthony Jackson lead a team of roboticists developing a swiveling, autonomous, "Batmobile-esque" robot that performs the essential function of tidying up.
"It's not too complex, but if you're not careful with it and you don't read up on what you're doing before, you could really mess something up," said Jackson, who is teaching himself high-level autonomy coding.
The 14-year-old students at University Prep Science and Math in Detroit — aspiring mechanical technicians and auto engineers — insist they mostly use knowledge they've already learned in class.
Cyrisse Allen, the team's coach and a math teacher at UPSM, said the students pick up their phones to search for an answer when they hit a roadblock.
" ... They're actually on their phones studying how to make this, do that and it happens."
The team of seventh- and eighth-graders do the work independently — from design sketching to manufacturing.
"Basically my only role is to be a coach and a mentor," Allen said. "I do the organization. I tell them what our goals are for each day."
All Part Of The Plan
UPSM is one of 20 robotics teams across 14 Detroit elementary and middle schools co-sponsored by Quicken Loans.
Quicken Loans helped get these teams off the ground in February in partnership with the Detroit Police Athletic League and FIRST Robotics after it became apparent that Detroit lacked representation at the national FIRST Championship, which Quicken Loans sponsored at downtown's Cobo Center last week. Nearly 40,000 people — 15,000 of which were students — were in attendance for the three-day event.
Quicken Loans invested more than $110,000 in the FIRST programs and competition, but its commitment went beyond cash.
Its social media team worked to promote the championship and host city; more than 50 employees volunteered at the schools and competition; and the company worked to beautify Detroit's streets and prepare them for the crowds.
"When we take on an investment, it's not just financial," said Laura Grannemann, vice president of strategic investments at Quicken Loans.
'It's Helped Me Have A More Mechanical Mindset'
Robotics work promotes critical thinking, said University Prep student Jackson, the robotics club president at his school.
"It helped me with my problem-solving skills to understand things more and visualize them in real-world solutions," he said.
It promotes learning across disciplines too, said fellow student Brown.
"It's helped me have a more mechanical mindset to figure out the steps of certain math problems or what the question is asking me by getting to the root of the problem, so like in English class, they convolute the questions on purpose, so you have to essentially just eradicate all the useless information and then you're left with the actual question," he said.
Robotics teaches leadership, Jackson said.
"Personally, it's helped me deal with people better and understand how to work with them more and feel where people are coming from and try to work with them and not force them into things that they didn't want to do, to meet in a middle ground."
Quicken's Good Fit
The FIRST investment is part of Quicken Loans' for-more-than-profit strategy, Grannemann said.
"We don't believe that community and business should or can operate in silos," she said. "We think they inevitably and ideally should be linked in a very intentional way, so the investments that we make from a philanthropic perspective should have a positive impact on our business, as well. That's not why we do them, but certainly they should have an impact."
In FIRST, Quicken Loans is investing in its next generation of employees.
"Hopefully in 10 years, when they're ready to get a job, now we've got this great base of talent in the city of Detroit," Grannemann said.
A Bigger Story
Outside of FIRST, Quicken Loans is building a local workforce in construction trades, hospitality and customer service, and information technology. The firm is also investing in soft-skills education and professional development, coaching kids to keep eye contact and converse formally, Grannemann said.
"[FIRST] is a perfect example of a much wider strategy of investments, and this is sort of the culmination of work from a public space activation perspective, from a sponsorship perspective [and] from an education and employment perspective," she said. "It's a perfect embodiment of all three of those things coming together and our love for Detroit, period."
Related Links:
Detroit's Tallest Building Breaks Ground: 'This Is Going To Be A Site Of Our Recovery'
As Financial Processes Go Digital, Detroit Looks To Siphon Talent From New York, Chicago
Quicken Loans Chairman Dan Gilbert is an investor in Benzinga.
Photo: Students at a workshop hosted last week by Quicken Loans in partnership with FIRST Robotics and the Detroit Police Athletic League. Photo by Daniel Ernst.
View Comments and Join the Discussion!
Posted-In: Anthony Jackson Laura Grannemann Quicken LoansEducation Events Tech Interview General Best of Benzinga