Turkey ETF Confronts Another Election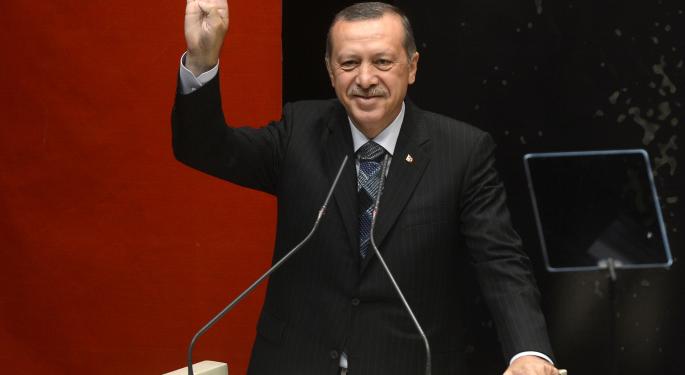 The iShares MSCI Turkey ETF (NYSE: TUR), the lone exchange-traded fund dedicated to Turkish stocks, is lower by more than 12 percent this year. As if that's not bad enough, the specter of another presidential election looms over the country's often volatile financial markets.
Earlier this month, President Recep Tayyip Erdoğan announced that Turkey's next presidential election will be held on June 24. The upcoming election is seen by some market observers as Erdoğan's latest effort to solidify one-man rule and implement the controversial changes that came about by last year's constitutional referendum.
That referendum was held about a year ago. Over the past 12 months, TUR is flat while the MSCI Emerging Markets Index is higher by 17.5 percent.
What Happened
"The announcement came following a meeting between Erdoğan and his parliamentary ally Devlet Bahçeli, chairman of the Nationalist Movement Party (Milliyetçi Hareket Partisi: MHP)," said IHS Markit. "Erdoğan's party, the Justice and Development Party (Adalet ve Kalkınma Partisi: AKP), and the MHP had recently finalized an agreement to establish a formal election alliance."
While Turkey holds elections, giving off the aura of democracy, many outsiders believe Erdoğan is a dictator using another title and that he's aiming for lifetime control of Turkey's highest elected office.
Why It's Important
National elections are usually important in emerging markets. Although Turkish stocks currently represent a scant percentage of the MSCI Emerging Markets Index, increased political volatility there could hamper the country's already fragile credit rating.
As it is, Turkish stocks are historically more volatile than broader developing world benchmarks. TUR's three-year standard deviation is 24.53 percent, or more than 800 basis points higher than the comparable metric on the MSCI benchmark.
What's Next
"By calling an early election, Erdoğan is most likely seeking to capitalize on the current boost in his popularity resulting from Turkey's successful cross-border military operation against Kurdish separatists in northern Syria," said Markit. "An additional factor for setting an early date for the election is likely to have been the currently strong - but likely unsustainable - momentum of economic growth."
Few emerging markets are expected to raise interest rates this year, but Turkey may be forced to do so to save its flailing currency and stem the possibility of an overheating economy.
Related Links:
View Comments and Join the Discussion!
Posted-In: News Short Ideas Emerging Market ETFs Politics Events Global Top Stories Trading Ideas Best of Benzinga