Roku CFO: We've Been Successfully Competing With Apple, Amazon For Years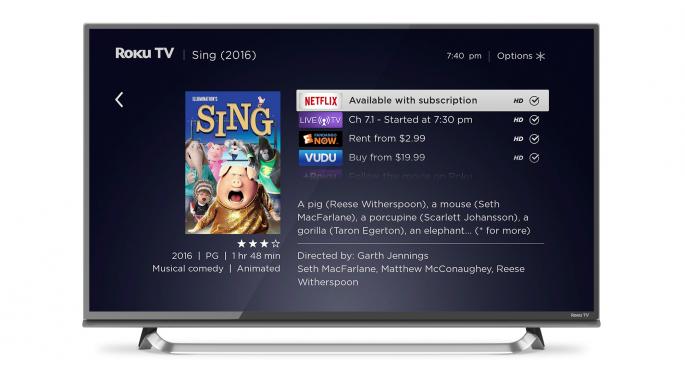 It's an old Wall Street adage that when there's a gold rush, it's better to be the one selling the shovels than the one hoping to strike gold. Perhaps there's no better way to describe Roku Inc (NASDAQ: ROKU)'s strategy.
As cord-cutting continues, Roku remains content-neutral — giving it the distinct advantage of turning would-be rivals into partners.
"Our neutral positioning and the fact that we do not produce our own original content is an important part of our value proposition," Roku CFO Steve Louden told Benzinga in a recent interview. "The competitors all have their own content or services that they're trying to advantage on their platforms. We've made the determination that we would stay out of the content game."
Competition Is Nothing New
Roku enables users to watch their favorite digital content on their televisions via external hardware like the company's $29 Roku Express device or through the licensing of its platform to TV manufacturers. As of August 2017, it was the biggest streaming platform in the U.S. based on usage, with more than 19 million active accounts, competing with the likes of Alphabet Inc's (NASDAQ: GOOGL) Google Chromecast and Apple Inc.'s (NASDAQ: AAPL) Apple TV.
"We've got a long track record of growing accounts despite those competitors introducing new products over the years consistently," Louden said.
Many continue to wonder what happens when companies like Apple or Amazon.com, Inc. (NASDAQ: AMZN) — for which streaming has seemed like more of a side project — will dig into their considerably deeper pockets and invade the space further.
"[That's] a common approach, in terms of, 'hey, when these guys start trying, what's going to happen to you?'" Louden said. "They're already trying, they've been trying. They have lots of people working on streaming. From what we can tell, they're subsidizing those business significantly because we have a cost advantage."
Be the first to get this news with Benzinga Pro. Sign up for your two-week trial here.
Though Roku makes a revenue share for any subscription to services that are signed up for through Roku, that share must be mighty scant in the case of Netflix, Inc. (NASDAQ: NFLX), as Roku's own SEC filings said "we do not expect revenue from Netflix to be material to our operating results for the foreseeable future." Roku similarly sees no material revenue from YouTube, its most streamed ad-supported channel in 2017.
Roku might point to the fact that Netflix, which made up 100 percent of its content by hours streamed 10 years ago, now represents only about one-third, suggesting the company is successfully diversifying its available programming.
With Roku's market share leader position, content producers may be just as reliant on the platform as it is on them, particularly when every other major content distributor has competing content it may promote over others or use as leverage.
"That is a difficult proposition if you're a content publisher and you're trying to have your content distributed," Louden said, "to know that the person who controls the user interface and the platform is advantaging some of their services and content."
A Closer Look At Roku's Q4
Roku's stock has nearly tripled the $14 price of its September 2017 IPO. A seeming division exists in the minds of traders and investors, many of whom laud the company while lambasting its valuation.
The stock has been weighed down since a Feb. 21 fourth quarter report that trounced estimates but detailed a decline in hardware sales — and was accompanied by sales guidance that fell short of expectations.
While an accounting change could be mostly to blame for the soft sales outlook, the issue of narrowing hardware sales has been raised before. This is due to an intentional shift from player revenue to "platform revenue," where the real opportunity lies, Louden said.
"We don't optimize for the player segment, revenues or gross profit," he said. "We are focused on active accounts. What I think some folks miss is: what's important to us is that active accounts continue to grow at a robust rate."
Related Link: Oppenheimer Upgrades Roku After Sell-Off: 'No Longer A Compelling Short'
Roku has made no secret of the fact that it doesn't view its hardware segment as a business, but merely as a means of acquiring active users, which they can then monetize.
Platform revenue grew 129 percent in the most recent quarter, led by advertising dollars. Some investors could be focused on numbers like hardware sales, while discounting the nearly 50 percent year-over-year growth in both active accounts and average revenue per user, respectively, Louden said.
And those hardware figures deserve a second look. Though holiday promotions and the popularity of Roku's lowest-cost player may have dampened the revenue figure, sales on a unit basis actually rose 8 percent.
As it continues to push its hardware prices lower, Roku isn't worried about margins either.
"We actually have a negative customer acquisition cost," Louden said. "Whether it's players or TVs, we actually are effectively getting paid to acquire a new account."
Despite pushing down player prices, the company maintains a positive gross margin there, with better margins on Roku TV, as manufacturers shoulder the burden of costs like marketing.
Related Link: What The Disney-Fox Deal Could Mean For Roku
What's Next?
Many questions remain for Roku. How impressed will the market be with the Roku Entertainment Assistant, unveiled at this year's Consumer Electronics Show? What type of impact might it see from the introduction of Walt Disney Co (NYSE: DIS) streaming offerings?
How might the continued shift from selling its own hardware to being licensed by OEMs affect engagement metrics, considering those consumers aren't necessarily purchasing the device for the sake of Roku?
Roku has a major IPO lockup expiration March 27. With the stock up astronomically since its inception, could massive insider sales take place?
What's certain is Roku's focus on continuing to execute on its strategic plan, Louden said.
"Our stance is that as usage on the platform grows and as content publishers get more engagement, that they win and we win, which is a very different setup than some of the competitors."
Photo courtesy of Roku.
Posted-In: Amazon Prime Apple TV ChromecastTop Stories Exclusives Tech Media Interview Best of Benzinga
View Comments and Join the Discussion!