This Chinese Supermarket Chain Wants To Bring Farm-To-Table Philosophy To Groceries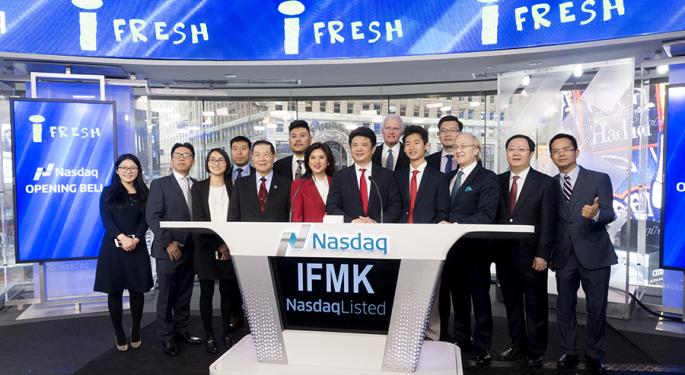 Shares of iFresh Inc (NASDAQ: IFMK) fell around 6 percent earlier this week on no apparent news.
While this certainly alarmed some investors, price dips over the past month were likely due to downbeat third-quarter earnings figures reported in February.
The Q3 print, which reflected large one-time expenses, doesn't represent the company's true growth potential, CEO Long Deng told Benzinga.
IFresh's strategic positioning, expansion plans and efficient, vertically integrated business model could give the supermarket chain a strong growth outlook and a competitive position in the American grocery sector.
The Company
IFresh is the first Chinese supermarket chain to list on a major U.S. exchange. It will soon have a total of 13 retail locations in addition to two wholesale subsidiaries in the United States.
The stores offer grocery items ranging from produce and seafood to imported Chinese food brands and health products.
Vertical Integration For Competitive Pricing
A standout feature of iFresh is the company's vertically integrated business model, which allows for supply chain efficiency and competitive pricing. Retail outlets are vertically integrated with producers, and customers can track items up the supply chain.
"IFresh Markets aims to serve the customer from farm to table," Deng said.
Customers will soon be able to scan the QR codes of items at iFresh and see the farm where it was produced, allowing for ultimate transparency, according to iFresh.
Wholesale Branches
Aiding the company's supply chain model are its wholesale subsidiaries: Strong America and New York Mart.
Strong America acts as a food importation branch and offers over 2,000 grocery items, including canned goods, rice, tea and flour products. The subsidiary imports over 2,000 cargo containers from Southeast Asia annually and distributes to 1,000 supermarkets in the U.S, according to iFresh.
New York Mark is engaged in the farming and distribution of meat, poultry and produce to iFresh stores.
This model cuts costs along the supply chain and gives iFresh the ability to compete on price with its rivals, which are primarily smaller, more local stores in niche markets, Deng said.
Expansion Plans
The Chinese grocery chain plans to continue expanding along the I-95 corridor in regions with sizable Asian American communities, Deng told Benzinga.
In mid-2017, iFresh reinforced this strategy by acquiring additional store locations in Florida and New York.
Deng said iFresh also has a great potential to reach consumers outside of the Asian American community due to its diverse offerings, low prices and the high quality of its grocery products.
Price Action
At time of publication, iFresh shares were down 5.6 percent at $8.35.
Related Links:
The Best Food Retail Stock Is ... Dollar Tree?
KeyBanc: Blue Apron Could Be A 'Compelling Acquisition Target'
Photo courtesy of iFresh.
Posted-In: Grocery iFresh Long DengEmerging Markets Top Stories Exclusives Markets Interview Best of Benzinga
View Comments and Join the Discussion!