More Than A Phone: The 'Light Phone 2' Fights Back Against Addictive Technology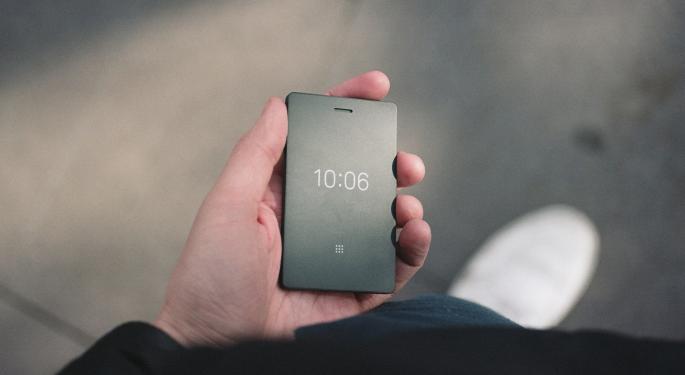 Addicted to your smartphone?
We check our phones on average 47 times per day, according to a Deloitte study.
There is a growing awareness around the negative consequences of smartphone addiction. This week, Stanford students called on Apple Inc. (NASDAQ: AAPL) to launch an essentials product — calls, texts and photos only.
Whether a smartphone user needs a phone away from their phone, or to distance themselves from email haunts them, the Light Phone 2 could be the answer.
What Is Light Phone 2?
The Light Phone 2 is an ultra-sleek "dumb phone" that aims to provides the bare essentials. The product is gaining rapid momentum with an Indiegogo campaign, raising over $700,000 — far outpacing its original goal of $250,000 — and is set to launch in early 2019.
"I started Light three-and-a-half years ago. At the time our idea was pretty polarizing: people [either] immediately understood and loved it, and others pushed back and said it was ridiculous," Light co-founder Joe Hollier told Benzinga.
Awareness of the side effects of being highly connected "has totally skyrocketed, particularly in the last year," Hollier said.
'Dopamine-Driven Feedback Loops'
Hollier noted instances of former tech developers and executives expressing guilt about the products they created.
Chamath Palihapitiya, the former vice president of user growth for Facebook, said in December he regretted his role in building tools that he said destroy society's social fabric:
"The short-term, dopamine-driven feedback loops that we have created are destroying how society works. No civil discourse, no cooperation, misinformation, mistruth."
The Light Phone didn't start as a smartphone replacement, but as a tool to step away for a bit while remaining connected in some way, Hollier said. After the first product was shipped, many users said they wanted to "go light" for good.
The product has become just as much of a movement against technology as it is a phone with limited features.
Platforms such as Facebook Inc. (NASDAQ: FB)'s Instagram, Snap Inc (NYSE: SNAP)'s Snapchat and Twitter Inc (NYSE: TWTR) "make money by getting us to spend as many hours as possible on their platform, and they have lots of tools at their disposal to do so, from notifications and designs that make it as unconsciously addictive as possible," Hollier said.
A Phone With Essentials Only
Hollier said he's not anti-technology, but combative toward company business models that don't align with helping to enrich people's lives. Using consumer feedback, Hollier is still working to add some other basic features to the Light Phone 2, particularly ride-sharing with Uber and Lyft. The ride sharing companies' model does not rely on the time spent on their platform, he said.
Light Phone is akin to a Swiss Army knife, and is designed with tools that assist the user's needs — without taking them out of the world, Hollier said.
"We are looking to implement tools into the phone. The Light Phone 2's core functionality will be [the] phone and messaging, but we are getting feedback on what three to four essential tools people need. We are talking about an Uber or Lyft partnership for some sort of ridesharing, but doing it in such a simple way that it's still not a smartphone."
Whether the Light Phone becomes a smartphone replacement; a means of rejecting around-the-clock connectivity; or just a fashion accessory, the product has received a considerable amount of interest.
"Right now we are interested in objects that could use technology in respectful ways," Hollier said. "How can we empower users to appreciate their lives more [and] not take them out of it? If we are able to do so and survive as a business, our products can align with a quality of life in a way that Facebook never really could."
Related Links:
How This Serial Entrepreneur Developed The App Millennials Use To Pay Overdraft Fees
Photo courtesy of Light.
View Comments and Join the Discussion!
Posted-In: Chamith Palihapitiya deloitte IndieGoGo Joe HellierTop Stories Exclusives Tech Interview Best of Benzinga