Every Executive Who's Disappeared From Snap Since Its IPO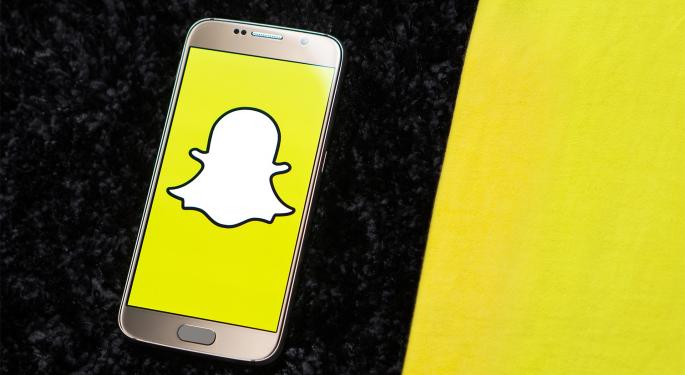 Even as recent surveys show that Snap Inc (NYSE: SNAP) is increasingly finding favor with younger users, another issue has come to haunt Snapchat's parent company: turnover.
The company is facing brain drain of sorts, with the latest casualty being a sales executive.
Snap's VP of sales Jeff Lucas, who previously had a stint as ad sales chief at Viacom, Inc. (NASDAQ: VIAB), left the company, Cheddar reported, citing a person familiar with the matter who quoted an internal company memo.
The departure is significant because Lucas was vested with the responsibility of leading Snap's ad sales organization during the rollout of its programmatic ad system, which accounted for more than 90 percent of sales in the fourth quarter of 2017, Cheddar said. Lucas was with Snap for less than two years.
Lucas' responsibilities will now be handled by a group of managers who lead the company's sales teams globally, the publication said.
As an isolated case, executive churn might not mean much for a company. But Snap has seen about seven high-profile executive departures since it debuted on Wall Street.
Here are the executives of the executives who have left Snap since its March 2, 2017 IPO.
In late January, Tom Conrad, who served as Snap's VP of product, opted to move out of the company after a nearly two-year stint, according to TechCrunch. Conrad was said to have taken a sabbatical from the tech industry as a whole. His responsibilities were taken over by Director of Growth Jacob Andreou, who had reported to him.
In December, Jonathan Wegener confirmed to Recode that he had already left Snap after a tenure of less than one year. Wegener worked on product at a critical time when Snap was embarking on an app redesign. Before joining Snap, Wegener founded Timehop.
In November, Tim Sehn, Snap's VP of engineering, left the company and was replaced by his mentee Jerry Hunter. Sehn had led the company's engineering team since 2013 and was among the highest-paid executives at the time of his departure.
Also in November, Chloe Drimal, one of Snap's first 20 employees, resigned. Drimal, though not holding an executive role, was overseeing the team that developed Snap's "Our Stories" feature.
In July 2017, Robyn Thomas, who served as VP of HR and legal, left the company.
Also in July 2017, Martin Lev, another executive who oversaw security and facilities, bid the company farewell.
July 2017 also saw the departure of Snap's then-General Counsel Chris Handman, who had been with the company since 2014 and oversaw its high-profile IPO. Handman was credited with assembling a team of close-knit lawyers who handled all legal affairs from the IPO to M&A. He was later replaced by Michael O'Sullivan, who represented Alphabet Inc (NASDAQ: GOOGL)(NASDAQ: GOOG) during its IPO.
Fundamentally, Snap is on a mission to expand beyond its niche market, namely younger users, and is striving to make inroads into the 34-plus age group and the international markets.
Snap shares have been on a roller-coaster ride ever since their listing. The company offered 2 million shares at $17 each. The stock closed its debut session at $24.48, a 44-percent gain from the offer price.
But the stock was on a downtrend, dropping to an intraday low of $11.28 on Aug. 14, 2017 after disappointing second-quarter results. Although the stock recovered from there, it came under renewed selling pressure after a third-quarter revenue miss in November. The stock has picked up some momentum following the release of better-than-expected fourth-quarter results on Feb. 6.
Related Links:
Snap Offers Ad Credits To Siphon Advertisers From Rival Platforms
Snap's Q4 Points To 'Material Multiyear Growth' Ahead, BofA Says In Upgrade
Posted-In: Cheddar ReCodeNews Education Management Top Stories Trading Ideas General Best of Benzinga
View Comments and Join the Discussion!