Survey: Young Users Unfriending Facebook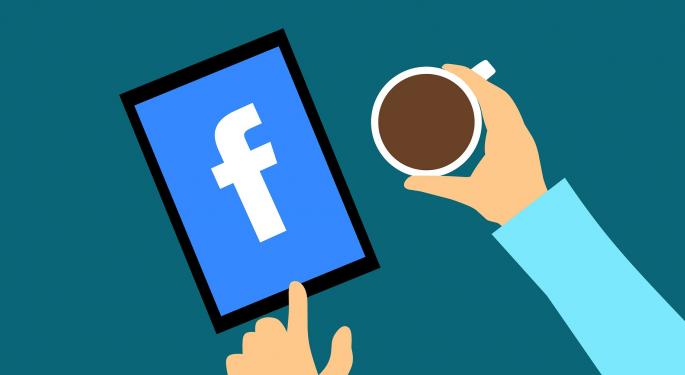 Snap Inc (NYSE: SNAP) may be gaining on Facebook Inc (NASDAQ: FB), which has in the past unabashedly copied Snap Inc (NYSE: SNAP)'s Snapchat features in the past and found success with them.
For the first time, less than half of U.S. internet users ages 12 to 17 will use Facebook this year via any device at least once per month, according to the research firm eMarketer.
The number of U.S. Facebook users who are 11 and younger will decline by 9.3 percent in 2018, the survey said. The number of Facebook users who are in the 12-17 and 18-24 demographics are estimated to decline by 5.6 percent and 5.8 percent, respectively.
"This is the first time eMarketer has predicted a decline in the number of U.S. Facebook users in those age groups," eMarketer said in the release.
Youth Give Facebook The Thumbs Down?
eMarketer estimates that Facebook will lose 2 million users ages 24 and younger in 2018. The numbers look puzzling against the daily active user, or DAU, numbers reported by the company with its fourth-quarter earnings.
DAUs as of December were at 1.4 billion, up 14 percent year-over-year, and monthly average users, or MAUs, were at 2.13 billion, also up 14 percent compared to the previous year.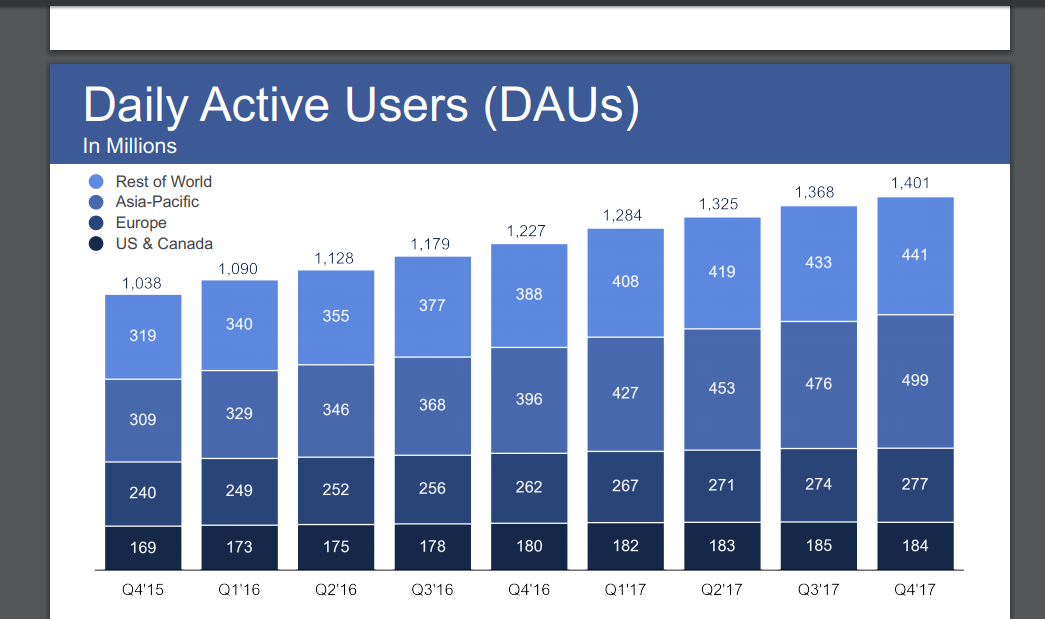 Source: Facebook
See also: Snapchat Rules With Teens, Poll Finds
The anomaly could be explained by Facebook finding favour with older age groups. Total Facebook users in the U.S. are estimated to rise 1 percent to 169.5 million in 2018, according to eMarketer. This compares to 104.7 million users for Facebook's Instagram and 86.5 million for Snapchat.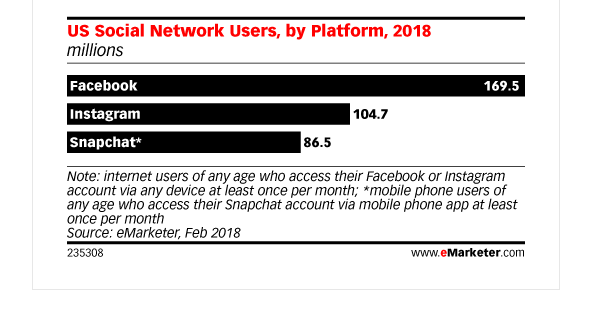 Source: eMarketer
Instagram's user base in the U.S. is estimated to grow 13.1 percent in 2018 compared to 9.3-percent growth for Snapchat. But the proportion of social network users accessing Facebook will continue to decline over the forecast period, eMarketer said.
Facebook's Loss Is Snapchat's Gain
If there is an exodus of younger users from Facebook, where are they headed to? eMarketer's research said young people are switching their allegiance to either Instagram or Snapchat or both.
Instagram is expected to add 1.6 million users 24 and younger, and Snapchat is likely to add about 1.9 million users.
Of the two, Snapchat seems to possess the edge with younger users, as eMarketer found Snapchat has more users aged 12 to 24 than Instagram.
About 47 percent of teens named Snapchat their preferred social media platform, according to a separate survey by Piper Jaffray in the fall of 2017. This compared to 24 percent for Instagram, 9 percent for Facebook and 7 percent for Twitter Inc (NYSE: TWTR).
"Snapchat could eventually experience more growth in older age groups, since it's redesigning its platform to be easier to use," said eMarketer principal analyst Debra Aho Williamson.
"The question will be whether younger users will still find Snapchat cool if more of their parents and grandparents are on it. That's the predicament Facebook is in."
Related Link:
Facebook To Deprioritize Media, Business Posts In News Feed, Expects User Time To Fall
View Comments and Join the Discussion!
Posted-In: eMarketer Instagram SnapChat social mediaEducation Trading Ideas Best of Benzinga