Ford Maintains Its Fleet Sales As GM, Fiat Chrysler Scale Back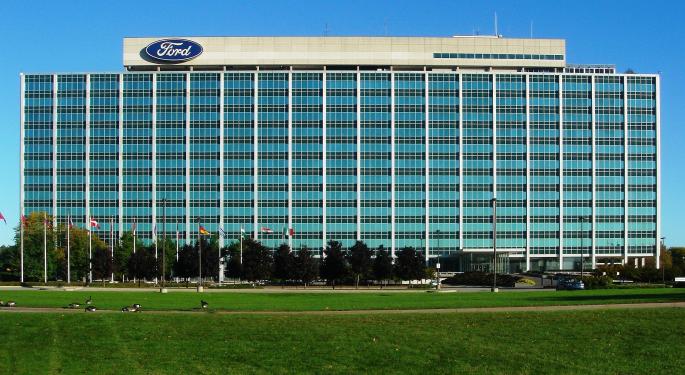 Two weeks ago, General Motors Company (NYSE: GM) reported a 22-percent year-over-year decline in December fleet sales. Fiat Chrysler Automobiles NV (NYSE: FCAU)'s segment fell 42 percent.
But neither is concerned. In fact, FCA confirmed at the North American International Auto Show that it will continue to pare fleet sales in the coming year.
The 2017 fades were intentional, strategic reductions to the daily rental segments meant to protect the residual value of vehicles eventually bought by individual consumers. Retail sales are of greater importance and generate higher per-vehicle profits.
Ford's Not Following
FCA and GM agree that trimming fleet sales is best for their companies, but Ford Motor Company (NYSE: F) seems to see things differently.
Ford posted a 16.8-percent increase in fleet sales for the month of December and relatively flat sales for the year.
Erich Merkle, head of U.S. sales analysis at Ford, attributes the disparity both to strategy — fleet composition and historical reductions — and to abnormal patterns throughout the comparative period of 2016.
"Two-thirds of our fleet is commercial and government, meaning that a third of it is daily rental," Merkle said. "When you start comparing it, there isn't really any other automaker that has two-thirds of their fleet commercial and government."
The proportions are significant as daily rental fleets, unlike commercial and government, ultimately weigh on brand value when the vehicles return to market.
"These are all businesses that we're very pleased with, they're very profitable for us and we're not going to get out of them," Merkle said. "The daily rental piece is very good business for us, but it has to be managed properly, meaning you don't want to put too many or force them through the daily rental channels because what happens with daily rental vehicles — within 18 to 24 months, they come back into the market as used vehicles and that does damage. It lowers your residual value on your vehicles."
The Resulting Strategy
In recognition of these circumstances, Ford pared its daily rental segment nearly a decade ago and has since maintained levels around 11 percent of total sales. Merkle expects to maintain this rental rate while continuing to grow commercial and government sales.
"A lot of it depends on sales as we start going into this next year and whether companies are going to continue to spend and to buy; so much is dependent on that," he said. "It is a cyclical industry, but we would be very happy to sell more commercial vehicles and sell even more government vehicles than we already do."
Ford claims one-third of the commercial vehicle market, and its sales include Transit vans and F-series trucks for deliveries and construction. It also claims 50 percent of the police market and supports other government agencies, such as the national parks.
Capitalizing On Competitor Capitulation?
Merkle said any increases in Ford fleet sales are unrelated to competitors' pullback and not reflective of a zero-sum market, where Ford is merely capturing the sales FCA and GM are surrendering.
In fact, GM continues to grow its commercial and government sales, posting a December increase of 7 percent even as rental declines weighed on fleet totals.
"What you'll see is a lot of volatility, not just in the sales but also in the share numbers too, because the sales numbers and share numbers do fluctuate a lot, more so than, say, retail sales," Merkle said.
Related Links:
Tesla And The Auto Market's New 'Big Three'
Fiat Chrysler CEO Sergio Marchionne Talks Succession Plan, NAFTA, EVs
Photo by Dave Parker/Wikimedia.
View Comments and Join the Discussion!
Posted-In: auto sales automotives Erich MerkleNews Retail Sales Events Top Stories Best of Benzinga