Fiat Chrysler CEO Sergio Marchionne Talks Succession Plan, NAFTA, EVs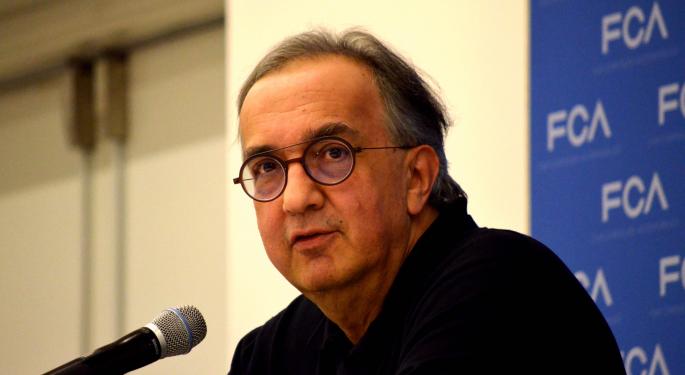 There were no buzzwords during Fiat Chrysler Automobiles NV (NYSE: FCAU) CEO Sergio Marchionne's segment of the North American International Auto Show.
Marchionne refuses to pump FCA's stock on predictions of electrification and autonomy, and he doesn't hedge about FCA's performance potential.
FCA is poised to be debt-free by the close of 2018, if not by June, Marchionne said. But that's not the whole picture.
"Just because we've spoken about that, we haven't launched all the vehicles we were supposed to have launched and we're not going to sell the 7 million cars we promised everybody we would be selling by 2018," Marchionne said.
Management And M&A
FCA expects to announce a 2022 plan by June 1 and will subsequently announce Marchionne's successor he said. The CEO, who's held Chrysler's top post since 2009, said his successor will come from the inside — and the only people in the running are men.
At the same time, he rejected speculation that FCA is considering a break-up, spinoff or brand sale, as well as guesses at the standalone value of the company's individual parts.
"There is a lot of charm and financial wisdom in being able to extract value out of an amalgam like FCA, which may have a variety of brands and activities which show different profit profiles," he said. "We have no intention of breaking it up or giving anything to the Chinese."
Diesel's Place, EV's Risk
Marchionne reiterated his agnostic position on electric vehicles and said companies should be free to choose the technologies most appropriate for their circumstances.
"These proclamations that we hear about the advent of electrification and artificial intelligence and the inevitable association of artificial intelligence with electrification are all things which at best are conjecture," he said.
FCA will employ the technology required to meet regulatory standards, but that won't necessarily mean fully electric powertrains, Marchionne said.
The outgoing CEO said he expects diesel engines to continue to hold a relevant, but small place in the market, particularly in the U.S., and said hybrid solutions will continue to evolve.
In Europe, electrification will likely become "mandatory" in order to meet emissions guidelines, Marchionne said.
The fines associated with running afoul of European pollution regulations are so steep that it would make more financial sense to stop selling vehicles on the continent than to break the rules, he said.
"The punitive side associated with noncompliance is so high it's not worth it."
FCA expects to meet European standards, he said.
Automotive E-Commerce
FCA has sold some Maseratis through Alibaba Group Holding Ltd (NYSE: BABA) in China and opened a channel for Fiat 500s on Amazon.com, Inc. (NASDAQ: AMZN). But the figures aren't high enough to be material to sales numbers, the CEO said.
"We're going to experiment," Marchionne said. "There's still a very personal thing about going to buy a car. You can buy sweaters [online]; I'm not sure if you can buy automobiles."
NAFTA And Taxes
FCA will see a $1-billion windfall in 2018 from the U.S. tax bill, Marchionne said.
Regarding NAFTA, Marchionne said he hopes the Trump administration will reduce its demands for 85-percent domestic car parts.
"I'm hopeful we'll see a more rational number going forward, and if it is more rational I think we'll be able to meet that standard," he said, noting that he believes some FCA repatriation initiatives will address the president's underlying concerns.
Fiat Chrysler's manufacturing presence in the U.S. isn't simply a matter of balance sheets, Marchionne told reporters.
"It isn't an economical thing for us to produce heavy duty in the United States. It costs us more money than it costs to produce in Mexico. But the obligation is deeper than this. Over 90 percent of our product is sold in the United States. I think it should've never left. It belonged to this country, and I think we did the right thing in bringing it back."
More Trucks, Fewer Cars
A "better than 50-percent chance" exists that FCA can increase its sales numbers in 2018 due to product cadence and the Dodge, Ram and Jeep pipelines, Marchionne said.
Sedans won't likely contribute to that boost, as FCA derives more profit from SUVs and trucks than cars.
"The worsening of the passenger car market from here is hard to imagine," Marchionne said. "We're now at the bottom of the barrel ... we made a right call over three years ago to disentangle ourselves from the passenger car market."
That doesn't mean FCA is severing itself entirely from the passenger car market, and Marchionne said the firm continues to play the sector via Dodge.
In trucking, Marchionne sees a unique opportunity in the U.S. and expects FCA has enough manufacturing capacity to catch Chevrolet's Silverado.
The Luxury Market
Lower gas prices and consumer preferences for larger vehicles mean that Fiat plays a marginal role in the U.S. market.
"Fiat, because of its nature, the size of its cars and its ambition, has limited runway in the United States," Marchionne said, noting that the firm is adjusting its distribution to reflect demand.
Alfa Romeo, a brand that returned to the U.S. market after a more than decade-long absence, is expected to take longer to reach its potential, perhaps until 2022, Marchionne said. He defended FCA's investment in a segment with fierce competition from Audi, Mercedes and BMW.
"It's bound to run into a higher degree of friction, but I think it was essential for us to play that game, because if we had not played that game, then the credibility of Maserati going forward would have been in doubt," he said. "The technical credibility of Maserati is based on all the work that we've done with Alfa.
"Not developing Alfa, not developing Maserati would've been economically suicidal for FCA."
Related Links:
Honda, Volvo, Lincoln Win Vehicle Of The Year Awards At NAIAS
AI Development In Automotive Is Full Steam Ahead, Nvidia Exec Says In Detroit
Fiat Chrysler CEO Sergio Marchionne speaks to reporters Monday, Jan. 15 at the North American International Auto Show at Detroit's Cobo Center. Photo by Dustin Blitchok.
View Comments and Join the Discussion!
Posted-In: NAFTA NAIAS North American International Auto Show Sergio MarchionneNews Events Best of Benzinga