The Bitcoin Regulation Conundrum, Explained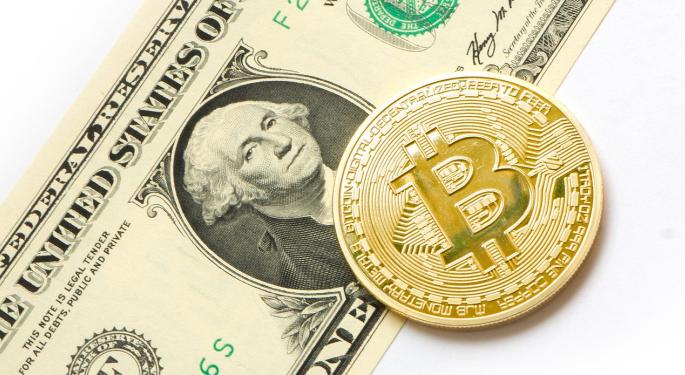 Cryptocurrency is a libertarian's delight.
"For people that are incredibly enthusiastic about markets and believe that markets should be the determining governance, crypto is the best place to be, because it is truly controlled by the market itself," Kris Nelson, COO of Social Reality Inc (NASDAQ: SRAX), said Tuesday on Benzinga's PreMarket Prep Bitcoin Special. "There is no bitcoin organization. It is completely decentralized and controlled by the market."
It's about community and consensus, with disagreements resulting in "forks" instead of personal compromise.
It sounds quaint, but Jim Angel, associate professor of finance at Georgetown University, considers the anarchic environment risky.
"There are very good reasons why every country on the planet has very strong regulations over financial services," Angel said on the show. "So the cyber-libertarian pipedream that, 'oh, it's totally unregulated, no evil government can water it down,' is totally ignorant of financial, economic and monetary history."
Regulations, he said, have a critical role in preventing fraud and ensuring solvency of the financial system, economic longevity independent of financial sector performance and functionality of payment systems.
See Also: Here Are All The Ways You Can Buy, Trade, And Invest In Bitcoin
What Could Go Wrong
Nelson concedes the potential for bitcoin price manipulation, and one of Angel's biggest concerns is easy accessibility of cryptocurrencies for nefarious use.
"Right now there are a lot of dark uses for bitcoin," Angel said. "The only legitimate use cases now are basically ransomware, drugs, human trafficking. The way to clamp down on that is to make sure we have really good anti-money laundering laws and really good know-your-customer rules."
Joe Saluzzi, partner and cofounder of Themis Trading, also said he sees danger in bitcoin derivatives. Bitcoin now trades on a regulated futures market, and those futures could soon be packaged into regulated exchange-traded funds — but the underlying assets will remain unregulated.
"You have an enormous amount of problems here and an enormous amount of risk that no one is watching," Saluzzi said, anticipating issues as bitcoin further penetrates monitored markets.
The Chicago Board Options Exchange claims some surveillance agreements, but Saluzzi is concerned about the 100 other global exchanges that could host manipulative activity, such as "spoofing" or "wiring."
"There are arbitrage opportunities," he said. "You could buy on one exchange and sell on another, even though it's not as easy as it is in the equities world, and that could affect the price of the futures and the derivatives. That's where my problem is."
Difficulties In Regulating
And his fear may not be easily abated, particularly considering the proliferation and global span of exchanges. U.S. markets are monitored by the Securities and Exchange Commission, the Financial Industry Regulatory Authority, the Commodity Futures Trading Commission and the exchanges themselves, but bitcoin is harder to govern.
"You can't have that here," Saluzzi said. "You have multiple jurisdictions. They're all over the world. You've got exchanges popping up overnight. You don't know who these people are, who's running it. I don't see how you can get your arms around this ever in that sense, which is why I have a problem with the derivative of it."
In vindication of Saluzzi's concerns, the CFTC recently released a disclaimer confessing its limited statutory authority over bitcoin and disavowing the underlying cash markets.
See Also: Why The Bitcoin Bubble Is Different From All Other Bubbles
Bitcoin's Self-Regulation
The very factors that startle Saluzzi are encouraging to Nelson. He considers the sum of global exchanges and resulting difficulty in transferring bitcoin as natural regulatory mechanisms that are particularly challenging to large-scale manipulation. Additionally, he sees futures derivatives and the pretense of regulation as stabilizing the value.
"Overall, I think these regulated institutional components coming into the bitcoin market — so you take regulated and put it on top of something that's unregulated — I think it's better for the whole market, and I think it's ultimately better for bitcoin," Nelson said. "It brings some stability, and what we're seeing is the enthusiasm that legitimacy brings, and that's a huge plus."
Want to hear more from the PreMarket Prep Bitcoin Special? Click the play button below to purchase the full 90-minute show. A preview is also available above the play button.
PreMarket Prep is a daily trading ideas show hosted by former floor trader Joel Elconin and prop trader Dennis Dick. You can listen to the show live and participate in our chatroom every day from 8-9 a.m. ET here. The show is also available on YouTube Live. The podcast is available on iTunes, Soundcloud and Stitcher.
View Comments and Join the Discussion!
Posted-In: Cryptocurrency News Futures Commodities Forex Legal Top Stories Markets Best of Benzinga