Bitcoin Futures: Why It's Important For Crypto Enthusiasts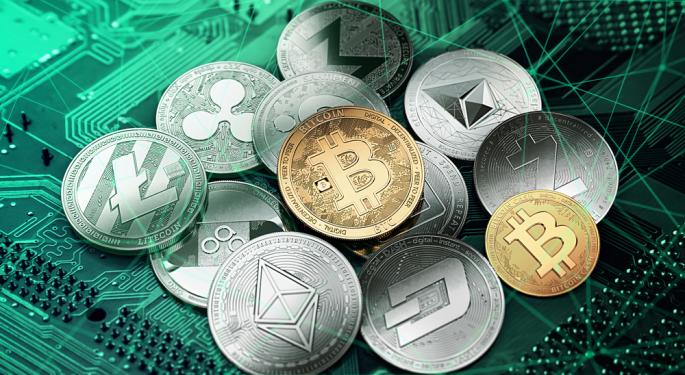 Bitcoin futures made its debut on Sunday and one-month contracts immediately shot up to a 21 percent premium. That means many traders remain bullish on the world's most popular cryptocurrency even as naysayers continue to question bitcoin's legitimacy as digital gold.
Traders are betting on continued high prices for bitcoin, suggesting that it may not be "Tulip Bubble 2.0" after all. The Cboe Futures Exchange (CFE) lists January, February and March bitcoin futures at between $19,440 to $19,886. That's only slightly higher than the current bitcoin price of $19,400 as listed on CoinMarketCap.
"Bitcoin is anti-fragile. It's a technology that grows strong when under attack," says economist Jeffrey Tucker of the Foundation for Economic Education (FEE). "It has experienced blows, but it only grows stronger and better. That's why the critics are constantly feeling humiliated, and somehow they never admit it."
A futures contract lets traders bet on the future rise and fall of a commodity. The risk involves buying or selling commodities and futures contracts on a later date at set prices. Futures has been a risk management tool in industries that have volatile raw materials. Take the airline industry. Airlines like to buy oil in advance at a determined price. It's done to avoid paying much higher prices down the road should oil prices soar or the Middle East becomes unstable.
Bitcoin is a global currency but it's listed at various prices in the different exchanges in which it trades. One reason is that some countries exercise capital controls within its borders, making it difficult for crypto fans to buy bitcoin. It's also a competitive threat to national currencies, which motivates governments to reduce or eliminate its use. Think China's ban on bitcoin exchanges.
A second reason for varying prices is local enthusiasm. For example, South Korean and Japanese exchanges routinely list at least a 10 percent price premium over other exchanges because of bitcoin's popularity in these markets.
"Bitcoin futures provides the tools for many investors to get involved in bitcoin without actually requiring them to put their hands directly on the cryptocurrency," says Allan Chang, founder of CoinCola, the biggest over-the-counter bitcoin exchange in Asia. "It's bringing opportunities such as hedging through derivatives, which will lead to more financial services associated with bitcoin."
The futures market can close the price gap, add liquidity and reduce volatility — ingredients that are attractive to institutional investors. Bitcoin futures can also increase user adoption by bringing in professional and risk-averse investors. Moreover, differences in prices give traders arbitrage opportunities to profit from the gap, but exchange officials expect this smoothing process to take weeks or months.
"Bitcoin futures is an admission that bitcoin is entering mainstream adoption," says Allan Chang of CoinCola. "Most importantly, the futures removes the intrinsic lack of security in the medium. In the short term, the launch of futures should propel the price up altogether while reducing volatility. But eventually, short sellers could dominate bitcoin futures and this could lead to a significant drop in the price."
Bitcoin futures may be a step towards legitimacy, but such a move could be a double-edged sword at a time when most governments are running massive budget deficits — deficits that are paid for by printing more fiat cash. So are listings on government-sanctioned exchanges a preview of more regulations — and taxes — to come?
"Governments can slow down adoption, especially by controlling and regulating the exchange," says economist Jeffrey Tucker. "Another method is through taxation, by subjecting crypto profits to onerous reporting standards and taxation. The blockchain itself cannot be controlled but the nationalized institutions surrounding blockchain can be [controlled]."
Don't expect entrenched interests to not fight back. But bitcoin futures shows that cryptocurrencies, led by its flagship bearer bitcoin, has officially entered the stage.
Want to hear more about bitcoin from the PreMarket Prep Bitcoin Special? Click the play button below to purchase the full 90-minute show. A preview is also available above the play button.
The preceding article is from one of our external contributors. It does not represent the opinion of Benzinga and has not been edited.
View Comments and Join the Discussion!
Posted-In: Bitcoin bitcoin futures contributor contributorsEurozone Forex Markets Best of Benzinga