Ultragenyx Seeks An FDA Win For Biologic Therapy Candidate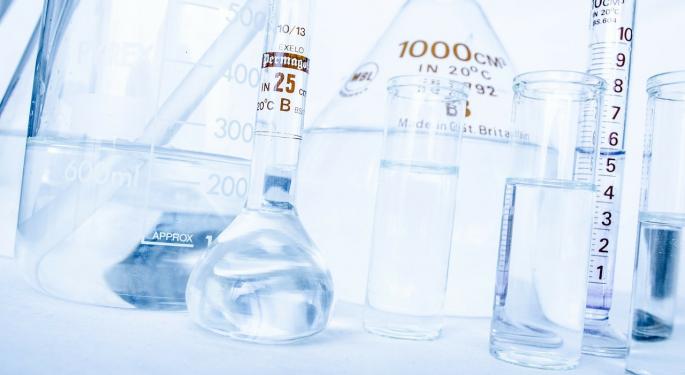 After Heron Therapeutics Inc (NASDAQ: HRTX), Bristol-Myers Squibb Co (NYSE: BMY) and Dynavax Technologies Corporation (NASDAQ: DVAX) found favor with the FDA, it's Ultragenyx Pharmaceutical Inc (NASDAQ: RARE)'s turn, as the rare disease therapy company seeks FDA approval for its lead product candidate rhGUS.
The verdict is scheduled to be announced Thursday, Nov. 16.
FDA Incentivitizes Ultragenyx
The rhGUS therapy, code named UX003, is a biologic intended to treat Sly syndrome. Biological products include a wide range of substances, including vaccines, blood and blood components, allergenics, somatic cells, gene therapy, tissues and recombinant therapeutic proteins, often isolated from humans, animals or microorganisms or produced by biotechnology and other cutting-edge technologies.
Ultragenyx had filed a Biologic License Application, or BLA, for the therapy earlier this year, with the FDA announcing the acceptance of the application May 23. The FDA accorded priority review status for the application, which means the review would be completed in six months, as opposed to the standard 10-month review window.
Expediting the review period is done as an incentive for drug developers that work on rare diseases impacting a smaller population.
See also: Attention Biotech Investors: Here Are November PDUFA Catalysts On The Horizon
A Therapy For Sly Syndrome
rhGUS is a recombinant human beta-glucuronidase, an enzyme replacement therapy.
Sly syndrome is an autosomal recessive lysosomal storage disease, marked by the deficiency in beta-glucuronidase, which leads to accumulation of certain complex carbohydrates, namely mucopolysaccharides, in many tissues and organs.
This syndrome manifests itself as a rare, progressive, hereditary metabolic disease, with symptoms including short stature, skeletal abnormalities, changes in bone density and some degree of intellectual disability.
The chances of approval for rhGUS look bright given the Phase 3 results released in July 2016, which showed that the primary endpoint of the late-stage study was met.
An opinion from the Committee for Medicinal Products for Human Use is expected in the first half of 2018.
A Peek at Ultragenyx Fundamentals
Ultragenyx reported its third quarter results Nov. 2, showing a wider loss of $1.87 per share compared to a loss of $1.64 per share last year. At the end of the third quarter, the company had cash, cash equivalents and short-term investments of $396 million.
Among the upcoming catalysts for the company are the PDUFA action date for Burosumab in X-linked Hypophosphatemia, or XLH, due for April 17, 2018, and the results of a late-stage study of UX007 in long-chain fatty acid oxidation disorders, due by the end of 2017.
Stock Take
Since 2016, the stock has been locked in a broad trading range. The shares have plunged about 40.3 percent over the past year amid some negative trial results and Ultragenyx' Dimension Therapeutics Inc (NASDAQ: DMTX) buy, which was priced at $152.3 million in cash.
Will the rhGUS PDUFA catalysts revive the fortunes of the sagging stock?
Related Link:
Posted-In: FDANews Health Care Previews FDA Top Stories Trading Ideas General Best of Benzinga
View Comments and Join the Discussion!