Attention Biotech Investors: Here Are November PDUFA Catalysts On The Horizon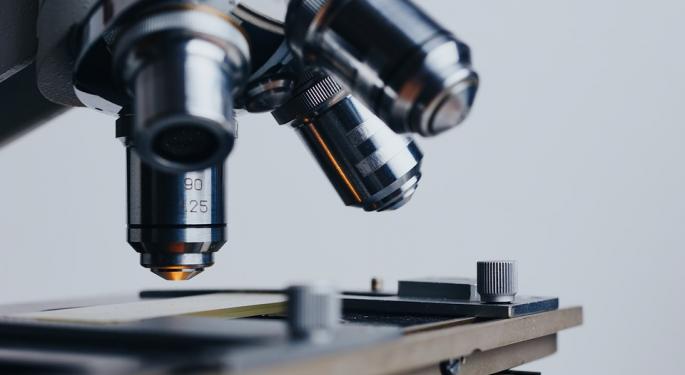 October turned out to be a month of plenty for biotech investors, with several potential treatment candidates knocking at the FDA altar. The make-or-break FDA review event usually creates volatility in the space, offering an excellent opportunity for traders to make profits.
The iShares NASDAQ Biotechnology Index (ETF) (NASDAQ: IBB) lost about 5.87 percent in the month-to-date period, and the NYSE:ARCA Biotech Index was down a more modest 2.91 percent.
The S&P 500 and the NASDAQ Composite were up 1.63 percent and 0.94 percent, respectively.
A Look Back At Some Of October's PDUFA Events
Several drugs came before the FDA in October. New molecular entities approvals, a measure of innovation, have picked up momentum this year.
NMEs are products containing active moieties that have not been approved by the FDA previously, either as a single ingredient drug or as a part of a combination product.
Incidentally, no NME were approved in October. NME approvals so far for 2017 have totaled 34 compared to 2016's 22 approvals.
See Also: Buy Sierra Oncology Ahead Of A 2018 Full Of Catalysts
Source: Y Charts
Previewing November PDUFA Catalysts
1. Collegium Seeks Label Expansion For Xtampza
Company name: Collegium Pharmaceutical Inc (NASDAQ: COLL).
Type of Application: sNDA.
Drug/Treatment Candidate: Xtampza ER (oxycodone).
Indication: For management of pain severe enough to require daily, around-the-clock, long-term opioid treatment and for which alternative treatment options are inadequate.
Date: Nov. 4.
Xtampza ER is an abuse-deterrent extended-release opioid approved by the FDA in April 2016. The company submitted an sNDA on Oct. 5, 2016, seeking an enhancement of the labeling, suggesting that the release profile will not be altered it is used as a solid formulation or is crushed and used.
The original PDUFA date of Aug. 17 was extended to Nov. 17, as the company submitted additional supportive information, which was classified as a major amendment by the FDA. Therefore, the PDUFA date was extended to Nov. 17.
2. Keryx's Auryxia For Iron Deficiency Anemia?
Company name: Keryx Biopharmaceuticals (NASDAQ: KERX).
Type of Application: sNDA.
Drug/Treatment Candidate: Auryxia.
Indication: Expand the indication for Auryxia to include the treatment of iron deficiency anemia in patients with non-dialysis dependent chronic kidney disease.
Date: Nov. 6.
Auryxia is currently being approved in the U.S. for controlling serum phosphorus levels in patients with end-stage renal disease, requiring dialysis. The sNDA was filed on March 8.
3. Bristol-Myers Squibb's Sprycel Amenable For Kids?
Company name: Bristol-Myers Squibb Co (NYSE: BMY).
Type of Application: sNDA.
Drug/Treatment Candidate: Sprycel (dasatinib).
Indication: To treat children with Philadelphia chromosome-positive chronic phase chronic myeloid leukemia as well as a powder for oral suspension formulation.
Date: Nov. 9.
Bristol-Myers Squibb announced FDA acceptance of the sNDA on July 10 with the application considered under priority review. Sprycel was first approved in 2006 for treating adults with Philadelphia chromosome-positive chronic phase chronic myeloid leukemia, who are resistant or intolerant to prior therapy including imatinib. It is also approved for adults with Philadelphia chromosome-positive acute lymphoblastic leukemia.
4. Dynavax's Third Try
Company name: Dynavax Technologies Corporation (NASDAQ: DVAX).
Type of Application: BLA.
Drug/Treatment Candidate: HEPLISAV-B, an investigational adult hepatitis B vaccine.
Indication: Hepatitis B infection in adults aged 18 years and older.
Date: Nov. 10.
The vaccine candidate was rejected twice in the past, with CRLs issued both on Feb. 25, 2013, and Nov. 14, 2016, with the recent CRL seeking information on several issues related to both efficacy and safety.
Following the November 2016 snub and resubmission in February 2017, the PDUFA date was fixed as Aug. 10, 2017. FDA's Vaccines and Related Biological Products Advisory Committee, following a July 28 meeting, voted 12 to 1 that safety data supported licensure, while also commenting on the design of the proposed post-marketing study.
The FDA sought additional information on the post-marketing study and granted three months to agree on it prior to an updated PDUFA data, which was expected to be no later than Nov. 10, 2017.
5. Heron's Anti-Emetic Under FDA Scanner
Company name: Heron Therapeutics Inc (NASDAQ: HRTX).
Type of Application: NDA.
Drug/Treatment Candidate: Cinvanthi (HTX-019).
Indication: To treat nausea and vomiting induced by chemotherapy.
Date: Nov. 12.
Cinvanthi is Heron's proprietary formulation of aprepitant, possessing the potential to be the first polysorbate 80-free, intravenous formulation of aprepitant. Aprepitant is a neurokinin-1 receptor antagonist used for preventing chemotherapy-induced nausea and vomiting.
Merck & Co., Inc. (NYSE: MRK)'s Fosaprepitant, the aprepitant prodrug currently approved in the U.S., contains polysorbate 80, which may cause allergic reactions.
6. Ultragenyx's Seeks Rare Win
Company name: Ultragenyx Pharmaceutical Inc (NASDAQ: RARE).
Type of Application: BLA.
Drug/Treatment Candidate: rhGUS (UX003).
Indication: Treating Mucopolysaccharidosis VII or Sly syndrome.
Date: Nov. 16.
The BLA for Recombinant human beta-glucuronidase, an enzyme replacement therapy was accepted by the FDA for review on May 23, with regulatory agency according to priority review status for the therapy.
Sly syndrome is an autosomal recessive lysosomal storage disease, marked by the deficiency of in beta-glucuronidase, which leads to accumulation of certain complex carbohydrates, namely mucopolysaccharides, in many tissues and organs of the body.
The clinical features of the rare, progressive, hereditary metabolic disease include short stature due to retarded growth, skeletal abnormalities, changes in bone density and some degree of intellectual disability.
The company had released phase 3 data on the therapy in July 2016, which showed that the primary endpoint of the late-stage study was met, while the secondary endpoint was not met.
Related Link: The BLUE And The BOLD; Analyst Suggests Pair Trade Ahead Of Year-End Catalysts
View Comments and Join the Discussion!
Posted-In: AuryxiaBiotech News Previews FDA Top Stories Trading Ideas General Best of Benzinga