Showtime Returns? Lonzo Ball Helps Put Lakers Back In The NBA Spotlight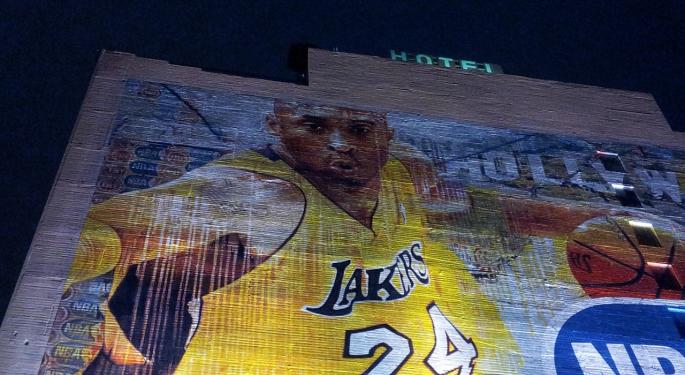 The world of sports in 2017 finds itself in quite a pickle, positioned precariously between a glorious homerun and a devastating strikeout. While the NFL is in the midst of a rocky start to the season, the NBA has arguably never been stronger.
From jerseys to the players themselves, the NBA is the league with a new look this season:
Lonzo Ball Drives Lakers Tickets Up 39%
One of the biggest storylines of the 2017-2018 season may be the new look of the Los Angeles Lakers with the addition of Lonzo Ball and all that comes with him.
His impact on the team from a ticket standpoint has already been material.
Lakers' tickets are among the hottest in the league despite missing the playoffs for the past four seasons.
According to TicketIQ, the 2017-2018 average ticket price for the team on the secondary market sits at $299, coming in as the second-most expensive ticket in the league behind the defending champion Golden State Warriors. Ball singlehandedly has driven up ticket demand by 39 percent year over year.
Kobe's Double Jersey Retirement Game Hottest Ticket In The NBA
The Lakers will also host by far the hottest ticket in the NBA this year, Kobe Bryant's double jersey retirement game against the Warriors on Dec. 18, where tickets are going for an average of $1,692 on the secondary market.
Kobe's final home game on April 13, 2016, was one of the most expensive regular season games in recent memory with an average price of $2,003.
"Laker fans are hungry, they just need a reason. They haven't had a reason for the last two years. At least for now fans are turning out and see what comes of Ball's hype," TicketIQ CEO Jesse Lawrence told Benzinga.
While Lonzo Ball has come in with significant expectations and hype thanks to his father, with the team's low expectations, fans likely need to just see improvement to have the hype sustained.
Related Link: TNT Hopes To Be A Comeback Story This Season; NBA Opening Night Ratings Up 46%
View Comments and Join the Discussion!
Posted-In: Inflation Trade Jesse Lawrence Lonzo Ball Los Angeles Lakers NBA TicketIQSports General Best of Benzinga