Outlook For Apple's Main Event? AR, 3D And A Swankier Siri Tying It Tightly Together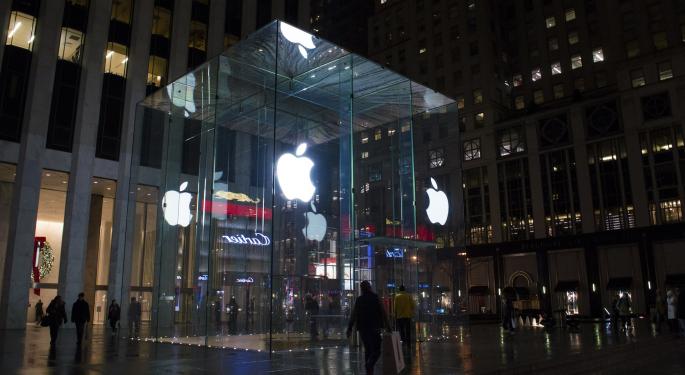 With its big product event looming, Apple Inc. (NASDAQ: AAPL) is expected to include augmented reality in one of the last big hurrahs of the smartphone era, as well as hints of its efforts to outwit the deep machine learning of an alluring minx named Alexa.
Two key analysts have slightly different takes on what to expect on Sept. 12, but they agree that the era of the smartphone as we know it likely will end with the bang of the 10th anniversary edition of the iPhone, likely to include AR and 3D capabilities.
From their respective notes on the upcoming Main Event, here are some takeaways from Global Equities analyst Trip Chowdhry and Loup Ventures co-founder Gene Munster.
Can Apple's Siri Join The High-Rent Ranks Of Alexa?
Chowdhry said he expects Apple try to catch up to the competition by more tightly integrating all of its devices with its Apple CoreML deep machine learning intelligence. "We expect Apple to announce a few products for the post-smart phone Era, so as to catch-up," he wrote.
Munster has gone on record saying he believes Apple's new CoreML-driven HomePod, and it's less-than beloved Siri voice assistant, will prevail because of its ability to connect with all the other Apple products.
The competition has a head start on the machine-learning home assistants. Amazon.com, Inc. (NASDAQ: AMZN) has its Echo/Alexa product line; Alphabet Inc (NASDAQ: GOOG) (NASDAQ: GOOGL) has Google Home and NetGear, Inc. (NASDAQ: NTGR) has with its Arlo Vision Intelligence Platform.
The Smartphone Era Really Over In An Era Of AI?
"The industry is entering the post-smartphone era," Chowdhry wrote. "Apple has 'zero' product offerings for the post-smartphone era."
"AR (Augmented Reality) is probably the only way Apple can extend the product life of its iPhone franchise and somehow deflect the industry's entrance into the post-smartphone era."
How AR May Figure Into Apple's New Offerings
"The event will mark an important new chapter for Apple centered on augmented reality, which will eventually replace the smartphone over the next decade," Munster wrote.
What Munster expects to see:
iPhone Pro. Edge-to-edge display, no home button (instead, facial recognition will be used for unlocking), advanced AR-related sensors and cameras, and potentially wireless charging. New cameras and 3D sensing capabilities for new augmented reality applications.
Augmented Reality Capabilities. "The addition of designated 3D and computer vision hardware on the iPhone Pro would be a big step toward putting AR in the hands of everyday users. It would also a big step toward the next generation of computing — beyond the smartphone."
Apple TV. "Recent rumors point to the possibility of Apple announcing an updated Apple TV with support for 4K video."
Apple Watch. "Other rumors suggest Apple may introduce Apple Watch Series 3 with the option of LTE connectivity, which would surprise us a bit."
'Spoiler Alert: Apple Event Products Leaked'
Late Friday, Munster published additional information regarding the upcoming event.
"[T]he iOS 11 GM (golden master) software build was leaked to two Apple rumor sites, confirming several new Apple products," Munster began.
The products highlighted were as follows:
iPhone 8, 8 Plus. "Updated versions of Apple's 4.7" and 5.5" iPhones with LCD displays and the traditional home button."
iPhone X. "An all new 5.8" iPhone with an edge-to-edge OLED display, no home buton (instead using Face ID for unlocking), advanced AR-related sensors and cameras, and potentially wireless charging."
Apple Watch with LTE: "A new Apple Watch with iPhone-less connectivity and dramatically increasing usability. We believe this will add about 2% to oru Apple growth rate in FY18."
Air Pods. "Minor updates to Apple's wireless headphones, perhaps to increase production output and/or yield, and approach supply/demand equilibrium faster."
New Wallpapers. "To show off the new OLED display on the iPhone X"
Additionally, Munster included photos of the leaked products, a description of the augmented reality capabilities and a more in-depth look at how the watch LTE "will inch Apple's growth rate higher."
Related Link: Apple's September 12 Event: 4 Things That Matter
View Comments and Join the Discussion!
Posted-In: News Movers & Shakers Previews Topics Events Tech Trading Ideas General Best of Benzinga