Hurricane Harvey, By The Numbers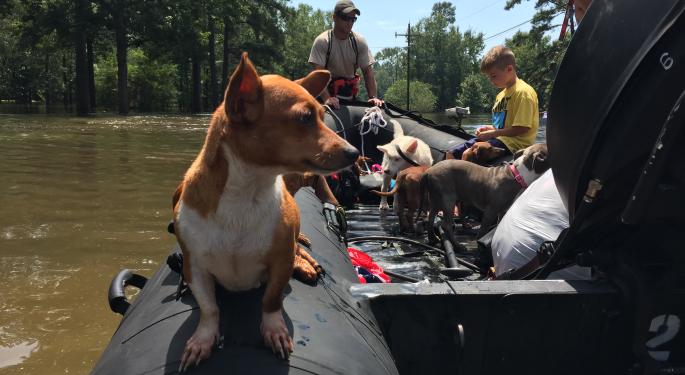 Hurricane Harvey's devastation on Texas has impacted 30,000 people who were forced to abandon their homes and another 13,000 others were rescued in the Houston region alone, Statista reported. Meanwhile, the death toll stands at 46 although this could change and the final human and economic cost won't be known for quite some time.
As of last Sunday, a total 54 counties were at some point declared a disaster zone, Statista added. But this shouldn't necessarily be a surprise as severe storms are by far and large result the biggest devastating force.
Here is Statista's summary of the total cost and death toll from all U.S. natural disasters dating back to 1987.
Tropical cyclone: $562.8 billion in total costs and 3,098 deaths.
Severe storm: $192.7 billion in total costs and 1,401 deaths.
Drought: $189.5 billion in total costs and 1,633 deaths.
Flooding: $109.0 billion in total costs and 438 deaths.
Winter storm: $39.1 billion in total costs and 778 deaths.
Wildfire: $35.6 billion in total costs and 184 deaths.
Freeze: $19.5 billion in total costs and 11 deaths.
Related Links:
Cramer's Top Stock Picks Post Hurricane Harvey
How Hurricane Harvey Has Impacted Gas Prices
___________
Image Credit: "California Air National Guard with the 129th Rescue Wing continue to conduct water rescue operations in Vidor, Texas, Aug. 31, 2017, in the wake of Hurricane Harvey. The Guardsmen are patrolling the area in motorboats, looking for people who are trapped in their homes or on rooftops because of the massive flooding. Once the residents are safely in the boats, the Guardsmen provide any necessary medical care and transport them to the nearest shelter. (U.S. Army National Guard photo by Staff Sgt. Balinda O'Neal Dresel)"By The National Guard (California National Guard) [CC BY 2.0 (http://creativecommons.org/licenses/by/2.0) or Public domain], via Wikimedia Commons
Posted-In: News Futures Politics Topics Events Markets Media General Best of Benzinga
View Comments and Join the Discussion!