John Cena Has A Neck Made Of Steel (Perfect For His New 'Transformers' Role)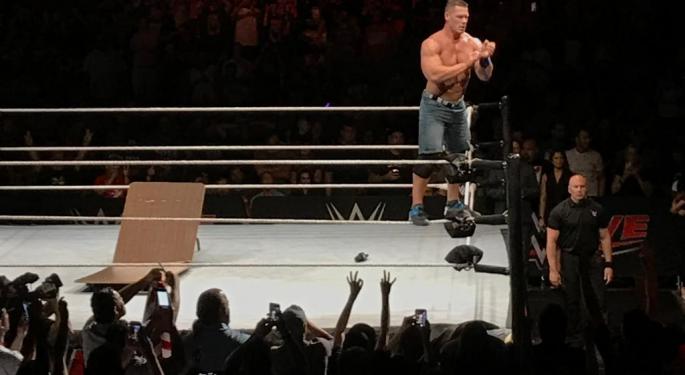 World Wrestling Entertainment, Inc. (NYSE: WWE) superstar John Cena did some dangerous outside-the-box promotion for his recently-announced leading role in Viacom, Inc. (NYSE: VIAB)'s "Transformers" spin-off movie "Bumblebee."
On Tuesday's episode of "SmackDown Live," Cena unintentionally demonstrated that Bumblebee may not be the only character in the upcoming movie with a neck of steel.
Down For The Count
At the conclusion of Tuesday's main event match between Cena and Japanese superstar Shinsuke Nakamura, Cena was dropped directly on his neck during a botched suplex maneuver. Cena initially appeared a bit groggy, but was able to finish the final move of the match shortly after the scary mishap.
See Also: John Cena, Brock Lesnar Give Detroit's Joe Louis Arena One Final Salute
Watch the clip below beginning at 2:46:
After scoring the victory, Nakamura appeared to take blame for the mistake, telling Cena "I'm sorry," to which Cena replied, "Don't be sorry."
No Worse For Wear?
Cena's initial reaction seems to suggest no serious ill effects from the incident. In fact, fellow superstar Kevin Owens was the first to point out Cena is no ordinary man in a light-hearted Twitter exchange with Cena on Wednesday morning.
The Hollywood Reporter broke the story of Cena's role in "Bumblebee" on Monday. The movie is expected to hit theaters in December 2018.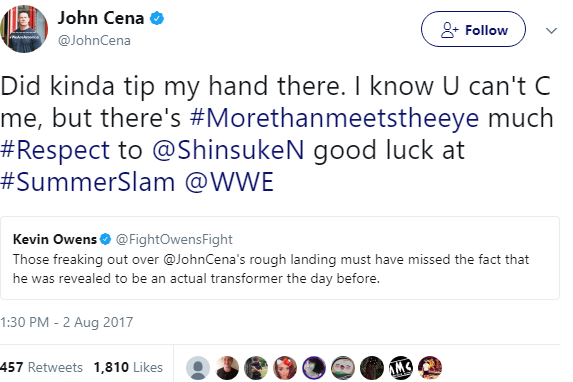 Fans Weigh In
Ironically, WWE was already taking heat from some fans over the Cena/Nakamura Tuesday night pairing well before the incident. With Cena and Nakamura both top-level talents having never squared off before inside the ring, fans criticized the fact that the match appeared to be thrown together without any prior storyline build-up and used on a weekly "SmackDown" episode instead of a major pay-per-view event.
"One of WWE's biggest issues is that it often jumps the gun when it comes to potential blockbuster pay-per-view main events, in essence giving them away on TV with very little buildup to matches that should be treated as special attractions," Forbes contributor and WWE fan Blake Oestriecher wrote on Wednesday.
Nakamura is now slated to face WWE Champion Jinder Mahal later this month at SummerSlam, WWE's biggest pay-per-view event of the summer.
Posted-In: Bumblebee John Cena Shinsuke Nakamura Smackdown Live TransformersSports General Best of Benzinga
View Comments and Join the Discussion!