How Public Relations Firms Are Capitalizing On The Marijuana Green Rush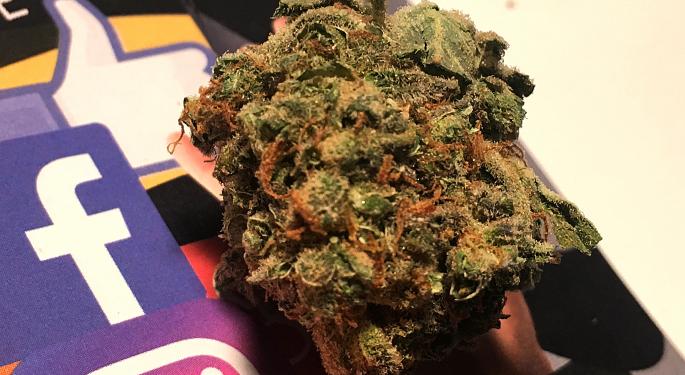 It's not unusual to hear people say public relations firms have no real purpose.
"They charge me to get me press coverage, which is ultimately free," a mid-cap CEO told Benzinga in a recent event in New York.
He had a point. The thing is, his understanding of what PR firms do was quite limited. Actually, very few people know what people in the public relations business do. As Robert Wynne wrote in a Forbes article, "The public relations industry does a terrible job of public relations."
Notwithstanding, the fact is, a good PR manager can do a lot for a company. This is especially true for cannabis businesses, which fight with stigma, colliding regulatory and legal frameworks, lack of financing and an inability to advertise their products and services through traditional channels.
The thing is, it's relatively easy to get a marijuana company featured, or at least mentioned, in a trade publication. High Times, Leafly, HERB, the Cannabist ... weed is their niche, so they're constantly on the lookout for the latest and coolest.
Related Link: Lighting It Up: How Marijuana-Focused HERB Developed Engagement Levels Comparable To Vice And Buzzfeed
Nonetheless, as the wave of cannabis legalization continues to sweep across the nation, making marijuana a mainstream product, businesses need to go beyond the weed-culture niche. It has become indispensable to be featured in catch-all media outlets like Time Warner Inc (NYSE: TWX)'s CNN, Twenty-First Century Fox Inc (NASDAQ: FOXA)'s Fox Business, or News Corp (NASDAQ: NWSA)'s Wall Street Journal. Companies want to reach new demographics, potential investors and even prospective employees migrating from more traditional industries.
Check out this chart from Forbes, which explains how public relations differ from advertising.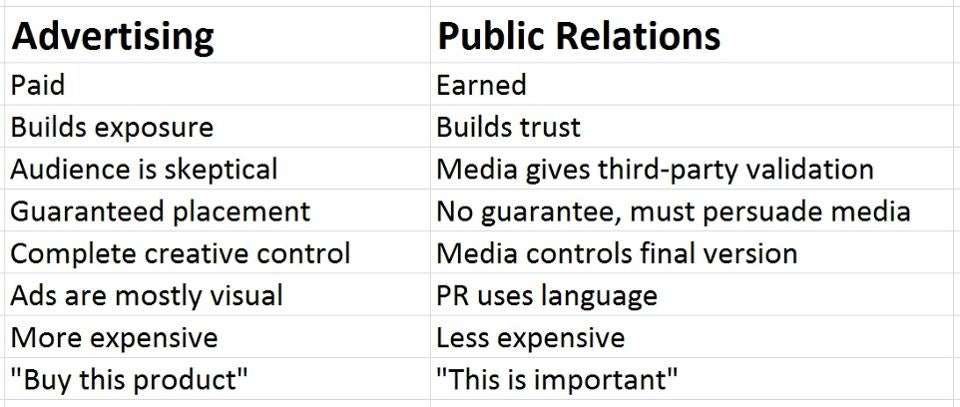 Source: Forbes.
There's no denying that PR firms influence coverage. It's almost impossible for a reporter to stay atop every development in an industry, so sometimes a little PR push can do a lot for a brand. An email can lead a journalist to investigate a company and decide it's newsworthy, even with no prior knowledge of the company.
"A lot of mainstream reporters are just now getting acquainted with the industry. So, on the backend, as an agency, we are finding that clients are looking to be seen as educators," both of the media and in it, North 6th Agency Pesident and CEO Matt Rizzetta told Benzinga. Even though many of these companies are established in the weed niche, elevating them to the mainstream is no piece of cake.
Below is a look into the some of the top PR agencies operating in the cannabis industry to better illustrate the real value of their work and, ultimately, how they have benefited from the pot boom.
Branching Out
One of the leaders in the overall PR space in the U.S. is North 6th Agency, better known as N6A, recently named among the 50 most influential PR firms in the country. For eight years, the firm has been servicing the B2B tech, consumer, energy, entertainment, finance and healthcare industries.
It was only a couple of years ago that the firm got into the cannabis industry when it was approached by Poseidon Asset Management, one of the top investment firms in the space.
"Poseidon came to us and said they wanted to get their brand out on a national level. At that time [around 2015], cannabis PR was limited to trade publications. But, from a mainstream media level, there weren't a lot of brands in the cannabis space that were making an effort, and spending money and resources to get their name out there in the mainstream press," Rizzetta said during a recent conversation.
N6A and Poseidon were a match made in heaven. The latter provided the domain knowledge about the cannabis industry, which the former didn't possess back then, as well as access to numerous connections. On the other hand, N6A helped Poseidon get on the map as a mainstream brand, leveraging its relations in the traditional and business media space.
As time went by, N6A's cannabis practice grew along with its experience until, early this year, Rizzetta and his team decided to launch a dedicated division specialized in legal marijuana companies, led by Robert Vanisko. This department services many of the businesses that Benzinga has featured in the past, including Green Flower Media, HERB, Tradiv, Wurk, Maricann Group Inc. (CSE: MARI) and iAnthus Capital Holdings Inc (CNSX: IAN) (OTC: ITHUF), among others.
"It was a lot of elbow grease, money and time that we invested into the cannabis space before we spun out the division," Rizzetta added.
Like many other people in the cannabis industry, Rizzetta came from a totally different background, and almost stumbled upon the opportunity to get into the space.
Even though the firm never thought there was any significant risk or reason for concern, they did start servicing only businesses that didn't touch the plant and only transitioned to working with plant-touching companies once settled and comfortable in the industry.
"What made us feel very comfortable was seeing that the entrepreneurs we worked with were in this industry for all the right reasons: it's about passion, it's about a movement, it's about incredible commitment to really promoting something that's really larger than just the company or its products," Rizzetta said.
Related Link: Meet Avicanna, The First Marijuana Company To Be Accepted Into Johnson & Johnson Innovation, JLABS @ Toronto
The CEO then presented the N6A Cannabis Division's team, which includes members that have "a collection of talent with experience across both different industries — e.g. B2B tech, B2C tech, lifestyle, music, and cannabis — and disciplines — e.g. media relations, branding, marketing, content, and so on."
"We recruited this way intentionally because we found that cannabis companies span so many sub-industries and require a well-rounded team with a more diversified skill set than most other industries," he said.
In the spirit of full disclosure, Rizzetta told Benzinga that getting into the cannabis industry and capitalizing on this "green rush" demanded a long-term commitment; N6A's cannabis division is still not as profitable as other branches like cybersecurity, finance, health care and energy.
"Getting into cannabis is not about the short-term P&L, but rather about being at the right place [at] the right time, for the right reasons, and making a long-term investment that will eventually pay off in the long-run," he said.
Proven Experience
Another leader in the cannabis PR space is Proven Media, a full-service public relations and marketing agency for the legal marijuana industry that has been operating since 2009, working with clients like Canna Advisors and Compassionate Certification Centers.
The team, led by CEO Kim Prince, has more than 20 years of experience in B2B marketing and public relations campaigns for large-scale corporations, Vice President Neko Catanzaro told Benzinga.
"We help clients build credibility in an industry where you need to go above and beyond to combat negative stigmas and outpace the competition," she added. "Not all press is good press, [so] if you don't manage your company messaging someone else will. At Proven Media, we believe each of our clients has a story and our job is to tell it. We help our clients control their public image, elevate their brand, and develop a consistent narrative that drives ongoing visibility."
In this line, Catanzaro explained that one common misconception is that of assuming that "one press hit in a magazine is the pinnacle of a PR campaign ... The ever-evolving cannabis industry demands strategic and dynamic solutions. It is one of the fastest growing industries in the U.S. and is also one of the most heavily regulated."
Consequently, Proven Media strives to remain ahead of the market.
"We understand how to navigate state-specific laws and compliance for clients across the country and throughout North America. We only work with companies who have a strong vision. We help them broadcast that vision, and intrinsically shape a better future for the industry, one founded on integrity and professionalism," Catanzaro said.
Unique Challenges And Opportunities
5WPR is often regarded as one of the most powerful, influential and effective PR agencies in the States; their style has even been called "aggressive" in more than one occasion. Notwithstanding, this 140-employees firm based off New York and Denver boasts almost as many awards as Jack Nicholson.
"We work extensively in the cannabis space. I think that it is, obviously, a very fast growing market that provides a lot of opportunities for growth for PR firms," CEO Ronn Torossian said in a recent conversation. Having said this, there are many issues that make it hard for PR firms to do business in the space.
As an example, he brought up a client that pays a $15,000 per month fee for 5WPR's services.
"He has to send me money orders every day; $500 each time," the CEO said. "That is certainly a curious way to pay a bill, and it certainly poses a challenge in terms of opportunity to grow and monetize the cannabis space."
Another hurdle to overcome when providing PR services for weed companies is sending out product. PR firms often send journalists samples for different products in the hopes that they will like them and provide media coverage. But, how do you send out a product that's still illegal in most U.S. states?
"The cannabis space presents opportunities but also challenges. I think they will get sorted out, though, allowing people from different disciplines to continue to enjoy the growth of this sector," Torossian said.
So, why is PR so important to cannabis?
"One of the biggest challenges facing cannabis is legitimization. Personally, I have no question that cannabis is going the way of alcohol and tobacco, the way of regulation. Prohibition will come to an end, like it or not," Torossian said. "Public relations is something that can help legitimize cannabis in all its forms and facets, whether that's through influencers, traditional media, medical, celebrities, etc."
Blooming Business
Another behemoth in America's PR landscape is McGrath/Power. When Benzinga shared some of the thoughts above with CEO Jon Bloom, the strategist had a lot to say about servicing the cannabis industry.
"While I fully agree that public relations and communications can be a great asset to a cannabis brand, not all cannabis brands can take full advantage of the communications process," he began. "We are talking about an industry that is hundreds of years old but has never had to market its product. And, many cannabis businesses still don't have that need."
On the other hand, many of the businesses that do need PR advisory don't have the adequate internal infrastructure to implement a full communications program or the funds to hire an agency.
In addition, it's important for brands to understand the implications of hiring an agency, Bloom added. Companies need to know that many agencies don't "truly understand the regulations about communications for cannabis brands and [that] not many agencies that are truly good at what they do are representing cannabis brands."
Related Link: Picking Marijuana-Related Investments: Phyto Partners Walks Us Through Its Criteria
Discussing trade publications, the CEO commented that at McGrath/Power, they believe the cannabis industry has three components: "get high, get well or get informed, sometimes with multiple segments combining."
The first crowd doesn't really need an agency; they already know what they want, he explained. The get-well segment of the industry, which often combines with the get educated segment, is different. It's medical/pharma companies that are "working on both research and associated products designed to utilize elements of cannabis as an alternative treatment. We fully participate in that segment and actually entered the market two years ago via Constance Therapeutics, a cannabis oil manufacturer whose founder developed their blend to treat her own autoimmune disorder."
Finally, he went into the PR work per se, which comprises more than just media coverage.
"Media coverage may be great for a publicly traded cannabis company or a company seeking investment or to appear legitimate to prospective employees. However, if the goal is increased revenue, the brand and its agency partner must determine which 'channel' its customers are tuned into," he explained. In many cases, the best channel isn't even traditional media; it could be a forum or even a social network like Facebook Inc (NASDAQ: FB), LinkedIn or Twitter Inc (NYSE: TWTR).
"National media coverage just for the sake of it is vanity PR, and that often doesn't move the needle on business goals. So, it is important for cannabis brands to first determine what outcome they want through the PR process before considering a firm."
Interestingly, this goes both ways. It's not just clients picking PR firms, but also PR firms selecting customers.
"It is hard to represent numerous cannabis clients without a potential conflict of interest," Bloom said. "If you represent a vertically integrated client like we are right now, their business touches so many points on the cannabis continuum — the grow, processing, diverse product line — that you are conflicted out of other potential clients. So, we try to choose very wisely."
Powerful Women
Just like Proven Media, Kip Morrison & Associates is run by a woman – after whom it's named. According to its website, its KMA Cannabis division "is one of the few PR agencies with over 30 years of successful reach in the industry." Some of its most notorious clients include Foria, Med Men, SuicideGirls' cannabis line.
When questioned about the importance of PR for cannabis companies, Morrison explained that, unlike what happened in the early days in Oregon, Washington and California, when being complacent would drive sales, larger marketing efforts are needed nowadays.
"The days when a manufacturer could walk into a dispensary to sell product is are over. Even the segment buyer will roll their eyes at you if they do not know who you are," she said. "Today you have to do everything any consumable good does when coming to market. You have to fight for attention [and] PR reaches customers thru the media they follow ... Some clients feel it is better than advertising because people (Millennials especially) tune out advertising but love good stories."
PR is fundamental to getting a message beyond one's immediate circle, she added, pointing out the limitations for advertising cannabis through traditional channels. To overcome these challenges, Morrison leverages her connections with bloggers and New York editors, and often hosts "intimate blogger and writer events in Los Angeles."
Related Link: Discussing Snoop Dogg's Marijuana-Focused VC Firm: 'Beyond Wearing The Investor Hat, We Differentiate With A Broad Internal Ecosystem'
"There is so much interest in cannabis, it is very important to tell the brand story," she concluded.
PR Strategists & Their Work
Not all PR managers have a big structure behind them. In a world where every small agency is a "boutique agency," though, it's important to know how to recognize who can actually help a company and who doesn't have the resources to do so. In this context, experience and connections are key.
Beth Graham has been working in public relations since 1985 and began flying solo ten years later. It's been more than 20 years since that happened, and over that timeframe, Graham moved around the U.S. a lot. Most recently, Graham relocated, from Florida to California, where she immediately took on a cannabis client. While she's relatively new to servicing the industry, she did share her experience.
"[It] was interesting because the conversation about cannabis was still a bit taboo in Florida," she told Benzinga. "This helped me frame my client's messages to mainstream media, recognizing that there are still many communities where we need to tread lightly and really spend time educating the public, and the media to a certain extent."
On the other hand, she noticed, as new cannabis publications and columns continue to pop up, the need for content is surging exponentially.
"This is a great opportunity for cannabis-related companies to get their message out there," Graham added. "But given the sensitivities of the industry and the topic, PR people really need to spend time honing and crafting their messages."
View Comments and Join the Discussion!
Posted-In: Cannabis Emerging Markets Startups Small Business Exclusives Markets Media Interview Best of Benzinga