Why The 'Game Of Thrones' Leak Is a Big Deal For Fans, But Not The Stock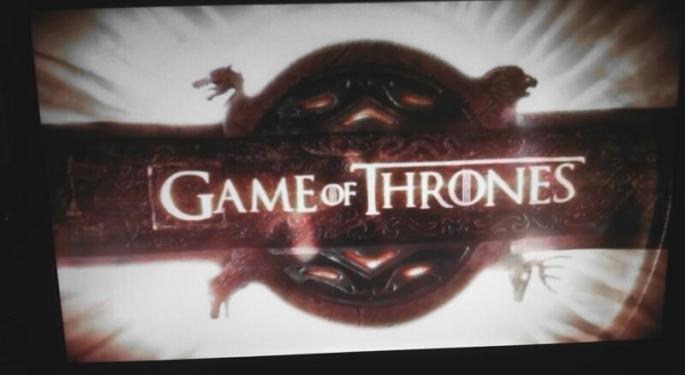 It's the second-to-last season of "Game of Thrones," and fandom continues to swell.
Time Warner Inc (NYSE: TWX)'s HBO show boasts an average live audience of 7.69 million and average total viewership of 25.7 million per episode ━ so spoiler leaks is a pretty significant offense.
Hackers on Monday claimed to have seized 1.5 terabytes of information from HBO Monday and dumped some of it, including an alleged script of the next "Game of Thrones" episode and full episodes of "Ballers" and "Room 104."
"HBO recently experienced a cyber incident, which resulted in the compromise of proprietary information," the network confirmed in a statement, adding it was working with law enforcement to investigate the breach.
In an email to reporters, the hackers claimed that more would come, but so far, no actual footage of "Game of Thrones" has surfaced.
What Happened Before
Fortunately, even if the hackers did compromise an episode or two and draw fans away from paid viewing, the loyal following would not likely cancel HBO subscriptions mid-season.
Not only that, but investors weighing the implications of the attack ought to consider the precedent of Wall Street reactions to hacks.
When Netflix, Inc. (NASDAQ: NFLX) surrendered episodes from "Orange Is the New Black" in April and attackers seized 100 terabytes from Sony Corp (ADR) (NYSE: SNE) in 2014, neither company stocks nor quarterly performance was affected.
Netflix went on to report revenue above estimates, while Sony's revenue came in 28.7 percent higher than the comparable period in the previous year. Of course, the Sony hack was of a different nature, with blackmailers demanding the cancelled release of a film and unintentionally promoting it.
"Game of Thrones" has also suffered previous leaks, including the unauthorized online distribution of the first few episodes of season 5, and has ranked as the most pirated series every year since its launch, according to E News. The last time HBO relinquished "Game of Thrones" content, it posted an earnings per share beat of 9 percent, and the following quarter saw a 21.4-percent beat.
Related Link:
Emmy 2017: Streaming, Premium Cable Earns More And More Recognition
These 'Game Of Thrones' Characters Are Eerily Similar To Real-World CEOs
Image: Manuel Martin, Flickr
View Comments and Join the Discussion!
Posted-In: Game of Thrones HBONews Education Tech Media General Best of Benzinga