One Detroit Councilwoman Wants The City To Buy Back Every Occupied Home In Foreclosure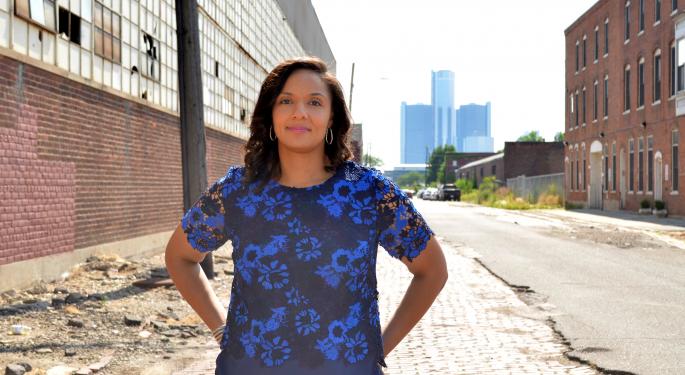 A Detroit City councilwoman is proposing the city buy back all occupied homes foreclosed for delinquent property taxes and return them to their occupants.
The resolution from City Councilwoman Mary Sheffield would ask Mayor Mike Duggan to exercise the right of first refusal, which allows cities to buy back foreclosed homes before they reach the auction block, and use federal Hardest Hit dollars to purchase occupied homes that would otherwise be auctioned by Wayne County beginning Sept. 5.
Detroit's neighborhoods have been subject to a devastating number of property tax foreclosures: 145,000 since 2002, or about one in three properties in the city, according to the property mapping and data firm Loveland Technologies.
"I do think a portion of [the Hardest Hit money] — not all of it — but a small portion of it should be programmed for the original intent, which is to keep people in their homes," Sheffield told Benzinga this week, adding that the proposal will be brought up for discussion and a vote in September when council returns from its summer recess.
Sheffield said she wants the city to exercise its right of first refusal before the next county auction.
"When people lose their homes, that's another blighted structure or abandoned structure in that community," the councilwoman said. "People should not be losing their homes with the amount of attention and investment Detroit is [receiving]."
Wayne County Treasurer Eric Sabree's office declined to comment on Sheffield's proposal.
The final number of homes being auctioned in September won't be determined until mid-August, said treasurer's office spokesman Bruce Babiarz. The preliminary number is less than 8,000 homes, and 934 of those are homeowner-occupied based on data gathered in May, he said.
The number of foreclosures in Wayne County is down by 72 percent from two years ago, Babiarz said, adding, "The treasurer's office is working hard to reduce and eliminate foreclosures in the near future."
City: Money Is For Blight Removal
The Hardest Hit dollars awarded to Detroit are allocated by the state and federal governments for "the sole purpose of blight removal," said Duggan's spokesman John Roach.
The city has completed 11,918 demolitions since 2014, paid for largely with Hardest Hit dollars.
The number of foreclosures in Detroit is trending down, Roach said.
In 2015, 9,111 occupied residences were foreclosed, while 2,347 were foreclosed this year, Roach said. Of the occupied residences foreclosed on this year, 933 are occupied by the homeowner, a number that stood at 6,408 in 2015, he said.
The Detroit Land Bank Authority, which controls foreclosed properties in the city that do not sell at auction, has launched an Occupied Buy Back program. For $1,000, homeowners who lost their property to foreclosure can get the deed to their house back. The first 80 families to complete the program received their deeds last week.
Feasibility Of Sheffield's Idea
Jerry Paffendorf, the co-founder and CEO of Loveland Technologies, said the success of the Occupied Buy Back program could speak to the feasibility of Sheffield's idea. If someone is living in a land bank-owned home in Detroit, it means they've stayed for between one and five years, he said. "That's got to be the most challenging subsection of people there is."
A Michigan State Housing Development Authority spokeswoman pronounced Sheffield's proposal dead on arrival. The agency oversees Hardest Hit funds, which have paid for the majority of the 11,918 demolitions completed in Detroit since 2014.
"Under our current program guidelines, the funds could not be redirected this way," said Katie Bach, MSHDA's communications director.
The move would require a proposal from the Detroit Land Bank Authority and an amendment from the Michigan Homeowner Assistance Nonprofit Housing Corporation, which was created by MSHDA to manage federal Hardest Hit funds, Bach said.
The proposal would then be forwarded to the U.S. Department of Treasury, Bach said.
"It's a creative idea, but not likely viable, considering the current timeline to expend these funds by Dec. 31, 2020."
A Grand Bargain For Foreclosures?
Paffendorf estimates the number of occupied homes in the city that are going to auction this year to be closer to 3,000.
Earlier this month, an op-ed by Paffendorf published in the Detroit Free Press urged a partnership between the city, county and private foundations similar to the Grand Bargain in Detroit's bankruptcy in order to keep families in their homes.
In the Grand Bargain, $816 million was donated by foundations, the Detroit Institute of Arts and the state to increase the funding level of the city's pensions — preventing the sale of art from the DIA during the city's bankruptcy and softening the blow to retirees.
Under Paffendorf's proposal, foreclosed homes with occupants who are willing to participate in a buyback program would be removed from the county auction.
By his estimate, if 4,000 homes were removed from the auction with an average tax debt of $6,000 each, the cost of the proposal would be $24 million.
"A foundation could float that money to the county, while occupants worked to pay the cost of back taxes to become homeowners," Paffendorf wrote in the Free Press piece.
Federal Hardest Hit funds were initially directed to foreclosure prevention in the form of assisting homeowners with delinquent mortgages or property taxes, but were then largely redirected to demolition programs around 2013, Paffendorf said.
"If the original intent of the law is to save properties from foreclosure and what they're portending to do here is use the funds to literally save the properties from foreclosure at an auction, that would certainly seem like the spirit of the law is being honored," he said of Sheffield's proposal.
"I think the court of public opinion would view this as a great use of the funds."
Related Links:
50 Years After Detroit's Rebellion, Business Leaders Talk Race And Lessons Learned
In Detroit, Cameras — And Comcast — Are Helping Bring Crime Down
_______
Image Credit: Detroit City Councilwoman Mary Sheffield in the Rivertown neighborhood in her district on Thursday, July 27. "People should not be losing their homes with the amount of attention and investment Detroit is [receiving]," she says. Photo by Dustin Blitchok.
Posted-In: Detroit Detroit Land Bank AuthorityNews Top Stories Economics Exclusives Interview Real Estate Best of Benzinga
View Comments and Join the Discussion!