The Pups Of Wall Street: A College Student's Perspective Of Banking Internships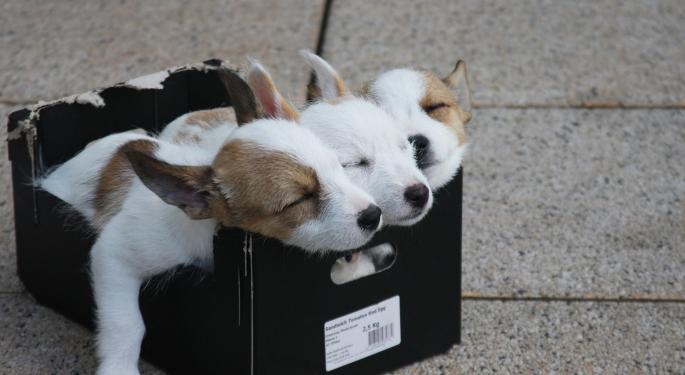 They work up to 100 hours every week, they can put together Excel models in their sleep, they live to compete: They are Wall Street analysts.
Benzinga spoke to several of the top finance students interning at the biggest banks on Wall Street, although they requested to remain anonymous. With this story, we have one goal: to help you understand what it's like and what you should know before you start working in the financial district.
What Should Interns Go In Expecting?
The atmosphere is going to be competitive, but don't let that steer you away from the fact that full-time employees are always happy to help you.
"People tend to put high finance on this elite pedestal but in reality, people are generally down to earth and just like everybody else. Definitely a very formal, more conservative environment but you adjust to that pretty quickly."
This sentiment was reflected across all the interns: "I would also say that, at least in my group, the culture is less intense in that people are generally pretty nice/understanding."
But, ultimately, this doesn't change the overarching culture at some of the biggest wall street banks: "Make money and be right."
The Hours Can Be Long But Aren't As Bad As They Seem
This will vary by position, but hours for analysts are typically between 60 to a stunning 110 hours per week.
If you're working in investment banking and putting in 110 hours a week, every intern reflected how it's so hard to really understand what that really means until you actually do it.
Position-By-Position Breakdown
Equity Research: For individuals who enjoy writing, speaking with clients on the phone and love making models on Excel — 60–70 hours per week
Investment Banking: For individuals who love doing research, working on live deals, spreading data on excel and creating power point slides — 80–110 hours per week
(One intern pointed out "a lot of those hours are just spent sitting at your desk waiting for work to get handed to you, so it is not like it is 80 intensive hours.")
Private Equity: Research, analyze, and create financial models for private companies — 60–80 hours per week
Expect To Stock Up On Suits Before You Head Off To New York City
Interns are going to be dressing to impress every single day, but the specific dress code depends on the bank. If you're working at one of the bigger banks on Wall Street, most interns typically show up in a full suit.
Smaller banks in New York City have taken a more modern approach with their dress code as some have a business casual dress code and others have "summer Fridays" which are slightly more casual.
What Can You Do To Stand Out?
A little advice can never hurt, especially with recruiting season right around the corner.
"Show your passion through your attitude and eagerness to learn more. Most people who are successful in finance tend to be hardworking and willing to invest early on to build their long-term career. Many of these professionals are looking for the same traits in interns and recent graduates," one full-time employee highlighted.
4 Pieces Of Advice Before You Head To Wall Street
Carry a notepad and keep a list of things you messed up on so you never make a mistake twice.
Highlight all the different tasks you complete throughout your internship, so you can talk about in future interviews all the new skills you learned.
Don't be afraid to ask questions. Your boss would much rather have you approach him and ask him to explain something, rather than you pretending to work on a project for hours. Your boss can serve as a great mentor!
Dress nice, but avoid trying to out-dress your boss.
Overall, while the Wall Street lifestyle might be becoming slightly more casual at boutique banks, it's clear every bank is still focused on one underlying goal: making money.
Posted-In: InternsPsychology Top Stories Exclusives Interview General Best of Benzinga
View Comments and Join the Discussion!