Moon Bases And Underwater Lairs: Where Is The Next Business Frontier?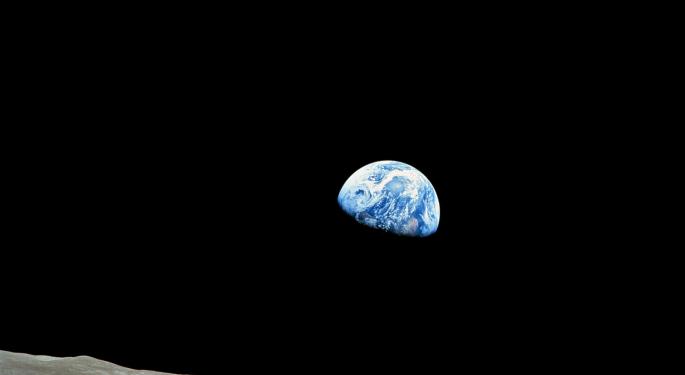 Space may be the final frontier, but it's made in a Hollywood basement, or so the Red Hot Chili Peppers' "Californication" goes.
But the special effects teams of Hollywood may be falling behind businesses in the race to imagine new uses for the parts of the universe not dominated by mankind.
SpaceX and Amazon.com, Inc. (NASDAQ: AMZN) have recently come out with new proposals to utilize the moon and the seas, respectively, for business purposes.
'Get The People Fired Up' About Space
Elon Musk, known in part for his space exploration venture SpaceX, recently spoke at the International Space Station Research & Development Conference, where he provided updates on the company's timeline.
Perhaps more interesting though, is a new goal Musk may be pushing for in the (relatively) near term: a moon base.
Musk's primary reason for wanting to build a station on the moon is for publicity. "If you want to get the public fired up, you've got to put a base on the moon," he said at the conference.
Such a project would fulfill the imaginations of a generation, which grew up in the era of classic "Star Trek" and the first moon landing.
"Having some permanent presence on another heavenly body, which would be the kind of moon base, and then getting people to Mars and beyond — that's the continuance of the dream of Apollo that I think people are really looking for," said Musk.
The base could also serve people back home on Earth. One use would be using it to provide affordable internet to rural areas with less developed infrastructure, a growing point of concern for many.
Another would be to aid existing satellites in observing Earth for climate and weather shifts and helping farmers plan their harvest cycles.
Not Quite Inhospitable, But Still Unused
Earlier this month, Amazon filed a patent for "Aquatic Storage Facilities," which would provide a new form of supply management.
The concept involves using man-made or natural bodies of water to store boxes of goods until needed and have them move through the water using compressed air and a balloon attached to each box.
There's several obvious hurdles that would need to be overcome to make such a system worth it, first and foremost being that everything must be watertight.
The boxes would also need to be fitted with electronics to communicate with a network, and be able to move through the water with precision.
The benefits though, include a completely fluid inventory movement system and a reduction in the cost of energy used to move the goods.
Most of the world's major cities are also built next to coastlines or rivers, so these facilities could be built near clusters of consumers. One could imagine a walled-off section dug off the coast and housed under a shipyard-like building.
The company doesn't seem to be plunging into the depths anytime soon, but it's clear that while cities are getting ever more crowded, businesses are exploring new spaces to set up shop.
Get the latest in business news an unusual trading activity in real-time with Benzinga Pro.
Related Links:
From X.com To SpaceX: Where The Most Interesting Man In The World Got His Start
Buzz Aldrin Wants Earthlings To Get Busy And Go To Mars, Joining The Likes Of Jeff Bezos And Elon Musk
Posted-In: Aquatic Storage Facilities Elon Musk Jeff Bezos SpaceXTravel Markets Tech General Best of Benzinga
View Comments and Join the Discussion!