Brand Nokia Back In The Spotlight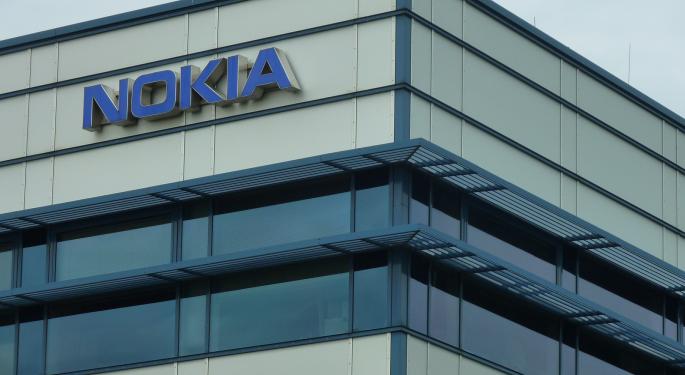 Much before the advent of smartphones, handsets made by Nokia Oyj (ADR) (NYSE: NOK) once ruled the roost in the mobile phone equipment market. Although lacking in appeal and aesthetics, the brand Nokia used to be associated with quality, and thus, struck a chord with consumers.
Being an industry pioneer, the Finnish company had a 14-year stint at the top, no mean feat in itself.
What Killed Nokia?
When the smartphone mania swept over, Nokia was one of the companies to adopt the technology early and introduced its Symbian Series 60 devices in 2002. It also managed to lead the smartphone market for the next five years. Apple Inc. (NASDAQ: AAPL)'s introduction of the iPhone spelled trouble for Nokia, which perhaps has only itself to blame for not responding to changing consumer preferences and competitive offerings and pricing.
Nokia held onto its Symbian OS even as rivals embraced the hugely successful Android OS, while the homegrown iOS did the trick for Apple.
In short, inertia or a lack of innovation killed Nokia.
Pulling The Plug On Handset Business
Unable to stay competitive, Nokia sold off its devices and services business to Microsoft Corporation (NASDAQ: MSFT) for $7.2 billion in 2014, with both its feature phone business and Lumia brand exchanging hands. Microsoft phased out the Nokia brand so loyal Nokia customers would embrace its Windows phone instead.
However, Microsoft's efforts to make noteworthy inroads into handset business remained a pipe dream, as its products did not gain traction.
In 2016, Microsoft decided to sell the feature phone business to FOXCONN TECH CO TWD10 (OTC: FXCOF) subsidiary FIH mobile for $350 million and the right to use the brand name to HMD Global, a company founded by former Nokia executives to produce smartphones and tablets under the Nokia brand.
Back In The Mix
HMD is owned by private equity fund Smart Connect LP, which is managed by former Nokia executive Jean-Francois Baril. The company has now secured rights to sell phones under the Nokia brand for 10 years, as it looks to tapping into the emotional connection people in developing countries have with the brand.
HMD is all set to unveil its first Nokia line of smartphone, using Android OS, according to VentureBeat. Named Nokia 8, the smartphone is likely to have drawn its design from Nokia 3, 5 and 6, the company's spring collection.
Several leaked versions of the phone have been made available online, serving as teasers for the erstwhile Nokia fan following.
It is rumored that the company will launch the phone on July 31. Benchmarking apps suggest that the phone would come with QUALCOMM, Inc. (NASDAQ: QCOM)'s Snapdragon 835 chipset, QHD resolution, either 4GB or 6GB of RAM and a pair of main cameras, offering 13-megapixel resolutions and Carl Zeiss optics, according to VentureBeat.
These specifications correspond to high-end phones, increasing the hype surrounding the phone. It is speculated that the phone will be priced at $550–$600.
Only time will tell if the storied brand name can work magic for HMD.
Related News:
New Data Show Why Smartphones May One Day Dethrone TV As The Supreme Screen
Smartphone Duopoly Isn't Going Anywhere: 'Pick One And Get Used To It'
Posted-In: Carl Zeiss FIH Mobile HMD Global Jean-Francois BarilNews Tech Media Trading Ideas Best of Benzinga
View Comments and Join the Discussion!