Arkansas Bans Crop-Damaging Chemical: How Big Of An Herbicide Market Is Lost?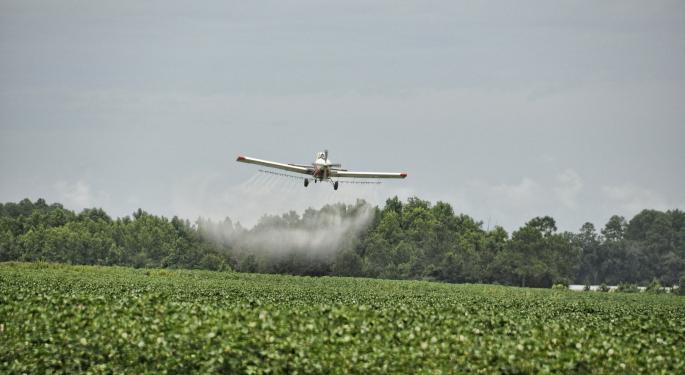 With about 44,000 farms stretched across 14.5 million acres of farmland, Arkansas ranks No. 16 in the U.S. for cash receipts, with soybeans and rice bringing in nearly $2.63 billion of the total $8.9 billion, according to the U.S. Department of Agriculture.
So, when the state's crops began to shrivel, much to the alarm of farmers, lawmakers reacted to protect their largest industry. Fingers pointed at dicamba, a potent weed killer, leading the state to effect a 120-day suspension on the use or sale of the deleterious herbicide beginning Tuesday.
Diffusion
Dicamba recently emerged as an alternative to glyphosate and other herbicides produced by E I Du Pont De Nemours And Co (NYSE: DD) and Syngenta AG (ADR) (NYSE: SYT). Weeds had developed immunity from the overused chemicals generally innocuous to crops, inspiring the likes of BASF and Monsanto Company (NYSE: MON) to develop more potent solutions.
Their resulting dicamba destroyed not only weeds but the crops it was made to protect, leading Monsanto to develop new, resistant soybeans and cotton seeds. The firm introduced its biotech beans in 2016 and boasted a 20-fold increase in sales this year. As the seeds caught on, so did distribution of dicamba.
But farmers not planting the genetically-modified, herbicide-resistant seeds soon watched their crops shrivel under the drifting spray.
Widespread Implications
Although Arkansas depends on agriculture for an annual $16 billion, agricultural companies don't necessarily depend on Arkansas. Ranking No. 15 nationally in production expenses ($8.8 billion) and No. 22 in farmland acreage, Arkansas represents a small domestic market.
But the aggregate of disgruntled states, if guided to prohibit dicamba use, may prove disruptive to suppliers. Tennessee and Mississippi have already reported concerns about the chemical, and the Missouri director of agriculture issued a temporary ban on the substance.
BASF and Monsanto have since protested the bans and lawsuits filed by damages-seeking farmers.
If allowed to continue sales, though, the cost burden may shift to consumers as lower crop yields prompt a rise in grocery costs for high-demand products.
Related Links:
6 Deals Are Live In Chemical Sector: Where Do They Stand?
Domestic Fair Trade Label Set To Enrich Local Economies, Expand Retailer Options
Posted-In: agriculture BASF Department of Agriculture herbicideNews Commodities Legal Markets Best of Benzinga
View Comments and Join the Discussion!