EPA Amends Proposed Regulation Of Syngenta Ingredient In Response To Public Comments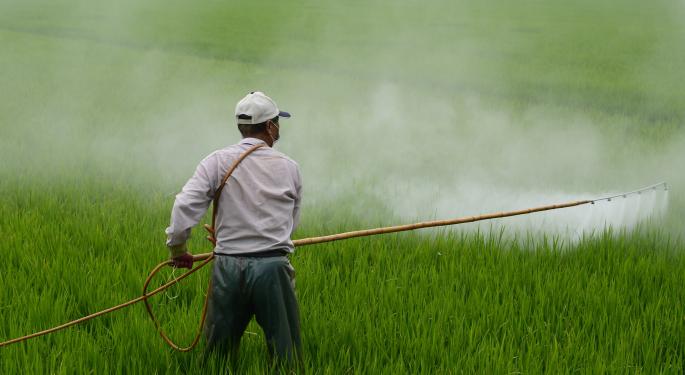 The Environmental Protection Agency is acting to mitigate health risks of paraquat dichloride — an herbicide commonly used in Syngenta AG (ADR) (NYSE: SYT) products — in response to fatalities from chemical ingestion and extended exposure.
Paraquat Dichloride: More Than Just A Plant Killer
An EPA-led analysis of incidents also identified a potential link between the chemical and Parkinson's disease, which is consistent with other recent studies.
Paraquat, an occasional suicide agent with no known antidote, is highly toxic, with one sip proving fatal. It is also corrosive, and dermal exposure has led to skin grafts and, in some cases, death.
Still, the EPA recorded an average use of 4 million pounds of the chemical over 7 million acres of U.S. crops between 2011 and 2013. Now, the agency is acting — as it has multiple times since the 1980s — to reduce the herbicide's health effects.
It's not the first to react to paraquat's reported risks.
Prior to the EPA investigation, the California Department of Pesticide Regulations prioritized paraquat for risk assessment in response to occupational exposure in 2014.
Global Efforts
Thirty-two (32) countries — and the European Union — have entirely banned use of the chemical, and Canada issued a number of safety regulations in 2015. These included concentration reduction, provision of training for applicators and modification of packaging and labels to distinguish the chemical as hazardous.
EPA's Proposed Measures
Apart from concentration alterations, the EPA's latest recommended measures resemble those effected by Canada. Additional steps include restricted distribution to certified applicators and containment of the chemical in closed-system packaging. Requirements of hose-like appendages to transfer the chemical are intended to limit skin contact and accidental ingestion.
The EPA is giving paraquat manufacturers until September 2018 to alter packaging labels and September 2020 to implement closed-system packaging.
What Changed?
The initially proposed steps released in March suggested the prohibition of hand-held distribution equipment to decrease dermal exposure, but the decision released in December excludes this measure. The EPA changed its ruling after numerous stakeholders — including Syngenta and the U.S. Department of Agriculture — asserted the necessity of handheld application during public comment in the spring. The agency is instead requiring paraquat to contain a dye to aid in early leak detection.
The EPA initially anticipated a shift from paraquat use inspired by the now-eschewed measure.
"Prohibition of hand-held equipment may cause growers to change to an alternative chemical, or mixtures of chemicals, to achieve similar weed control," the March memorandum noted.
Many stakeholders protested this measure during public comment on the grounds of the inefficacy of paraquat alternatives.
Syngenta and others raised issue with additional elements of the initial risk mitigation approach — including label safety language delineating risk of injury through eye exposure and risk of poisoning through skin contact. The company also rejected the EPA's acknowledged link between paraquat and Parkinson's.
Meanwhile, other commentators demanded more stringent regulations limiting the chemical's use. Both the Pesticide Action Network and Center for Biological Diversity requested a ban similar to that enforced throughout Europe.
CBD questioned the ecological risks of paraquat on endangered species and their habitats, and the EPA noted ongoing assessments of the potential threat.
Despite protests of varying degrees from both sides of the issue, the agency reported that paraquat manufacturers seemed prepared to comply with final regulations voluntarily.
The EPA is still in the process of re-evaluating paraquat for the pesticide's scheduled registration review. A final decision weighing the advantages and disadvantages of continued use will be issued in 2018.
Syngenta was not available to comment for this report.
Posted-In: California Department of Pesticide RegulationsNews Topics Legal Movers Media Trading Ideas General Best of Benzinga
View Comments and Join the Discussion!