Partial Travel Ban On Muslim Countries Goes Into Effect; Potential For Confusion Looms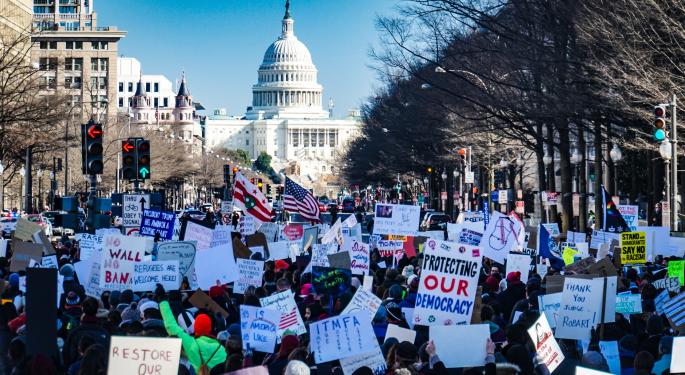 Sorry grandma, no visa for you. Daughter-in-law? Come on in.
The latest version of President Donald Trump's travel ban on people from mainly Muslim countries goes into effect Thursday night, and serious questions remain about just how equitably the controversial measure will be applied.
Just in time for the summer holiday travel season, customs officers and embassy personnel will hold a certain amount of power to decide if somebody has, as the U.S. Supreme Court put it, a "credible claim or bona fide relationship" with either an entity or a person living in the United States.
The high court took up the case after appeals courts ordered a stay of the 90-day ban on visas from anybody seeking to visit the U.S. from Syria, Iraq, Libya, Yemen, Somalia or Sudan. The court said it would rule on the full ban when it reconvenes in October, but allowed parts of it to go through and part of it to remain frozen for 90 days.
In the meantime, the court's ruling and a seemingly more-restrictive interpretation of it by the administration has the potential to create some added confusion to the holiday crunch.
Related Link: Supreme Court Will Rule On Travel Ban In October, Allows Parts Of It To Go Through
Who Can Get In
Family members: CNN obtained a copy of the administrative interpretation sent to U.S. embassies, and the visa applicant must prove a relationship with a parent, spouse, child, adult son or daughter, son-in-law, daughter-in-law or sibling living in the United States.
Students and employees: Again, a visa applicant must have a documented relationship with an institution, such as a school or a business. "So too would a worker who accepted an offer of employment from an American company or a lecturer invited to address an American audience," the court said.
Refugees with ties: "An American individual or entity that has a bona fide relationship with a particular person seeking to enter the country as a refugee can legitimately claim concrete hardship if that person is excluded."
Current visa holders.
Who Can't Get In
Family members: CNN said the guidelines sent to embassies prohibited the admission of fiancees, grandparents, grandchildren, aunts, uncles, nieces, nephews, cousins, brothers-in-law, sisters-in-law and any other "extended" family members.
People invited by immigration groups: "A nonprofit group devoted to immigration issues may not contact foreign nationals from the designated countries, add them to client lists, and then secure their entry by claiming injury from their exclusion," the court said.
People with hotels booked will not constitute a "bona fide relationship" under the executive order.
Refugees in general with no ties to a person or entity: "If you can't sufficiently establish such a close relationship, you are banned for 90 days if you are from Libya, Syria, Iran, Somalia, Yemen and Sudan, and 120 days if you are a refugee from any country," the court said.
Monitors Will Be Watching
Human rights groups plan to staff airports to make sure the rules are consistently administered. They have accused Trump of fanning anti-Islam sentiment in the United States.
Trump, who called for a ban on all Muslims on the campaign trail, says the executive orders he signs are aimed at preventing terrorists posing as tourists from entering the country.
The Daily Beast said the expurgated version that came out of the Supreme Court makes little sense.
"Under Trump's new rules, grandma is not allowed in the United States because she is not viewed as a close enough relation. Nor are in-laws or grandchildren," the news outlet wrote. "This lacks any rational basis. If this was about preventing terrorism, why would a grandmother be barred?
Bruce Fein, a former U.S. associate deputy attorney general, told Al Jazeera if the reports by the Associated Press news agency are true, it "limits the categories" previously established by the Supreme Court's opinion on Monday.
Image: Ted Eytan, Flickr
View Comments and Join the Discussion!
Posted-In: Donald Trump Muslim Ban Travel BanNews Politics Travel General Best of Benzinga