New UN Study Predicts $1 Trillion Of World's Most Vital Reefs Will Vanish By Century's End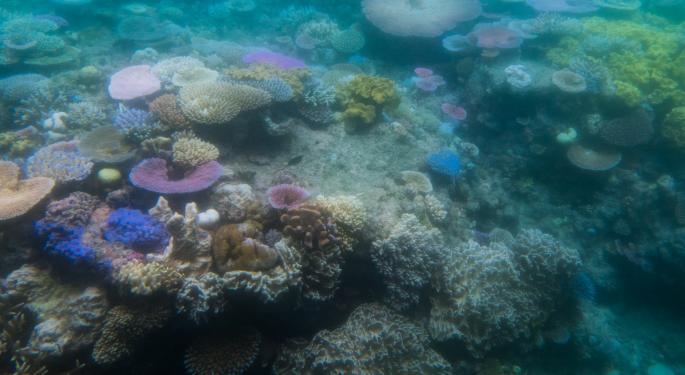 Putting a price on planet damage isn't always easy, but a pair of new reports together peg the value of the Earth's major coral reef systems at upward of $1 trillion, with the endangered Great Barrier Reef alone worth about $42 billion.
The reports, one by the United Nations Educational, Scientific and Cultural Organization and the other by a private analytical firm that specifically studied the Great Barrier Reef, both warned that carbon emissions in coming years will continue to decimate reefs with vast economic value.
The UNESCO report was the first global scientific study of the impact of climate change on the 29 coral reefs with the U.N. designation as "World Heritage" sites of environmental importance.
"Soaring ocean temperatures in the past three years have subjected 21 of 29 World Heritage reefs to severe and/or repeated heat stress, and caused some of the worst bleaching ever observed at iconic sites like the Great Barrier Reef (Australia), Papahānaumokuākea (USA), the Lagoons of New Caledonia (France) and Aldabra Atoll (Seychelles)."
"The analysis predicts that all 29 coral-containing World Heritage sites would cease to exist as functioning coral reef ecosystems by the end of this century under a business-as-usual emissions scenario."
Value Of World Heritage Reefs
UNESCO said reef "bleaching" is a stress response caused by rising water temperatures associated with climate change. The study said carbon emissions have caused a 1-degree Celsius increase in global surface temperature since pre-industrial times.
The Paris climate accord, initially agreed to by the United States but rejected by President Donald Trump, seeks to keep global surface temperatures from exceeding 2 degrees C.
"The 29 globally significant coral reefs on UNESCO's World Heritage List are facing existential threats, and their loss would be devastating ecologically and economically," Mechtild Rossler, director if UNESCO's World Heritage Centre, said in the report.
"These rainforests of the sea protect coastal communities from flooding and erosion, sustain fishing and tourism businesses, and host a stunning array of marine life."
The U.N. agency said the social, cultural and economic value of coral reefs is estimated at $1 trillion. It said that climate-related loss of reef ecosystem services will total $500 billion per year or more by 2100, "with the greatest impacts felt by people who rely on reefs for day-to-day subsistence."
The study relied on satellite data from the United States National Oceanic and Atmospheric Administration. "We know the frequency and intensity of coral bleaching events will continue to increase as temperatures rise," said Scott Heron, NOAA Coral Reef Watch and lead author of the assessment.
The Great Barrier Reef's Woes
The report specific to the Great Barrier Reef used modeling by Deloitte Access Economics that calculated the figure on the reef's total "economic, social and icon value." It came up with a total of 56 billion Australian dollars, or about $42 billion.
The study was commissioned by the Great Barrier Reef Foundation, a nonprofit devoted to Australia's underwater icon.
"This report sends a clear message that the Great Barrier Reef — as an ecosystem, as an economic driver, as a global treasure — is too big to fail," foundation director Steve Sargent told the BBC.
"As the largest living structure on Earth and one of the world's most complex and diverse natural ecosystems, the Great Barrier Reef is justifiably considered priceless and irreplaceable."
_____
Image Credit: By Jay Galvin [CC BY 2.0 (http://creativecommons.org/licenses/by/2.0)], via Wikimedia Commons
Posted-In: News Futures Politics Psychology Topics Events Global Markets Best of Benzinga
View Comments and Join the Discussion!