TMT Players Like Amazon, Facebook Could Readily Get Into Mobile If They Gain Access To Spectrum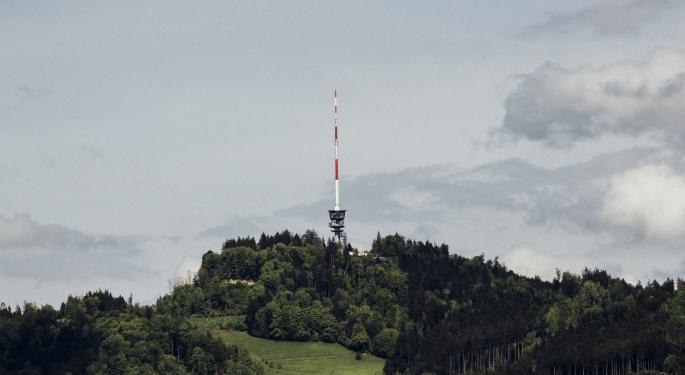 After Benzinga Pro exclusively reported a potential merger/partnership between DISH Network Corp (NASDAQ: DISH) and Amazon.com, Inc. (NASDAQ: AMZN), Matthew Harrigan, a Wunderlich analyst, has updated his rating to Sell with a $54 price target on Dish Network.
"Amazon could readily manage an outright acquisition under any structure, but has a history of M&A discipline and seems protective of its stock price even if its valuation remains an ongoing business school case study. This may be especially apropos in a continued tech sell-off," said Harrigan (Check out Matthew Harrigan's track record).
3 Key Takeaways
Companies like Amazon and Facebook Inc (NASDAQ: FB) could easily get into mobile if they can gain access to Dish's spectrum and networks. However, Harrigan said, "This could, however, also shift value from spectrum itself to small cell and ground networks and (again) customer relationships that can be readily monetized via software defined networking (SDNs), etc."
"Full merger deal discipline may be impelled by AMZN desire not to squander premium valuation, even if stock affords rich large deal currency," said Harrigan. In the past, companies like T-Mobile US Inc (NASDAQ: TMUS) and Alphabet Inc (NASDAQ: GOOG) (NASDAQ: GOOGL) have been hesitant about Dish's mid-teens valuation, according to Harrigan. He also noted Amazon's M&A history shows that management typically only makes very safe partnership plays.
Harrigan does not buy into spectrum valuations ever "since QUALCOMM, Inc. (NASDAQ: QCOM) initial 1000x Mobile Data Challenge presentation in 2013, featuring a triad of i) small cell deployments and network densification, ii) new spectrum availabilities, and iii) new technology efficiencies."
Overall, Harrigan does not believe the partnership will serve as a positive catalyst for Dish Network, which was trading at $65.02 during Monday's pre-market session.
Related Links:
Exclusive: DISH Network And Amazon Could Expand Partnership, Explore Possible Merger
Why Alexa May Have Played Matchmaker In Potential Amazon-DISH Network Marriage
Posted-In: M&A News Price Target Analyst Ratings Best of Benzinga
View Comments and Join the Discussion!