How Amazon, Google's In-Home AI Success Forecast A Bright Future For Apple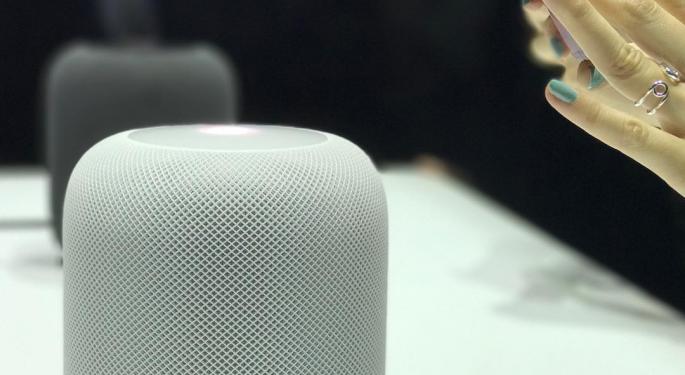 Apple Inc. (NYSE: AAPL) has entered the in-home artificial intelligence world with a big splash. At the annual Worldwide Developers Conference on June 5, Apple announced a blueprint for its HomePod. The latest device from the tech empire will offer the most enhanced form of Siri — designed for playing music, helping with simple household tasks and answering vocal commands and questions.
In-Home AI, A Growing Trend
Apple enters the quickly growing world of home technology after similar products by competitors Amazon.com, Inc. (NASDAQ: AMZN) and Alphabet Inc. (NASDAQ: GOOG) (NASDAQ: GOOGL) showed surprising success. Strategy Analytics projects the Amazon Echo will exceed its 6.3 million in sales from 2016, whereas the Google Home is on pace to sell around 1 million units by July 2017.
More broadly, the in-home AI market is projected to be worth $2.1 billion by 2020, according to Gartner.
HomePod Pros And Cons
The biggest knock against the HomePod is its price tag compared to its competitors. While the Echo costs $179.99 and Google Home costs $129, Apple's newest product will cost a whopping $349. Despite the price jump between peer offerings, it is no new phenomenon for Apple to charge a considerably larger amount of money for similar products. That said, the sharpness and sleekness that comes with the Apple name and design typically generates larger profits, despite the lower purchase figures.
Considering Apple's prowess in the tech space, the fact that Apple's competing in-home device enters the game later than its peers and the increased popularity for in-home AI, the HomePod could spell big success for the company. And that success could translate into big gains for shareholders.
In-Home AI Releases And Stock Movements
Since the Amazon Echo Dot was released to the public in October 2016, Amazon shares are trading up over 24 percent. Alphabet shares are seeing even greater success, trading up 28 percent since the release of Google Home in November 2016. Given the HomePod's similarity to those products, Apple stock could likewise see an upward trend.
As technology continues to improve and become more prevalent within daily life, demand will inevitably increase. Devices like the Amazon Echo and Google Home have created a fun and, more importantly, useful environment inside the house. The Apple HomePod is on pace to maintain this trend with similar, if not better, helpfulness for its users.
Related Links:
Former Apple Exec Gassee Opines On Company's M&A Prospects And The Difference Between Innovating And Inventing
Apple's HomePod, J. Crew's Ex-CEO 'Help Define What's Working And Not Working' In This Market
______
Image Credit: "The HomePod smart speaker by Apple in white on display at WWDC 2017." By Nobuyuki Hayashi - https://www.flickr.com/photos/nobihaya/34276934544/in/photolist-UdWfs5, CC BY 2.0,via Wikimedia Commons
Posted-In: artificial intelligence Echo GartnerFutures Top Stories Markets Tech General Best of Benzinga
View Comments and Join the Discussion!