Apple's HomePod, J. Crew's Ex-CEO 'Help Define What's Working And Not Working' In This Market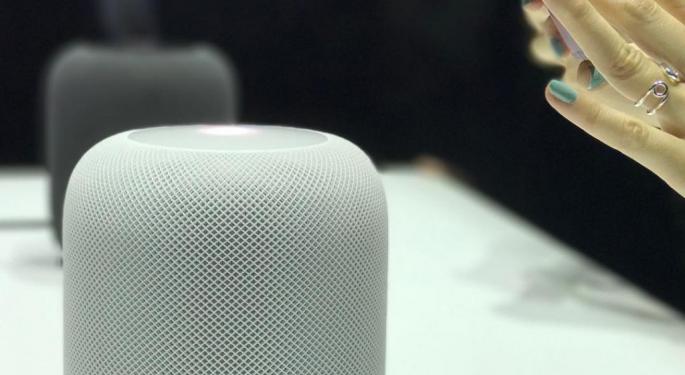 Apple Inc. (NASDAQ: AAPL) unveiled its new speaker called HomePod and retailer J. Crew Group announced that Millard Drexler will step down as CEO. Each story by itself is notable as Apple is looking to take directly competing against Amazon.com, Inc. (NASDAQ: AMZN)'s Echo device while Drexler is one of the most notable retail executives and credited with creating several popular trends.
So why are these two events being grouped together?
Apple's announcement of a higher end speaker and the resignation of a notable retailer CEO "help define what's working and what's not working in this crazy stock market," CNBC's Jim Cramer said on "Mad Money" last Tuesday.
Brand Loyalty
What's working, Cramer explained, is brand loyalty - something Apple has plenty of and J. Crew is missing. Specifically, Apple is confident enough it can sell $349 speakers and steal market share away from Amazon's $179 speakers.
Customer loyalty is key to earnings growth and a major reason why billionaire investor Warren Buffett is Apple's largest shareholder, Cramer emphasized. So where is J. Crew's loyalty? Practically non existent. When was the last time you heard someone say they need to purchase a specific item that can only be found at J. Crew?
But it would be unfair to single out J. Crew as lacking a cult following as many apparel makers suffer the same fate. This also extends to consumer goods and even big-ticket items like appliances.
"My daughter bought a 55-incher the other day and I didn't ask which maker, I figured it would work no matter what," Cramer said. "Big deal, right? Same with the fridge I bought recently. And the washer and dryer. I'm getting a grill. I don't even care who makes the grill. I recently bought a terrific bike; the owner of the store suggested it, I'd never even heard of the brand."
But when it comes to electronics, Cramer emphasized, "I don't care about any brand except for Apple."
Related Link:
With New Product Announcements, Is Apple Polishing Its Franchise Or Simply Playing Catch-Up?
Could Elon Musk Replicate An 'Apple-Like' Cross-Platform Experience? That's A Big Risk
Image: Nobuyuki Hayashi, Flickr
View Comments and Join the Discussion!
Posted-In: Echo HomePod J Crew Millard Drexler Speakers Jim CramerTech Media Best of Benzinga