Everything You Need To Know From Apple's Worldwide Developers Conference 2017 Keynote Address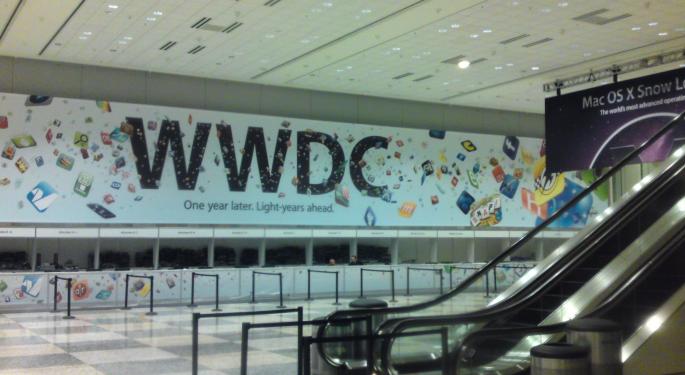 A 10-year-old Australian boy and 82-year-old Japanese woman were among the hundreds of developers convened at Apple Inc. (NASDAQ: AAPL)'s 2017 WWDC conference Monday.
"The Apple developer community has never been more vibrant," CEO Tim Cook said during the keynote address. "We now have 16 million registered developers in the program around the world and added 3 million last year alone."
The company announced upcoming products either building on long-established lines or expanding the company's Internet of Things. Here is a rundown of the highlights.
TvOS
Having already accumulated more than 50 video partners, Apple announced a new Amazon.com, Inc. (NASDAQ: AMZN) collaboration to enable Amazon Prime use through the TV App on AppleTV, iPhone or iPad.
Cook noted that more will be announced about tvOS later this year.
HomePod
In competition with Amazon's Echo or Alphabet Inc (NASDAQ: GOOG) (NASDAQ: GOOGL)'s Home, HomePod will link calendars, Home Kits and other apps across Apple devices.
With built-in speakers, resting under 7-inches tall and powered by the iPod's A8 chip, the product also works with Apple Music to stream tracks from users' Cloud libraries. HomePod detects and directs center and backing song vocals to fill a room with robust sound, and Siri-based technology also responds to vocal commands over blaring tunes.
Priced at $349, the device will be available in December in the United States, United Kingdom and Australia.
Watch OS 4
New features prompt users with consumer-specific health goals and challenges based on previous history, with workout apps also allowing for high-intensity interval training and the consolidation of multiple workouts in a single session.
This fall, the company will roll out new capabilities to pair the Apple Watch with gym equipment, supported by the likes of Schwinn, Stairmaster and Cybex, to share data from heartbeat to treadmill pace.
New Bluetooth capacities will also allow the system to pair with devices for glucose monitoring, tennis swing analysis and surfboard wave analysis.
The updated Watch OS 4 will also allow music app syncing and the creation of multiple playlists.
Finally, a new Siri-powered watch face will display consumer-specific content detected based on identified routines.
MacOS
Building off the Sierra operating system that brought Siri and Apple Pay to Macs, Apple computers will soon offer High Sierra.
High Sierra works best with Apple's Safari, which will soon feature autoplay blocking to prevent site videos from playing without user consent. It also boasts intelligent tracking prevention to ensure browser history privacy.
Additional updates include:
Splitview for mail composition.
Mail storage requiring 35 percent less disk space.
Synchronization of photo facial recognition across devices.
Photo-sharing partnerships with the likes of Shutterfly.
A new video standard, H.265 or HEVC, that offers up to 40 percent better compression.
In graphics, the company invested heavily in its Metal 2 to offer 10 times improvement in draw-call throughput. Metal 2, coupled with improved hardware, further advances virtual reality content creation.
Mac
Meanwhile, updated Mac hardware offers 50 percent faster storage, three times faster graphics and twice the memory capacity of the previous generation.
Faster MacBooks, MacBook Pros and MacBook Airs hit the market Monday.
The latest iMac Pro to be released in December will support even better machine learning development, faster coding and virtual reality design powered by Advanced Micro Devices, Inc. (NASDAQ: AMD)'s Radeon Vega Graphics.
IOS
Customers can update to iOS 11 this fall to capitalize on the following capabilities:
An app drawer scroll at the bottom of the screen.
Automatically synchronized messages across Macs and iOS devices.
A Siri voices with inflection and language translation capacities.
Two-times better video compression to limit storage requirements.
Looped, bounced and live-exposure live photos.
AR Kit core technology to improve augmented reality.
A more comprehensive control center.
Additionally, Apple Pay is positioned to disrupt the likes of Venmo with person-to-person payments built right into the message app. The feature will also be available in more than 50 percent of U.S. retailers by the end of the year.
The map and navigation systems can now show lane guidance, speed and airport security locations, and a related feature allows notification deactivation while driving coupled with automatic message responses.
Finally, Apple Music users, which the company said there are now over 27 million of, can share profiles with friends and create group playlists, and app developers can tap into user preferences.
App Store
A new games tab and app tab provide more focused offerings and are supplemented by a new "Today" section suggesting user-relevant selections. To provide better support to developers, Apple also announced in-app purchases on the main App Store platform, faster submission review time and improved phased releases.
iPad
The updated, 64-gigabyte iPad Pro offers improved color, a full-size, on-screen keyboard and Apple's new ProMotion, which allows improved fluidity and connectivity between action. The latter enables a 20-millisecond delay between user motion and screen appearance for the new Apple Pencil.
In turn, the Apple Pencil will enhance the various other products and system changes meant to support graphic development, as well as allow for Notes markups and in-document drawings.
Additionally, a 10X fusion chip provides 30-percent faster CPU performance and 40-percent faster graphics performance, while USB 3 jacks allow charging at twice the speed of previous charging.
Finally, the product's updated iOS now provides an app dock, app multitasking with easier split view, drag-and-drop features, a "file" feature, and keyboard "flicking" to allow letter and number access without switching planes.
Hands on with the new AR kit on the iPads #wwdc2017 pic.twitter.com/vuXIYN1mQc

— Adrian Weckler (@adrianweckler) June 5, 2017
Related Links:
The Most Memorable Moments From Apple's Last 4 WWDC Presentations
When It Comes To Cool, Google, Facebook And Apple Bring Chic To Developer Conferences
________
Image Credit: By Karl Baron from Malmö, Sweden - Moscone center interior, CC BY 2.0, via Wikimedia Commons
View Comments and Join the Discussion!
Posted-In: App Store Apple Pay Apple TVNews Events Top Stories Tech Trading Ideas Best of Benzinga