Wall Street's Charging Bull, Fearless Girl, Peeing Dog Scene Conflates Distinct Movements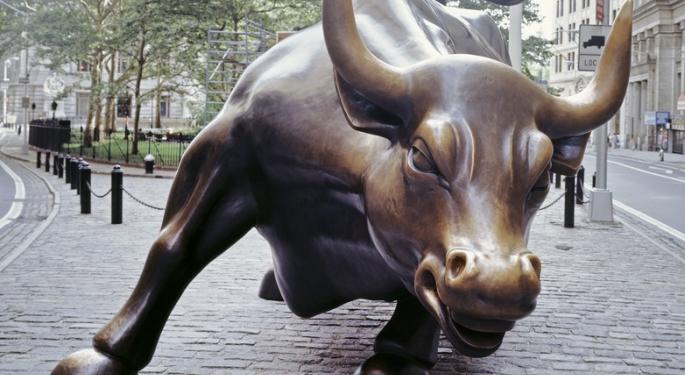 The pup peed on the girl, who confronted the bull, who raged through Wall Street, which financed the house Jack built.
At least, that seems the story of Broadway's cumulative art scene, slowly compiled by retaliatory, guerrilla installments.
A few months after State Street Global Advisors erected the Fearless Girl statue before the financial district's Charging Bull, city sculptor Alex Gardega contributed another layer to the ever-developing landscape: a urinating pug.
To some, the evolving bronze scene captures a complex conflict. To others, it catalyzed one. A fight for artistic integrity now complicates a parallel struggle for gender equality and female empowerment.
The Conflict
In April, the bull's sculptor, Arturo Di Modica, asked the city of New York to remove the girl from the scene, as she distorts his original work and violates copyright statutes. When the city decided to extend the temporary piece's permit from April 2 to 2018 in support of the corporate diversity she represents, Gardega expressed his outrage creatively.
"I decided to build this dog and make it crappy to downgrade the statue, exactly how the girl is a downgrade on the bull," he told the New York Post after installing the piece Tuesday.
Twitter reacted in turn to the unfolding scene, with many interpreting it as an attack on the feminist movement. Some called the addition "disrespectful," a "misogynistic display." Others labeled it "pathetic," an "intimidated alpha male response."

However, Gardega asserted his "pro-feminism" stance and told The Post his work had "nothing to do with feminism." Rather, it was offered in defense of the slighted Di Modica.
"The dog invading her space is reflective of her invading the space that belongs to the bull," he told the Washington Post. "I happen to know someone who knows the artist who made the bull, and so I know what he put into that work. He dropped about $350,000 of his own money into the sculpture, and 'Fearless Girl' statue changes the meaning."
Some supported his right to install the bronze dog, which was nonetheless removed within hours.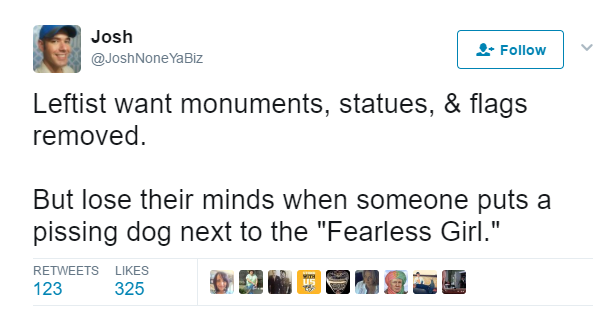 Related Links:
Gender Bias Remains Strong In Science Jobs Field, Study Suggests
Three Critical Accelerators To Closing The Gender Pay Gap For Class Of 2020, Accenture Research Finds
_____
Image Credit: Carol M. Highsmith [Public domain], via Wikimedia Commons
Posted-In: News Futures Politics Psychology Topics Events Markets General Best of Benzinga
View Comments and Join the Discussion!