The Going Price Of Dirt: For Jeans, It's Far From Dirt Cheap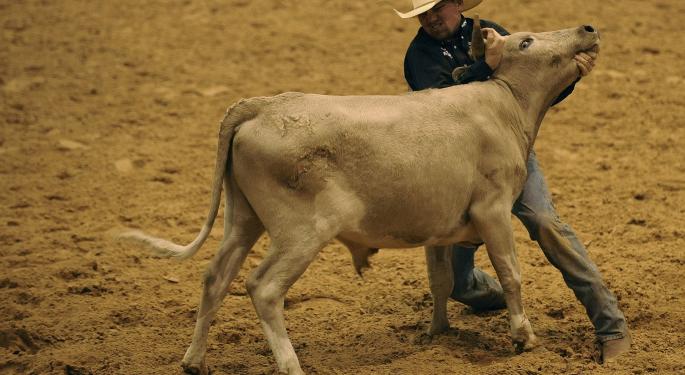 Dust and dirt might evoke images of worthlessness to many. However, now thanks to new men's jeans sold by luxury apparel retailer Nordstrom, Inc. (NYSE: JWN), crackled and coated with mud, being dirty comes at a cost.
Who would want to buy dirty-looking jeans priced at roughly 70 percent of the latest iteration of the iPhone? Apparently, there's a niche market.
Faking The Work Ethic
The premium valuation attached to Nordstrom's jeans — the "Barracuda Straight Leg Jeans," described as "embodying ruggedness" — is traced back to the fake mud it is covered with, giving wearers the appearance of being a hard worker.
The jeans, made in Portugal and promoted with the message "you're not afraid to get down and dirty," have not made the right noises it expected to make.
Mud Slinging
Mike Rowe, of the "Dirty Jobs" fame, has come out strongly against the apparel on his blog.
"Rugged Americana is now synonymous with a 'caked-on, muddy coating.' Not real mud. Fake mud. Something to foster the illusion of work. The illusion of effort. Or perhaps, for those who actually buy them, the illusion of sanity," he said in the post.
"The Barracuda Straight Leg Jeans aren't pants. They're not even fashion. They're a costume for wealthy people who see work as ironic — not iconic. To them, might I suggest the revolutionary new 'Borax Wash,' which I discovered some years ago while rescuing birds who had the misfortune of falling into Searle's Lake in the lovely and picturesque town of Trona."
Critics went to the extent of even suggesting it is Nordstrom's attempt to mock blue collar workers.
Dubious Cost Economics
Assuming that premium jeans are priced around $150–$250, the $425 price tag of the dirty jeans suggests that the dirty look, the fake mud is priced at an exorbitant $175–$275.
Economics tells us there is no free lunch. However, the cost of mud, implied by the price of jeans, is literally paying through the nose for an inconsequential thing such as damp dirt.
Mud's Valuation
Mud comes in many forms, from many locations. Boasting multiple uses, the price for dirt + water does change.
For example, Dead Sea mud is being peddled for as much as $17 for 250 grams, touting its health and aesthetic benefits. It is supposed to provide relief from disorders such as psoriasis, eczema and acne, given its rich mineral content. People also use it to improve facial skin, as it helps to improve elasticity and minimize pores, wrinkles and lines. When it dries, toxins that may be present in skin cells from the everyday diet are drawn out.
The Biblical anecdote of Jesus healing a blind man by moistening mud and applying on his eyes and asking him to take a dip in Siloam pool seems to have a scientific standing.
Diatomaceous earth, a grayish talc-like substance is made of fossilized remains of single-cell marine phytoplankton known as diatoms, with skeletons composed of 84 percent silica and 20 percent other minerals. It has a very strong negative charge and hence it easily attaches to and helps flush out things like toxins, viruses, heavy metals, bacteria and even radiation from the body.
Roughly 2.3 kgs of edible diatomaceous mud earth, known for its detoxifying effect, is sold for $18.40 at Amazon.com, Inc. (NASDAQ: AMZN).
Dirt for grounds keeping, gardening and agriculture is priced at around $85 per truck-load.
Thus, the cliched phrase "dirt cheap" may not hold true in an era when dirt comes at a cost. However, for discolored jeans merely mimicking the real thing, the price hike between "clean" and "muddied" jeans still incurs sticker shock.
Nordstrom is no stranger to controversy, particularly when it comes to prohibitively pricing its products, according to a recent Washington Post article. The retailer took a lot of flak earlier this year for selling a Gucci sock sandals, priced at $1,190 and "mom" jeans, priced at $95.
Despite all the criticisms leveled over the dirty jeans, Nordstrom's pricing of dirt, for sure, is not without any rhyme or reason.
Related Links:
Should Ulta Beauty Split Its Stock?
How Store Counts Of America's Biggest Retailers Changed Since 2007
View Comments and Join the Discussion!
Posted-In: Barracuda Straight Leg JeansNews Education Events Media General Best of Benzinga