Diego Pellicer CEO Talks Building A National Cannabis Brand Under A Trump Administration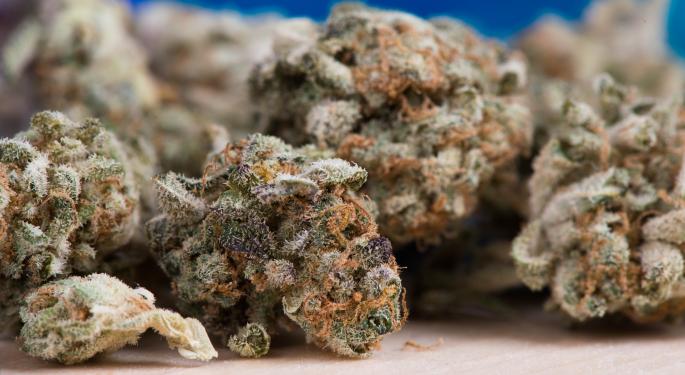 Benzinga recently had the chance to talk with Ron Throgmartin, CEO of Diego Pellicer Worldwide Inc (OTC: DPWW), and discuss the company, its stock and its fundamentals.
In this article, we'll share a look into his views about building a national cannabis brand. For part one of this interview, click here.
Big Bets
About four years ago, Diego Pellicer's management team at the time said they intended to construct a national brand. This isn't exactly common in the U.S. cannabis industry right now due to the federal illegality of marijuana. In fact, only a few companies like Innovative Industrial Properties Inc (NYSE: IIPR) or GW Pharmaceuticals PLC- ADR (NASDAQ: GWPH) can aspire to crossing state borders.
So, how does Diego Pellicer plan to do this?
Right now, they're present in Washington and Colorado but have plans to expand to other markets, Throgmartin said. "We are in discussions in Oregon, Nevada and California, as well as some very preliminary discussions in Europe, but those discussions are underway."
"As far as I'm concerned, I think we're already on our way to building a national brand. Quite honestly, I think we have a good start on building even an international brand," he continued. "I get emails from all around the world every week. I'm in discussions with a group right now in Spain that are interested in opening up a Diego Pellicer facilities. The brand has been established."
"Now, it's our responsibility to perpetuate that brand and basically live up to the expectations that people have of a national or international brand, as well as the commitments that we make to the people associated with our brand," Throgmartin said. "We are always mindful of both state and federal laws, not to encroach on either. As a matter of fact, we will not. There are companies out there that don't operate under the same philosophy as we do, but we will not put the company or our investors in harm's way as it relates to federal and/or state law, or guidance, or regulation."
Benzinga: Are you aiming mostly for recreational markets?
Throgmartin: That's correct. When we prioritize our model or our target locations, our first preference is states that have recreational marijuana laws on the books or are moving in that direction. It doesn't mean that we would not enter solid medical marijuana states like Arizona because we would if the right opportunities were there.
But, I would mention that all of our current tenants' facilities are all dual licensed, meaning they can operate either as recreational marijuana facilities or medical marijuana facilities – or both.
You mentioned the "Spicer Effect" and Sessions. In the event that somehow, for some reason, recreational marijuana no longer became a viable model to pursue, we would just rely on the medical licenses that are in place out of those locations.
BZ: In this statement, you're kind of implying that you do not believe medical cannabis is at risk under the current administration. Is this right?
Throgmartin: That's correct. I think we all wished we had a crystal ball and we could accurately predict the future. I would answer your question in a couple different ways.
I think it's very, very unlikely that the current Trump administration will do anything that affects medical marijuana. You're looking at a nationwide approval rate (on the last poll that I saw) of over 80 percent. You've even heard when people refer to the Spicer comments, even in his comments he mentioned that they have no issue with the medical marijuana; what they are reviewing is the recreational side.
That's my stance on medical; I don't see any change whatsoever. My stance on recreational is very similar: I think the chances of the Trump administration trying to go against the tide on recreational marijuana due to the support legalization has. It's awful strong support to go against and I think, if the Trump administration had come on board a few years ago when the only recreational states were Colorado, Washington and Alaska, maybe there would have been a chance to change the tide on that.
But now, after this last election where you had what another five states legalize, that's an awful lot of support for the administration to try to single it out and change it. I just don't see that that's very realistic, not to mention that these states now have built these tax dollars into their budgets and those tax dollars are useful.
More From Benzinga:
IAnthus CEO Talks About Raising Capital For U.S. Cannabis Companies In Canadian Markets – And Marijuana Stocks To Watch
2 New Ways To Invest In Marijuana Stocks: Cannabis ETFs
Posted-In: Politics Top Stories Be Your Own Boss Small Business Exclusives Trading Ideas Interview General Best of Benzinga
View Comments and Join the Discussion!