Canadians Bemused, Confused And Feeling Feisty About Trump's Protectionist Slap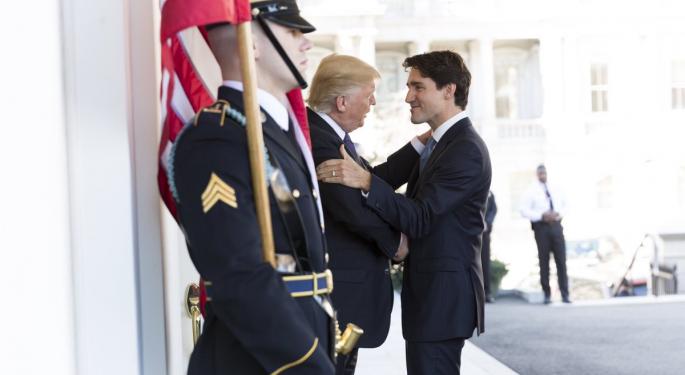 Canadians consider President Donald Trump's protectionist move to impose 20 percent hikes on its lumber exports a slap shot across the face. And Canada is not afraid to drop the gloves and engage.
"We're nice guys: Politeness is something we believe is a national virtue, but it's not an accident that hockey is our national sport," Foreign Minister Chrystia Freeland told CNN Tuesday.
Trump, whose lumber tariff was announced Monday, was a delayed reaction to lingering complaints from Wisconsin dairy farmers about unfair competition for milk sold over the border.
Yet Trump's seemingly erratic approach to trade policy — he dropped a threat to label China a currency manipulator and may be thwarted in his bid to build a wall with Mexico — has mostly confused Canadians wondering if Trump's protectionist posturing and threats to impose tariffs on all imports will trigger trade wars or merely mean more missed promises to his constituents.
"Donald Trump's tirade on the 'disaster' that had fallen on the United States as a result of NAFTA, with its accompanying smear and bluster that 'very bad things are happening up in Canada' sent a shudder through a country that had been saying to itself 'he's mad at the Mexicans and the Chinese, he's not really mad at us,'" Bob Rae, a former minister of Parliament, wrote in Wednesday's Toronto Star.
"The U.S. president is a classic bully. Trump is also a man of raw instinct, not a person of reason," he wrote. "But the risk he runs is that by defying the great shifts of history he will do great damage to a trade and economic relationship that is by now deeply entwined and interconnected. Escalating retaliation is bad for everyone."
Trade wars rarely benefit anybody. In fact, some economists believe a Trump trade war on the rest of the world will hurt everybody.
Trump Doesn't Understand Canadian Cow Culture
Trump's reaction to slapping tariffs on Canadian timber could affect a third of the U.S. housing market and cause home prices to rise. And Canadians are perplexed that the trigger for the tariffs was milk.
Canada has long maintained high tariffs on most dairy imports. One exception was "ultrafiltered" milk and other dairy ingredients used to make dairy products such as cheese and yogurt. North American free-trade rules do not cover these ingredients, so U.S. dairies sold those low-cost products to dairies in Canada.
That changed about a year ago, when Canadian dairy farmers persuaded regulators to create a new lower-priced class of industrial milk as an incentive to get dairies to produce protein substances in Canada, using Canadian milk. U.S. imports fell in 2016, and continue to decline.
Hence the complaints by Wisconsin farmers who caught Trump's ear.
Canadians Already Get Milk South Of The Border
"As is typical, Trump's hyperbolic complaints, in this case targeting Canada's dairy supply management system, are short on details," economist Steven Globerman wrote in a blog post Tuesday for the Fraser Institute, a Canadian think tank.
Globerman argued that Canada's tariffs benefitting the country's dairy farmers aren't worth defending, since Canadians near the border states buy so much U.S. milk that a Costco Wholesale Corporation (NASDAQ: COST) store in Washington state was forced to expand to a store just 60 miles from Vancouver.
"Canadian consumers have long put their financial welfare before their loyalty to Canadian-bred cows by shopping for dairy products south-of-the-border."
Related Links:
Trump Hikes Canadian Timber Tariffs In Retaliation For Milk Duty
'Alien' Fans Troll Trump Anti-Immigrant Hotline Ahead Of Prequel Opening
_______
Image Credit: By Office of the President of the United States (@realDonaldTrump on Twitter) [Public domain], via Wikimedia Commons
View Comments and Join the Discussion!
Posted-In: Bob RaeNews Commodities Politics Global Markets Media General Best of Benzinga