Fuel On The Fire: Trump Hikes Canadian Timber Tariffs In Retaliation For Milk Duty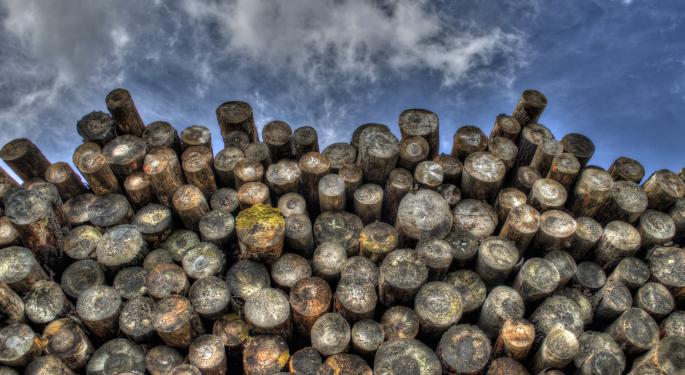 With one taunting tweet, President Donald Trump threw wood on the fire of a skirmish with Canada that his administration insists is not war between two of the closest trade partners on the planet.
Trump announced he was imposing tariffs of up to 24 percent on imported softwood lumber, retaliation for what he said were increases in tariffs on U.S. dairy products sold in Canada.
"Canada has made business for our dairy farmers in Wisconsin and other border states very difficult. We will not stand for this. Watch!" Trump said on Twitter.
Canada has made business for our dairy farmers in Wisconsin and other border states very difficult. We will not stand for this. Watch!

— Donald J. Trump (@realDonaldTrump) April 25, 2017
The Canadian dollar fell to a four-month low after Trump's tweet. The Canadian dollar was trading at 0.7349 to the USD.
Canada Hits Back
A joint statement from Canadian Foreign Minister Chrystia Freeland and Natural Resources Minister Jim Carr called the Trump tariffs "unfair and punitive" measures that will hurt workers on both sides of the border. Canada "will vigorously defend the interests of the Canadian softwood lumber industry, including through litigation," the ministers said.
Speaking to Reuters by phone a day ahead of Tuesday's announcement, U.S. Commerce Secretary Wilbur Ross said that the duties would affect $5 billion worth of softwood lumber imports from Canada.
"It's about 31.5 percent of the total U.S. market, so it's a pretty big deal in terms of the Canadian relationship," he said.
Tariff Hike Part Of Long-Running Dispute
He said the Commerce Department took action because of because of unfair Canadian subsidies to the lumber industry. Much of Canadian lumber is grown on public lands, while most U.S. timber is on private property.
Ross said in an interview Tuesday on CNBC's "Squawk Box" that the new lumber tariff is the result of a long-running dispute and not the beginning of a trade war.
Ross said Trump was troubled by the plight of U.S. dairy farmers while traveling in Wisconsin last week.
Action Comes Ahead Of NAFTA Talks
Canada has long maintained a high tariffs on most dairy imports. The duty on milk is 270 percent. One exception was "ultrafiltered" milk and other protein-rich dairy ingredients used to make dairy products such as cheese and yogurt. North American free-trade rules do not cover these ingredients, so U.S. dairies have developed a big business selling such low-cost products to dairies in Canada.
That changed about a year ago, when Canadian dairy farmers persuaded regulators to create a new lower-priced class of industrial milk as an incentive to get dairies to produce protein substances in Canada, using Canadian milk. U.S. imports fell in 2016, and continue to decline.
Trump's tariffs come as the U.S., Canada and Mexico prepare to renegotiate NAFTA, the 1994 free trade agreement. Trump has directed almost all of his NAFTA criticism at Mexico, until now.
Related links:
Border Adjustment Tariff Has Ryan, Trudeau At Odds
Posted-In: News Emerging Markets Commodities Politics Forex Global Markets Media Best of Benzinga
View Comments and Join the Discussion!