Meet The Startup Behind The Video Content You See On NatGeo, CNN, NBC, Discovery And Others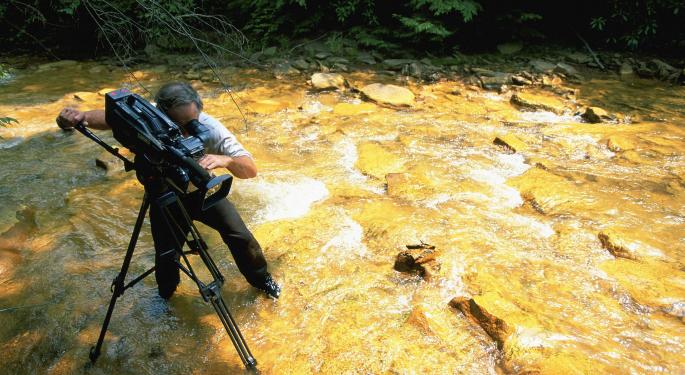 Have you ever wondered how the guys at CNN International Time Warner Inc (NYSE: TWX)) can get anywhere in the world within a few hours of a major event? How is it possible that they had a crew in Nepal to cover the earthquake as soon as it shook the earth? How did they get to Stockholm so fast after the terrorist attack?
CNN, like Twenty-First Century Fox Inc (NASDAQ: FOXA)'s NatGeo, Time Inc (NYSE: TIME) and even Comcast Corporation (NASDAQ: CMCSA)'s The Weather Channel, have a trick up their sleeves: Storyhunter.
"StoryHunters are award-winning video professionals ready to go on assignment for you," the company's site explains. "The platform connects media companies and brands with vetted freelance journalists and filmmakers in more than 180 countries, and provides them with free messaging, hiring and contracting tools to work with those journalists," founder and CEO Jaron Gilinsky told Benzinga in a recent chat.
Understanding Storyhunter
Although a client slate that includes CNN International, AJ+, CNN International, Time, National Geographic, Discovery Communications Inc. (NASDAQ: DISCA)'s Discovery Digital, Weather Channel, Airbnb, Expedia Inc (NASDAQ: EXPE), Zillow Group, Inc. (NASDAQ: Z) (NASDAQ: ZG) and the Bill and Melinda Gates Foundation certainly suggests Storyhunter's product is unique, what exactly differentiates it from others like the ones offered by sites like Elance or Microsoft Corporation (NASDAQ: MSFT)'s LinkedIn is fascinating.
"We are focused on visual storytelling and news media," Gilinsky said. "I don't believe there is any other marketplace that has the level of talent that we have in the news media and in visual storytelling."
"Then in addition, the technology that we built is optimized for the news media. That is another huge advantage that we have in the sense that we can get you talent in minutes, as opposed to hours, where other marketplaces may not be geared up for finding the right person on the ground right now," he continued. "We are used to working for news media clients and we've optimized the technology to be faster at finding the talent than any other service. So, I think those are the two big advantages: domain specialization and optimization for those domains."
"We're actually vetting every single person and production company that signs up on the platform. So, a media company should know that they are getting really hand picked people," Gilinsky concluded.
Financing And Expansion
Storyhunter recently closed the last tranche ($1.3 million) of a $4.2 million financing round, and now counts on the support of Draper Associates, Frontier Ventures, Altair.vc, NFX Guild, iAngels and 500 Startups.
"The purpose of the financing round was to expand the freelancer management system and build out more functionality and tools for media companies and freelancers to work more efficiently," Gilinsky explained. "We have now more than 20,000 freelancers and production companies on the platform, and we're making search a lot easier. We are also creating more payment options for freelancers and just improving everything."
"There is a huge market opportunity here and I think that, if we stay focused and just really provide value to our clients and our freelancers, we're going to be able to grow really, really nicely," he added.
The Era Of Outsourcing
While it may be clear why companies like Expedia, Zillow or Airbnb requested Storyhunter's services, what about CNN or Time? Don't they deploy their own teams anymore?
"The news media in general has a fraction of the presence that it used to have internationally," Gilinsky explained. "There has been a consolidation of editorial talent in big markets like New York, L.A., Atlanta. So, the concept of a foreign bureau really doesn't exist on the level that it did in the 1980s and 1990s. And, even those companies that have foreign bureaus completely operating at the level that they were… news just doesn't break in big cities all the time."
A few recent examples of this include the Nepal earthquake in Kathmandu, which spurred 15 to 20 assignments in one day, and a storm in South Carolina, where The Weather Channel doesn't have an office.
Final Words
"I think it's a great time for freelancing," Gilinsky said. "I think anybody who's in the video space should check out our platform and consider creating a profile. It's absolutely free and, if you're a brand or a media company, we encourage you to give it shot. We also will not charge anybody to try it out. I think every brand should be thinking like a media company today and producing quality content."
More From Benzinga:
Meet One Of The Largest VC-Backed Cannabis Companies In The U.S., Generating 300% ROI In 10 Weeks
How Family Office Manager Julio Gonzalez Is Helping Keep Jobs In The U.S. Using Tax Engineering
View Comments and Join the Discussion!
Posted-In: Travel Crowdsourcing Top Stories Startups Exclusives Tech Media Interview Best of Benzinga