Tim Cook To Travis Kalanick: Don't Break Apple's Rules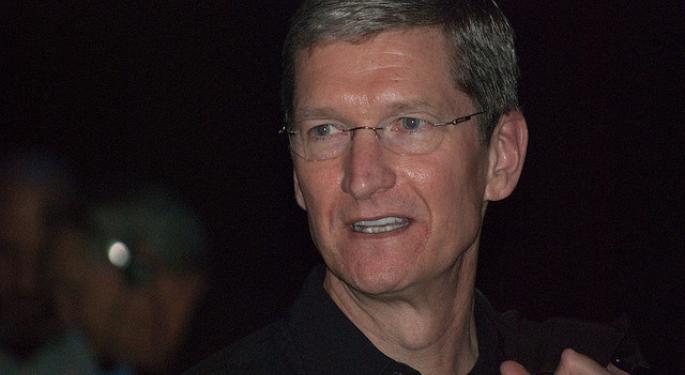 Uber International C.V.'s PR woes took another turn for the worse when it was revealed that chief executive Travis Kalanick got a dressing down in 2015 over privacy issues from Tim Cook, the CEO of Apple Inc. (NASDAQ: AAPL).
Citing user privacy concerns, Apple in 2012 stopped allowing apps in its App Store that contain "Unique Device Identifier" and other information that might be used by developers to identify the phone's owner. Apple's reasoning is that a resold phone should have no links to its previous owner.
Uber broke Apple's rule in an effort to stop hackers in China, who were using stolen credit card information to create bogus trips before wiping the phone and repeating the process, the New York Times reported on Sunday.
Uber CEO's Will To Break Rules
The report said Cook summoned Kalanick to Apple's Cupertino headquarters and reportedly told him: "I've heard you've been breaking some of our rules." He threatened to pull the Uber app. Kalanick agreed to fix it.
The app was designed to identify users ever after the phone had been wiped and resold, and was well-hidden from engineers at Apple headquarters.
The lengthy profile painted Kalanick as an executive willing to break rules and step on toes in his effort to win at all costs.
"Travis' biggest strength is that he will run through a wall to accomplish his goals," Mark Cuban, the Dallas Mavericks owner. "Travis' biggest weakness is that he will run through a wall to accomplish his goals."
Some other PR problems that have led to the hashtag #deleteuber:
"Greyballing," serving local authorities fake data to protect drivers from sting operations in places where Uber was illegal.
Sexual harassment and lack of diversity among the technical staff.
Senior Vice President Emil Michael suggested that Uber form an investigative team to dig up dirt on journalists who uncovered negative behavior by the firm.
A video that went viral showing Kalanick in a heated argument with an Uber driver.
A steady stream of corporate officers bolting the executive suite.
Related links:
What Can Uber Learn From Other Companies?
Uber's Terrible, Horrible, No Good, Very Bad 2017
___________
Image Credit: By Kindly granted by Valery Marchive (LeMagIT) - Flickr, CC BY-SA 2.0, via Wikimedia Commons
Posted-In: Emil MichaelNews Travel Management Startups Tech Media General Best of Benzinga
View Comments and Join the Discussion!