Cannabis Expert On Marijuana Legalization: Rhode Island, Texas Might Be Next, Vermont Will Have To Wait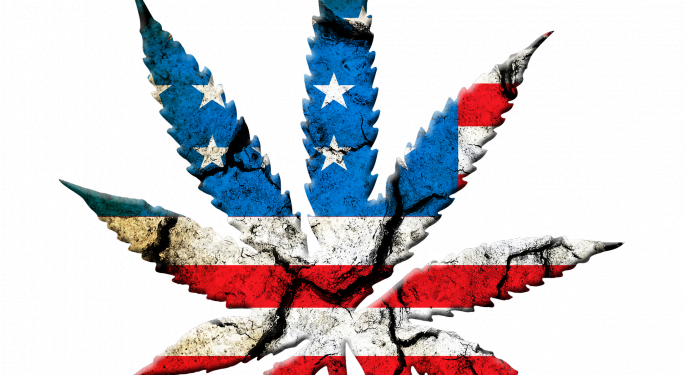 Benzinga recently had the chance to discuss marijuana legalization in Canada and its impact on the United States with Hadley Ford, CEO of iAnthus Capital Holdings Inc (CNSX: IAN) (OTC: ITHUF), a cannabis-focused financing and advisory firm.
During the conversation, which U.S. states could be going legal next — either from complete or partial illegality to medical or from medical to recreational — came up. For this, it was co-founder and managing director Randy Maslow who weighed in.
Legal Weed For Peter Griffin?
Randy Maslow: The first thing readers should remember is that every state that has legalized a full recreational program so far has done it by a popular vote. No state yet has gone recreational by action of a legislature alone.
Typically, there has been a vote of the people, either constitutional amendment or ballot initiative followed up by implementation legislation passed by the legislature.
However, I think that maybe over the next month or so we might see the first state go recreational through legislative action, and that might be Rhode Island.
Benzinga: Does it have to do with proximity with Massachusetts?
Maslow: Right now, there is actually a bill pending in the Rhode Island legislature to do this. So, it's actively under consideration, and I think there is widespread support in Rhode Island. It's a state that has a democratic governor and both state houses are controlled by the Democrats.
I think politicians and voters are very much in favor of legalization. Yet, there are some people, including the Democratic attorney general of Rhode Island, who are opposed to it. And the people that are opposed to it seem to be opposed because they want to see how things shake out at the federal level right now with the Trump administration.
However, there's another large contingent of legislators in Rhode Island that understand that Massachusetts is going to have a recreational program in short order, certainly within about a year or so. So, the argument that they are making is: "Why would Rhode Island want to watch that business leave Rhode Island, go to Massachusetts, and have Massachusetts benefit from the state taxes collected, as opposed to Rhode Island, which is a state that could probably use that revenue?"
BZ: So, how likely is it for Rhode Island to get legal cannabis any time soon?
Maslow: I think it's probably 50/50 right now in Rhode Island. If passed, it would be very meaningful because it would be the first time that a state has passed a full recreational program solely through a legislature.
Vermont Will Have To Wait
BZ: What about neighboring Vermont, right next to Rhode Island, which is usually seen as a "progressive" state?
Maslow: Vermont has no provision for a ballot initiative or a constitutional amendment. They do have a provision for a referendum, but nobody is pushing for that. So, that will be interesting.
A lot of people thought Vermont might be the first state that would pass a recreational program throughout legislative action, but it doesn't look like it's going to happen this year.
There is a new Republican governor in Vermont and so far he doesn't seem to want to make that a priority for this year, so I don't think that will happen.
Medical Programs And Texas
Maslow: As far as medical goes, a lot of states now, 28 states, have full-blown medical marijuana programs, selling full strength or providing full strength marijuana.
There is another, group of states, about 16 of them, that have a program that involves very low THC, very high CBD products, products that basically don't have a psychoactive component; one of those states is Texas.
One of the drivers from the advocacy perspective in this country is the Marijuana Policy Project; they have largely driven the discussion in states like Massachusetts, where recreational just passed, as well as Nevada and other states. California was a mixture I think of the Drug Policy Alliance and MPP.
Now, MPP has set its sights on a couple of states, and I think the one that's really interesting is Texas. So, MPP is, I think, actively considering a push in Texas. It's probably a ballot initiative or a constitutional amendment state because I don't think the legislature there will act on its own, and I think they're looking for a push for a full-scale medical program in Texas.
You have a number of small states that will probably jump on board on the medial side, but I think Texas is the one that will be really interesting over the next year or so.
BZ: That is huge, considering Texas has four of the 11 most populated cities in the country. Right?
Maslow: What's happening now is, the states that are very large in population – except for Texas, all have full-scale medical programs: California, Florida, New York, Illinois, Massachusetts.
So, in terms of large states, Texas is the only one without a full-scale medical program, and thus missing out on massive taxes at a time of declining revenue for a state government and tightening budgets.
Related Links:
Industry Insider On Marijuana Legalization In Texas: Cannabis Reform Might Come Sooner Than People Think
GreenWave's Matt Karnes Predicts Fully Legal Cannabis Markets In 8 New States By 2018
ArcView's Troy Dayton Explains Why The Cannabis Industry Will Thrive Even If Trump Cracks Down On Marijuana
View Comments and Join the Discussion!
Posted-In: Cannabis News Politics Topics Events Exclusives Interview General Best of Benzinga