Facebook Murder Video The Latest Failure Of Social Media Policing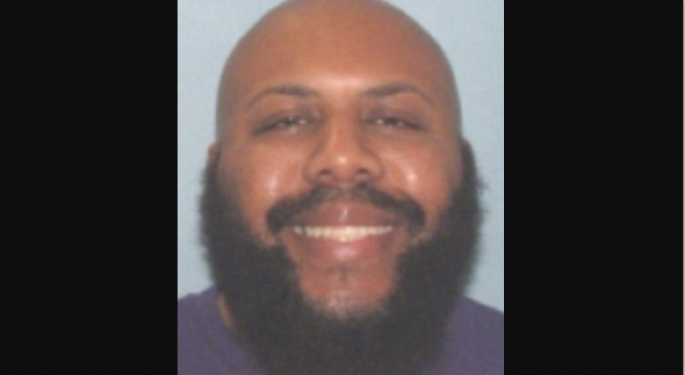 Facebook Inc (NASDAQ: FB) is under fire once again for hosting a video of horrific criminal activity on its platform. Police are on the hunt for Steve Stephens, who allegedly shot and killed 74-year-old Robert Godwin in the Cleveland area on Sunday and then posted a video of the incident on Facebook.
Prohibiting Crime Doesn't Stop It
It goes without saying that Facebook prohibits any form of criminal activity on its platform, and a company spokesperson said the company "works hard to keep a safe environment on Facebook and are in touch with law enforcement in emergencies when there are direct threats to physical safety."
Unfortunately, the latest incident is far from the first time Facebook has been mixed up in illegal activity on the part of its users.
Facebook's Past Incidents
In January, four suspects were arrested in connection with kidnapping and torturing an 18-year-old teen and broadcasting the brutal scene on Facebook Live.
Tusla native John Pinney stole a police car and then used a police iPad to broadcast his chase on Facebook Live from inside the car.
Facebook has also gotten heat for allowing advertisers to scam Facebook users. During the holiday shopping season, Benzinga reported on Hobbies Discount and Store Discount Fishing Supplies, two Facebook advertisers that have been accused of ripping off Facebook users. Facebook has not responded to several Benzinga requests for comment.
Facebook isn't the only company dealing with the issue of illegal user behavior.
Not Isolated To Facebook; Social Media Suffers Violence, Crime Dissemination
Last year, a woman was accused of live streaming a rape on Periscope, Twitter Inc (NYSE: TWTR)'s live streaming platform.
Meet Group Inc (NASDAQ: MEET)'s platform has been accused of being a "tool of choice for sexual predators." It has also been used by child sex traffickers to advertise underage prostitution.
In Massachusetts, three criminals used Snapchat to send videos of a sexual assault to a friend.
In December, Facebook, Twitter and Alphabet Inc (NASDAQ: GOOG) (NASDAQ: GOOGL) were sued by the family members of the tragic nightclub mass shooting in Orlando. The families claim that the companies provided "material support" for the shooter, who was inspired by international terrorist organization ISIS. A report by the Brookings Institute found that there were at least 46,000 Twitter accounts operated by ISIS supporters in recent years.
Does Threat Of Financial Fallout Spur Reaction Quicker Than Public Outcry?
Google, Facebook, Twitter and other leading social media sites are a goldmine for advertisers who want to get targeted messages out to millions of users. However, as soon as these companies start getting angry comments from customers about their ads being shown alongside despicable criminal acts, they may be forced to reconsider their marketing channels.
Google recently lost more than 250 YouTube advertisers after a newspaper investigation found that Google's programmatic advertising algorithms were placing advertisements next to inappropriate or criminal content.
Toeing The Line Of Free Speech And Policing Content
These social media companies have always walked a thin line between freedom of speech and policing content. Back in April, in response to backlash about the proliferation of "fake news" on social media potentially influencing the outcome of the U.S. presidential election, Facebook, Mozilla and other tech leaders teamed up to create the News Integrity Initiative, a nonprofit organization aimed at promoting news literacy and public trust in journalism.
The 'Too Long' Timeline
All of the major social media platforms ban criminal activity in their terms of service, but illegal content can take 24 hours or longer to remove once it's been flagged.
In a recent Cleveland.com publication, Jane Morice delves into Facebook's own defense for the amount of time it took to remove the Stephens video. In Facebook's Monday statement, Justin Osofsky, global operations department vice president, stated the murder was "a horrific crime — one that has no place on Facebook, and goes against our policies and everything we stand for."
Morice summarized the statement as "defending the social media company's timeline of actions in removing videos recorded before, during and after," adding, "Osofosky also said that he recognizes that the current way video reports are handled by Facebook could, and should, improve."
Social media has opened up a number of doors in the worlds of communication and advertising, as Facebook CEO Mark Zuckerberg noted in a 6,000-word manifesto he published in February. However, as long as Facebook and other platforms continue to host or broadcast criminal activity, they will be open to criticism from users and advertisers that they simply aren't doing enough to fight back.
Related Links:
6 Biggest Takeaways From Zuckerberg's 6,000 Word Facebook Manifesto
Copyright Issues Posted On Facebook Are Apparently More Important Than Violent Crime
________
Image Credit: By Cleveland Police Department [Public domain or Copyrighted free use], via Wikimedia Commons
Posted-In: Mark ZuckerbergNews Education Psychology Events Tech Media General Best of Benzinga
View Comments and Join the Discussion!