TransDigm Crushed After Rep. Khanna Calls For Fraud Investigation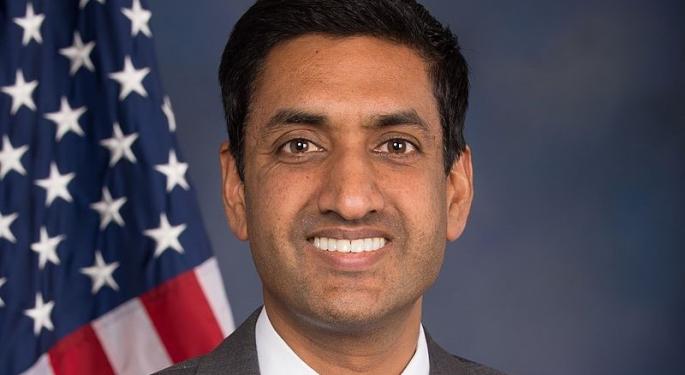 Shares of aerospace components manufacturer TransDigm Group Incorporated (NYSE: TDG) were getting hammered on Tuesday afternoon after Representative Ro Khanna, a U.S. representative for California's 17th congressional district, requested an investigation into the company is launched.
In a letter sent to U.S. Department of Defense's Acting Inspector General Glenn Fine, Khanna said TansDigm could be involved in "potential waste, fraud, and abuse in the defense industrial base."
As stated in the letter, Khanna is a member of the House Committee on Armed Services. Consequently, he is up to date with defense procurement reports, which, he argues, have suggested that "TransDigm Group has been operating as a hidden monopolist by (i) engaging in a series of unreasonable price increases of products for which it is the only supplier, (ii) disguising its cost structure and identity from Pentagon procurement officers, and (iii) unreasonably hiking prices to benefit shareholders and executives."
Wide Margins
Making a case for systematic price hikes, Mr. Khanna brought up the company's 2016 financial report.
As per the document, operating margins exceeded 40 percent. More notably, 80 percent of the firm's sales came from products for which they believe are "the sole source provider."
Also noteworthy, CEO W. Nicholas Howley received $18.7 million in total compensation in 2016. While not among the 25 most overpaid CEOs of 2016, this figure is far from negligible.
The Problem
The real problem with this company, according to the California representative, is that "federal regulations protect the taxpayer against sole source contractors like TransDigm."
"When a vendor is understood to be a monopoly supplier, that supplier is required to in turn offer cost information about the product to the government or otherwise the government must conduct a thorough review of the likely cost of the product. In addition, vendors must tell procurement officers if they belong to a holding company to allow the government access to transparency in pricing across a defense contractor's entire business," he explained.
However, TransDigm has a series of tricks under its sleeve to evade these federal regulations, including the creation of "a network of captive distributors that mimic the aesthetics of a competitive market," Khanna continued.
"Given that the Trump administration is proposing budget increases for the military, it is incumbent upon Congress to ensure that these increases provide for the common defense, rather than enrich a few individual financiers who stand to benefit at the expense of our troops and weapons systems," the member of Congress concluded, calling for an investigation into TransDigm.
Related Links:
What's A Constitutional Crisis, And Are We Headed For One Over Trump's Travel Ban?
________
Image Credit: By U.S. Congress/Eric Connolly - here, Public Domain, via Wikimedia Commons
View Comments and Join the Discussion!
Posted-In: Department of Defense DoDNews Politics Travel Legal Movers General Best of Benzinga